On February 24th, 2022, several scenes allegedly depicting the current events in Ukraine went viral on Georgian social media. The Facebook page "Cardhu" published a video, according to which the Ukrainian anti-aircraft system protects the city from Russian bombs. Identical footage was also used in the videos of the Facebook page "Conservative" and "World Polotics." The posts accompanying both videos have identical texts, featuring the comments by CNN, Russian Defense Minister, Ukrainian President Volodymyr Zelenskyy, Joe Biden and Boris Johnson, etc.
 The disseminated footages do not depict the attack on Ukraine. In fact, the footage has been cut out from the video game "War Thunder."
 The video has been circulating on the Internet since December 2021. The shots are not real and are excerpts from the video game "War Thunder."
YouTube channel "Pandramodo" publishes footages from War Thunder rather frequently.
The video published by "World Polotics" and the "Conservative" also feature footage of a large-scale explosion. In fact, the footage shows an explosion at a chemical warehouse in China that occurred in August 2015.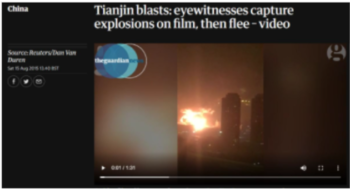 For more on this, see our article:
For more information about the local stream of disinformation around the Russia-Ukrainian conflict, see the following materials: