On August 21-22nd, the Georgian-speaking Facebook accounts (1, 2) published a German-language video in which different parts of the human body are placed on counters and refrigerators. The video also shows a menu listing the choice of meat for human body parts. The authors of the posts claim that German television broadcasts footage of the human flesh trade in London.
The claim that human flesh is being traded in London is false, while the footage included in the post is video manipulation. In fact, the video was shot at London's Smithfield Market in 2012 and featured super-realistic human body parts made of flesh to promote the horror-zombie video game Resident Evil 6.
In 2012, the video game Resident Evil 6 was released, and to promote it to the public, an installation was organized at the Smithfield meat market in London. At the market, called Wesker & Son (Wholesale Meats), super-realistic props in the shape of human body parts made of meat were placed. Those who wanted could indeed buy them, although the "human body parts" presented at the site were varieties of pork.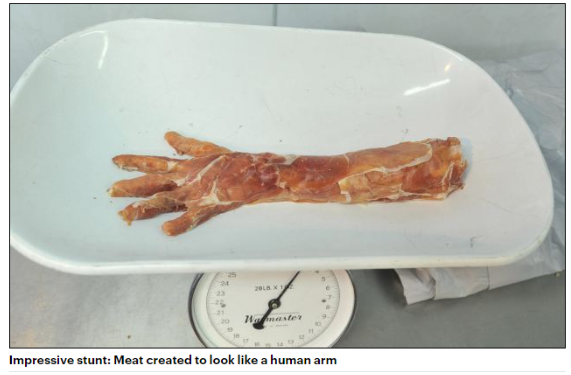 One of the articles prepared on the topic mentions that if zombies had their own store, it would be exactly like this market.
The proceeds from the sale were donated to the Limbless Association (LA) in Great Britain.
Resident Evil 6 is the sixth part of the Japanese horror genre video game, which was released in 2012. The story of Resident Evil is devoted to the fight of several characters with zombies and other monsters that appeared after the spread of the biological weapon, the T-virus. In 2012, during the release of Resident Evil 6, the film Resident Evil: Retribution was also released, which, like other films in this series, will deal with the theme of fighting zombies.
Notably, a similar type of disinformation, which tries to emphasize the immorality and cannibalism of the West, has been disseminated in the past as well. In February 2022, "Myth Detector" verified a video manipulation where it was claimed that a robot was invented in the US that uses humans as fuel. While in 2016, disinformation was spread in the Russian-language internet platforms and in the Georgian newspaper "Asaval-Dasavali", as if clothes were made from human skin in England. For more information, see the "Myth Detector" materials:
---
The article has been written in the framework of Facebook's fact-checking program. You can read more about the restrictions that Facebook may impose based on this article via this link. You can find information about appealing or editing our assessment via this link.
Read detailed instructions for editing the article.
Read detailed appeal instructions.