On July 16, a Facebook page Politicano • პოლიტიკანო published a photo with a caption "The European Central Bank has issued a special banknote dedicated to the 150th anniversary of Vladimir Lenin." The photo, however, shows a 0 Euro souvenir banknote depicting Lenin.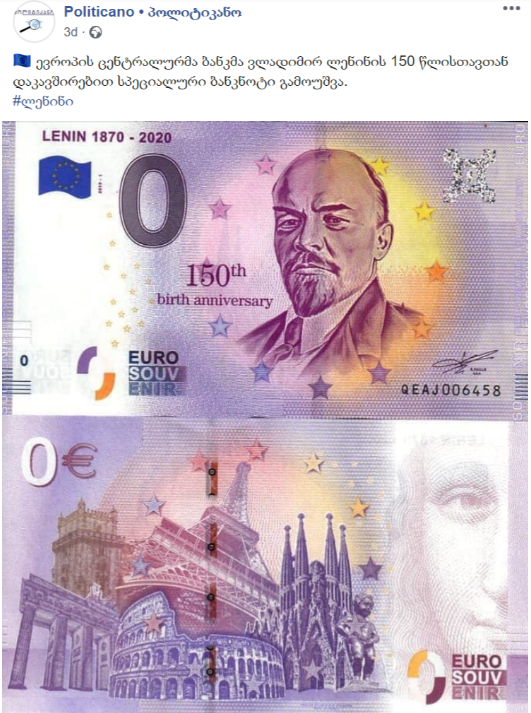 The post published by Politicano is a manipulation and aims at misleading Facebook users. The banknote depicting Lenin really exists, but it has not been issued by the European Central Bank but has rather been produced in Russia.
The Zero Euro is a souvenir banknote and has been created to promote tourism. The banknote shown on the photo has nothing to do with the European Central Bank except that the Bank has issued general authorization for producing 0 Euro banknotes. The banknotes are printed at private fiduciary facilities. Such banknotes may depict any person or popular landmark to promote tourism. Its origins stem from France in 2015; later, other countries also began to produce it.
The Zero Euro souvenir banknotes can be produced in any country by a licensed company. For example, 0 Euro banknotes are printed by companies in Turkey, Ireland and other countries.
As far as the Lenin banknote is concerned, it was really dedicated to his 150th anniversary; however, it was not issued by the European Central Bank, but was rather produced by a private company in Russia that is confirmed by the description of this particular banknote referring to Russia as the country of production. Identical banknotes are available at the website Eurosouvenirscheine.de.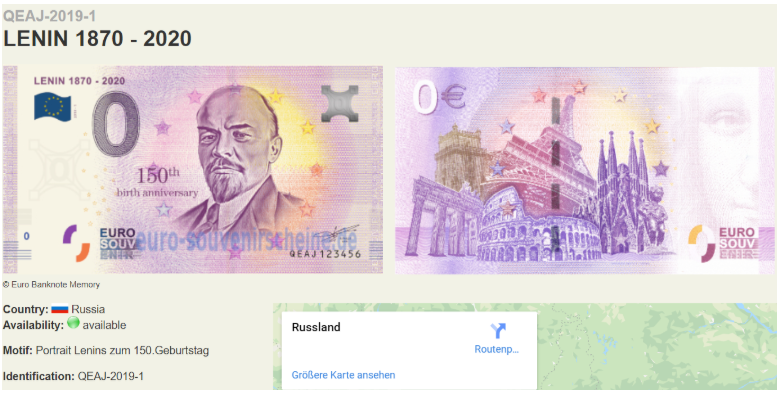 0 Euro banknotes issued by various countries depict popular landmarks and famous figures of those countries. The banknotes share many of the same characteristics of a real Euro except that they are marked as "0", and are tested to ensure they cannot enter circulation as legitimate financial currency. Below are 0 Euro collector banknotes:
---
Prepared by Mariam Nebieridze
Myth Detector Lab