On April 4, 2021, Facebook user Katerina Yakobashvili uploaded a 36-second video showing the 45th President of the United States, Donald Trump and French President Emmanuel Macron. The video also shows Donald Trump embracing an old man. The author of the post claims that the video is featuring the 35th President of the United States, John Kennedy who, as she claims, was alive until recently and died a month ago.
The information as if Kennedy was alive in 2021 and died a month ago is false. The video shows World War II Veteran Russell Pickett, not John Kennedy.
The video verification has revealed that the man featuring in the footage whom Donald Trump embraced is World War II Veteran Russell Pickett. A logo of Daily Mail is clearly seen in the video uploaded by Katerina Yakobashvili. The media outlet posted the video on its official YouTube channel on June 6, 2019.
Hundreds of veterans gathered in France on June 6, 2019 to mark the 75th anniversary of the Normandy Landings, also known as D-Day. World leaders, including the French government officials and President Trump honored WWII veteran Russell Pickett as well as other veterans. Then First Lady Melania Trump, French President Emmanuel Macron and his wife Brigitte Macron also attended the ceremony.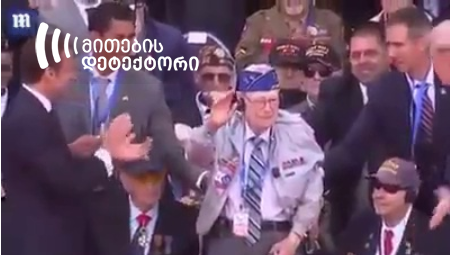 A screengrab from Katerina Yakobashvili's video

A screengrab from Daily Mail's video

Photo depicting Russell Pickett
Russell Pickett died of complications of heart disease on August 2, 2020. As for the 35th President of the United States, John Kennedy, he was killed by an assassin's bullets in Dallas, Texas on November 22, 1963.
It is unknown what prompted Facebook user Katerina Yakobashvili to claim that John Kennedy is featuring in the video. It should be noted that the two men do not even resemble each other. Below are the photos depicting John Kennedy and Russell Pickett:
---
The article has been written in the framework of Facebook's fact-checking program. You can read more about the restrictions that Facebook may impose based on this article via this link. You can find information about appealing or editing our assessment via this link.
Read detailed instructions for editing the article.
Read detailed appeal instructions.