On February 7, a website tralsazrisi.ge released an article headlined "Scandal! The Americans disclose the alliance between Saakashvili, Soros and Biden against Georgia and Ukraine." The article is accompanied by the link of an American documentary, redirecting us to tvalsazrisi.ge's YouTube channel. On the same day, the article was shared by Facebook pages "Stalin," "Jaba Museliani's blog" and "Beka Vardosanidze."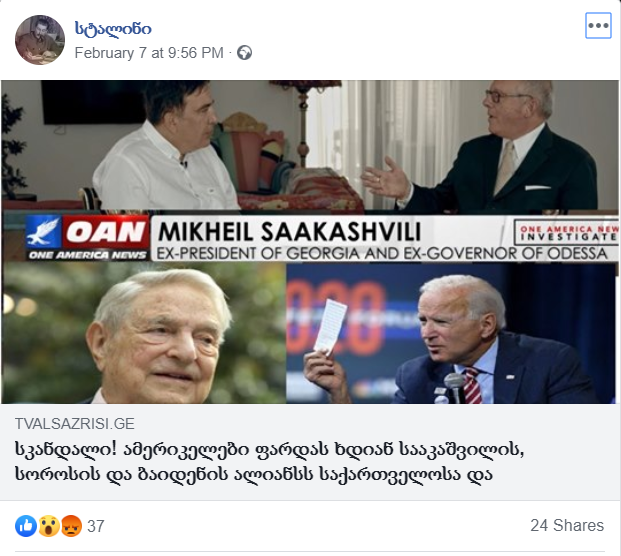 The original headline of the documentary is "The Ukraine Hoax: Impeachment, Biden Cash, Mass Murder". The film has a logo of One America News (OAN), a news and opinion channel, and it has just premiered on this TV channel. The author and narrator of the film is Donald Trump's 2016 campaign adviser, Michael Caputo whose links with Russian influence operations were investigated by the so-called Mueller commission.
The author begins almost an hour-long documentary with discussing the shadow rule by Soros in post-Soviet countries and blames the billionaire for the problems persisting in these countries, as well as mass migration, weakened judiciary and civil unrest. Caputo claims that "Soros has a hidden agenda," but refrains from elaborating Soros' motives.
Maidan and conspiracy about hired Georgian snipers 
One of the main topics covered in the film involves the 2014 developments on Kiev's Maidan square. Caputo offers interviews with several Georgian witnesses. Giorgi Bezhitashvili, Tsezar Bajaladze and Zurab Inashvili claim that they were hired as snipers to participate in the Maidan developments and that they were receiving instructions from Georgia's ex-President Mikheil Saakashvili and leader of Georgian Legion, Mamuka Mamulashvili.
In November 2017, the Myth Detector released an article about a fake investigative documentary spread by Russian media outlets covering the Maidan developments. Georgian respondents claimed in the Italian documentary that Saakashvili and Mamulashvili hired them to participate in the Maidan developments. In the interview with the Myth Detector, Mamuka Mamulashvili denied all accusations against him, saying that he had not crossed the Ukrainian border before April 2014, whereas the Maidan developments took place in February 2014. Moreover, the documentary contained several factual inaccuracies and manipulations. Still, pro-Kremlin media outlets immediately picked up the film's key "findings" referring to Tristan Tsitelashvili, who was charged with spying in favor of Russia, as its source.
Michael Caputo also includes an interview with Tristan Tsitelashvili in his documentary. Tsitelashvili reiterates an unverified conspiracy theory about hired Georgian snipers' participation in the Maidan developments.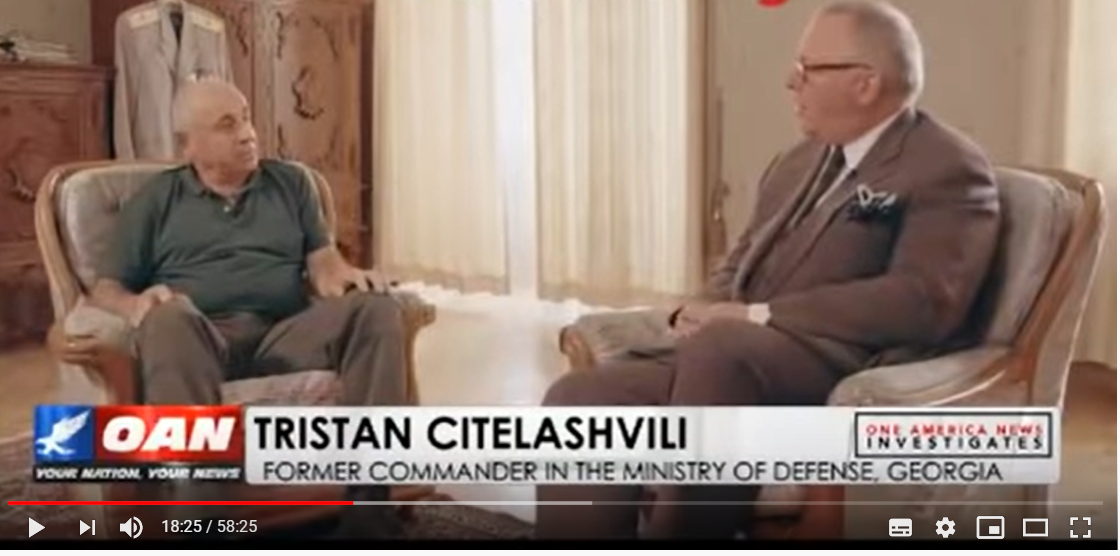 U.S. soldier on Maidan 
Based on the interviews with Georgian witnesses, Caputo is also searching for the American trace in the Maidan developments. One of the witnesses, Giorgi Bezhitashvili notes that during one of the meetings, Georgia's ex-President Saakashvili was accompanied by American soldier, Brian Christopher Boyenger. During the interview with Caputo, Boyenger presented his passport, confirming that he arrived in Ukraine a year after the Maidan developments, while his tax payments confirm that during the tragic developments in Kiev, he worked in North Carolina. But Caputo is still skeptical and says referring to Georgian snipers that they all were using fake passports.
About One America News (OAN) 
One America News is an American TV channel described as ultra-conservative and far-right by other American media outlets. The TV channel has been accused on multiple occasions of spreading fake news and conspiracy theories.
For example, in April 2018, OAN correspondent said after visiting the Syrian city of Douma that there was no evidence of chemical attack in the city.
Tom Rogan, analyst at Washington Examiner, an American conservative news website and weekly magazine, writes that OAN and Kremlin's Sputnik outlet like to spread fake news relating to Syria. "At times they do so using the same Russian government front. This effort serves the Kremlin's interests," he says.
This is not the first time the TV channel spreads a myth about George Soros. Earlier, its correspondent, who simultaneously works for Sputnik, said that 14-year-old George Soros was cooperating with Nazi Germany.
Mueller Commission questioned Michael Caputo 
Media consultant and Trump Campaign Adviser Michael Caputo is the author of the documentary. The so-called Mueller Commission probed into Caputo's alleged links to Russian interference in the 2016 presidential election. According to the commission's report, in the spring of 2016, Michael Caputo learned through a Florida-based Russian business partner that another Florida-based Russian, Henry Oknyansky claimed to have information that could smear Hillary Clinton. Caputo notified Roger Stone and brokered communication between Stone and Oknyansky.
Although the commission failed to obtain evidence establishing the links between the meeting and Russian interference in the U.S. presidential election, it noted that in their statements to investigators, Oknyansky and Caputo had contradictory recollections about the meeting. Oknyansky claimed that Caputo accompanied Stone to the meeting and provided an introduction, whereas Caputo did not tell the commission that he had attended and claimed that he was never told what information Oknyansky offered.
As for Roger Stone, in November 2019, he was convicted in federal court of seven felonies for obstructing the congressional inquiry, lying to investigators under oath and trying to block the testimony of a witness whose account would have exposed his lies.