On 24th of August, one of the leaders of "Georgian March" Sandro Bregadze published a photo with a description: "Dumb president of Estonia and gay chief of Intelligence Service (on the right) – Georgian March is a destructive power – and when they say this, that's when I feel we're the most powerful!!!" on his private account of the social network Facebook
Facebook post published by Bregadze is photo manipulation. In reality, "chief of Intelligence Service"  as written by Bregadze isn't on the photo, but Estonian writer, translator, and cultural critic, Mikk Pärnits is. The Head of the Estonian Foreign Intelligence Service is Mikk Marran. 
Dissemination of Sandro Bregadze's photo manipulation on social media
Per data of August 26,  Sandro Bregadze's Facebook post has 258 reactions, 53 comments, and 55 shares.
Post has been shared in two Facebook groups: კახა კალაძე თბილისის მერი (Kakha Kaladze the Mayor of Tbilisi) and პროტესტი! Protest! Протест! (Protest! Protest! Protest!).
Pro-Kremlin media outlet "News-Front Georgia" has published Bregadze's post on their web-page. The link to the mentioned article has been shared by Facebook pages "Beka News" and "Eurasia – Information Agency". Link has been shared in following Facebook groups as well: კახა კალაძე თბილისის მერი (Kakha Kaladze the Mayor of Tbilisi), კახა კალაძე თბილისის მერი (Kakha Kaladze the Mayor of Tbilisi), პროტესტი! Protest! Протест! (Protest!Protest!Protest!),  Newspaper "Georgia and the World's" group: Россия и Грузия- дружба навеки! (Russia and Georgia – Friendship Forever), რუსთავი 21 / RUSTAVI 21 (Rustavi 21/Rustavi 21).
Moreover, photo manipulation was published by Facebook page " "სარკაზმის საძმო" (Sarcasm Brotherhood).  A photo published by this page has a caption: "Legendary Estonian Intelligence Service" on it.
Facebook page "ანტი-პარადოქსი 2" (Anti-paradox 2) used the photo of Mikk Pärnits for a meme. The meme has a caption "Everybody who supports Belarusian opposition and wants to overthrow Lukashenko is a f*ggot, CHANGE MY MIND", with the photo of Mikk Pärnits on the left side.
Estonian Foreign Intelligence Service's report 2020 mentions "Georgian March" as well. In the report, "Georgian March" is set as an example of a Russia-run propaganda weapon and is mentioned as an extremist and aggressive movement that doesn't even shy away from assaulting opponents. The document also highlights the fact that several people linked with Russia and its' influence mechanisms are among the leaders of "Georgian March".
History of the photo 
The mentioned photo was taken at the event held on August 18, 2020, where 8 people received a "Violence Prevention Award". One of the recipients is Estonian writer, translator, and cultural critic Mikk Pärnits.
In the center of the photo is Estonian President Kersti Kaljulaid, on the left side is the Minister of Justice Raivo Aeg. It was Aeg who rewarded Pärnits. Later Aeg himself removed Pärnits' surname from the list of award recipients. As the minister of justice stated on his official Facebook page, the reason for that was the Pärnits' attire and award acceptance speech. Pärnits in his acceptance speech mentioned that the traditional family is the most dangerous place for a child.
Photo manipulation outside of Georgia  
The mentioned photo was manipulatively used by propaganda web-pages and trolls outside of Georgia. On the 24th of August, Estonian publishing "Õhtuleht" published an article that discusses the troll factory manipulating the photo. Contrary to the manipulation disseminated in Georgian social network, they mentioned Mikk Pärnits as a child of the Estonian president and minister of justice. On Twitter, pro-Russian account "Логан" (Logan) (@M5NZyOhxPbaRTaE) published a photo with the following description: "Estonian president with her husband and "son". Goddamn you, have no words…". The post has 786 shares, 631 comments, and 1400 likes.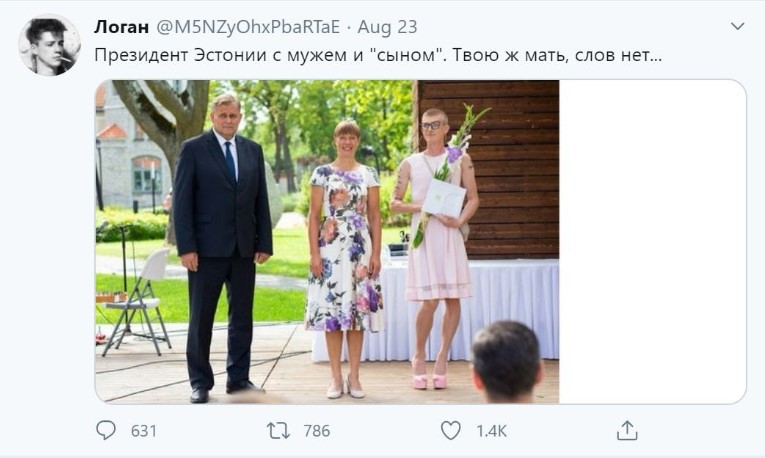 Twitter account "Scott's Humor's" post is the most popular among English posts with similar content. The aforesaid account mentions that it belongs to the Russian writer and journalist.
Parallels with the developments in Belarus has been drawn by the twitter account "Serbian Team UN SC 1244" that compared Mikk Pärnits referred to as the son of the Estonian president with the son of Belarusian president Alexander Lukashenko and declared his/her support for Lukashenko on behalf of Serbian people.
In reality, Estonian President Kersti Kaljulaid has 4 children. Two of them, Silja Märdla and Siim Talvik are from her first marriage with Taavi Talvik. Two sons, Kaspar and Georgi, are from her second marriage with her current husband Georgi-Rene Maksimovski.