On January 17th, 2023, an anonymous Facebook account published a video showing the 43rd President of the United States of the US, George W. Bush, dancing to a Russian song. The video was shot in the Russian city of Sochi and features Russian President Vladimir Putin. The video is accompanied by the inscription "Putin and Bush, Sochi. 2008". The comment by the author of the post: "Our great worried friend, even in 2008" hints that the US president danced to Russian songs with the President of a hostile state in the year of Russian intervention in Georgia.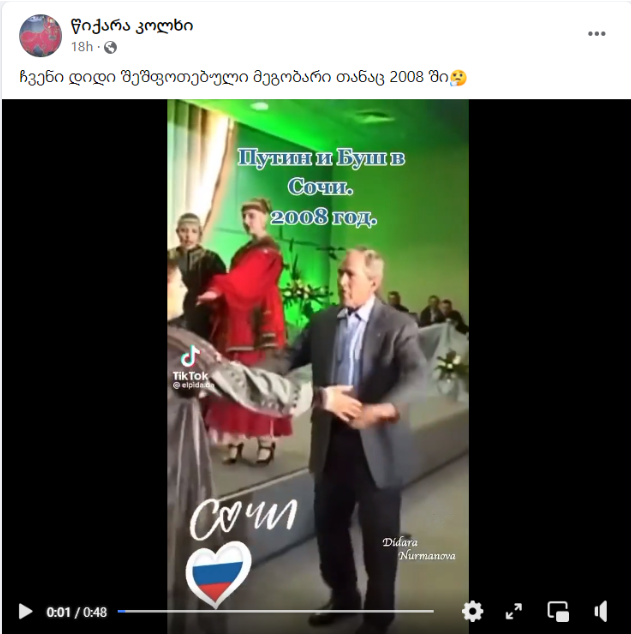 The post is misleading and creates the impression that George W. Bush visited Russia after the 2008 August war and that the video of his dance was shot after the Russo-Georgian war. In fact, the video was shot a few months before the war, in April 2008, when Bush made an official visit to Russia.
The author of the post uses the information that the video of Bush dancing in Sochi to 2008 manipulatively and tries to create the impression that Bush visited Russia after the August 2008 war. In fact, Bush visited Sochi on April 5-6th, 2008.
Before arriving in Sochi, Bush attended the NATO summit in Bucharest, where he actively supported the idea of Georgia and Ukraine joining NATO.
According to Euronews, the video of Bush's dance shot in Sochi was published by the Kremlin in 2020 to celebrate the 20th anniversary of Vladimir Putin's rule.
It should be noted that after 2008, only Barack Obama visited Russia in 2009 and 2013. After 2013, US presidents did not visit Russia on an official visit.
---
The article has been written in the framework of Facebook's fact-checking program. You can read more about the restrictions that Facebook may impose based on this article via this link. You can find information about appealing or editing our assessment via this link.
Read detailed instructions for editing the article.
Read detailed appeal instructions