On March 20, Facebook user Tamriko Meskhi published a post on her personal account with the description ,,Doctors and veterans protect anti-vaccination protesters from the police in Amsterdam''. The post has several attached images, where the gathered people, including in white coats, can be seen. No additional information or source is indicated in the post.

The information, as if the protest in Amsterdam, which veterans and doctors joined, was held against vaccination, is false. In fact, the protest was directed against pandemic-related restrictions
One of the photos published by Tamriko Meskhi shows that the protest was held next to the Van Gogh Museum, which is in Amsterdam.

Van Gogh Museum, Amsterdam, Netherlands. Source:culturetourist.com
As for the date and content of the rally, it was held in Amsterdam on March 14 and was related to Covid-19 restrictions, rather than vaccination. Photos and video footage of the rally can also be found on various Twitter accounts, where they write that health-care workers and military veterans also joined the demonstration.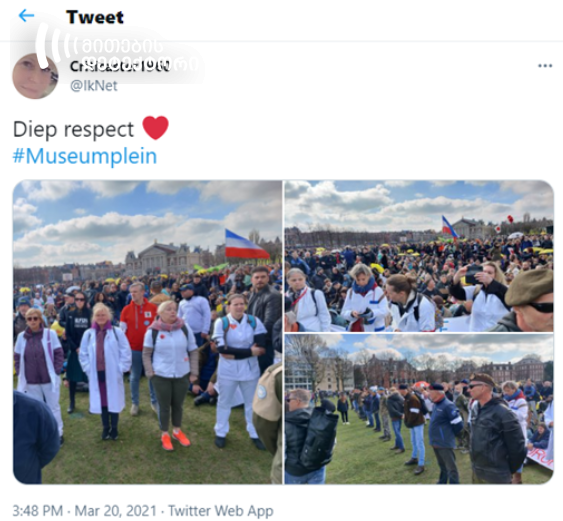 According to the information spread in the media, about 2000 demonstrators gathered in the center of Amsterdam. The Dutch government established the limit of 200 people on gatherings, while according to the police, protesters exceeded this amount. Law enforcers have used water cannon to disperse protesters. Police also used dogs and batons against demonstrators after some of them refused to leave the area.
The main issue for the demonstrators was lockdown and the curfew imposed in January, which is planned to continue until the end of March. Because of this, protests were held in other cities in the Netherlands as well.

Source:Deutsche Welle
---
The article has been written in the framework of Facebook's fact-checking program. You can read more about the restrictions that Facebook may impose based on this article via this link. You can find information about appealing or editing our assessment via this link.
Read detailed instructions for editing the article.
Read detailed appeal instructions.