Over the last few days, several media outlets and social network users have been spreading the claim that the Vatican became the first European country to start buying natural gas from Russia in rubles, and for that, the Vatican Bank bought rubles worth 10 million EUR. Similar information was disseminated by several Russian-language media outlets (1, 2, 3, 4, 5, 6, 7, 8), including eer.ru, whose visuals resemble the colours and designs of the famous British media BBC. The publications cited the media in general instead of naming a specific source in the article. Georgian Facebook user "Karosa Ni" also reported the alleged purchase of natural gas in rubles by the Vatican.
The information about the Vatican purchasing the Russian gas in rubles is false. In fact, the selected claim was voiced by a Twitter user in the form of a joke and apologized for it two hours after posting it.
The claim that the Vatican bought 10 million euros worth of rubles from the Central Bank of Russia to buy natural gas in rubles, was published on March 28th by Russian-language Twitter user Ледовская Мария.
The tweet reads as follows:
Mariya Ledovskaia: "The Vatican Bank was the first to pay for gas in rubles today, having bought rubles worth 10 million euros from the Central Bank. The Pope turned out to be much smarter than many European politicians who fell into despair from the requirement to buy gas in rubles. Well, that's why he's the Pope – with gas and brains."
Two hours after publishing the first tweet, Ledovskaia published another tweet, noting that the Twitter user "Игорь" was the first one to know that the information was just a joke. Ledovskaia even apologized for the joke.
Information about the purchase of natural gas in rubles by the Vatican was also verified and denied by Oilprice.com, a specialized publication in the field of oil and energy.
On March 23rd, Vladimir Putin stated that countries "unfriendly" to Russia should buy Russian natural gas in rubles. On March 28th, the G7 rejected Russia's request, stating it would be a unilateral breach of the existing contract.
Notably, one of the Russian-language media outlets that have disseminated the information – eer.ru (Внешнеэкономические связи) mimics the logo and the webpage design of the British BBC.
The website indicates that the outlet predominantly writes about topics related to international finance and economics and that it was registered by the Russian Federal Service for Supervision of Communications, Information Technology and Mass Media (Roskomndzor) in 2014. Notably, the so-called "cloaked websites" usually mimic the appearance of Western media sources to raise their credibility.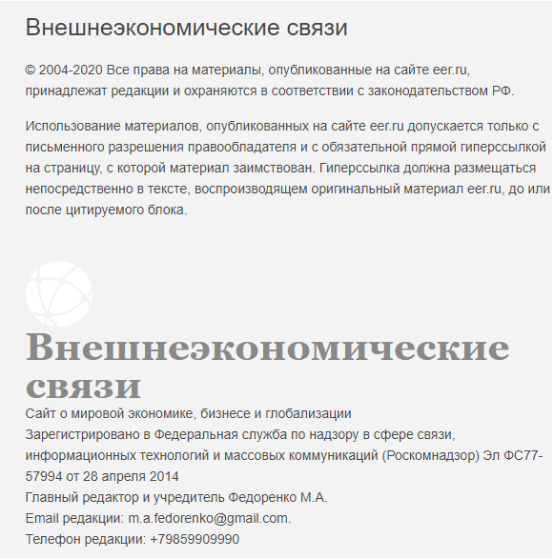 ---
The article has been written in the framework of Facebook's fact-checking program. You can read more about the restrictions that Facebook may impose based on this article via this link. You can find information about appealing or editing our assessment via this link.
Read detailed instructions for editing the article.
Read detailed appeal instructions.