On January 10, 2021, Facebook user George Zardiashvili published a post in the group "The movement against Covid-fascism!!!", claiming that Pfizer and Moderna's Covid-19 vaccines are not classical vaccines, since they were obtained through a combination of gene synthesis and DNA technology. According to the author of the post, the manufacturer companies also confirm this idea, when they mention the vaccine as a computer in a human body on their websites. According to Zardiashvili, the vaccine will change coding in a human gene. The post is accompanied by Dr. Tom Cowan's blog, in which the same opinion is expressed.
On January 11, 2021, Facebook group "Facts and opinions" also published an anti-vaccination post, in which, based on Dr. David Martin's video address, stated that Covid-19 vaccines represent "a mechanical device, that is being inserted into the human system to activate the cell to become a pathogen manufacturing site". According to the post, after vaccination, 80% of vaccinated people experienced clinical side effects. The Facebook post has more than thousand shares.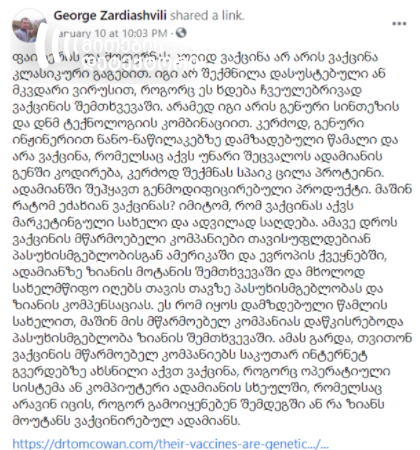 The claim, as if Pfizer and Moderna's Covid-19 vaccines cause changes in a human gene, is not true. On Moderna's website, the mRNA technology – in fact, has been compared with the operating system of a computer. However, it relates to the unique mRNA sequence, encoded to produce a protein and it does not mean, that any electronic device is inserted into a human body. mRNA vaccines do not have an impact on a human DNA, since they do not enter the cell nucleus, where genetic material is kept. Neither is it true that 80% of vaccinated experienced clinical side effects. In fact, in case of both these vaccines, severe side effects were rare, while the efficacy of the vaccines was about 95%.
Pfizer and Moderna vaccines' efficacy and adverse effects
USA has authorized both Pfizer (12 December 2020) and Moderna (18 December 2020) Covid-19 vaccines for Emergency use Authorization. In the USA, the mRNA, like other vaccines, has undergone the same stages for obtaining a license, and meet the safety and effectiveness standards, defined by the U.S. Food and Drug Administration and representing an essential precondition for the use of Covid-19 vaccines in the USA.
The U.S. Food and Drug Administration has published a document that reviews the Pfizer-BioNTech Covid-19 vaccine. According to the document, Pfizer-BioNTech vaccine has undergone safety trial with participation of 43 448 people (16 years of age and older) from 6 countries. Clinical trial held in the USA, Argentina, Germany, Brazil, South Africa and Turkey shows, that 95% efficacy can be reached 7 days after taking the second dose.
As for the Pfizer adverse reactions or adverse events, in total, 6 (which is 0.01%) out of 43,448 involved participants (2 vaccine recipients, 4 placebo recipients) have died during the period from April 29, 2020 to November 14, 2020. Both vaccine recipients were above 55 years of age; one of them experienced cardiac arrest 62 days after the second vaccination, while the second participant died from arteriosclerosis, 3 days after the first vaccination. At the same time, all deaths are common for the age group, just as their rate. Among the population (43,448 participants) involved in the trial, the proportion of participants who experienced at least 1 serious adverse event during the period from taking the first dose to the data collection deadline (November 14, 2020), was 0.6% in a Pfizer-BioNTech vaccine recipients' group, while in a placebo group – 0.5%. The most common serious adverse events in the vaccine recipients' group, which were numerically higher, compared to the placebo group, were appendicitis (0.04%), acute myocardial infarction (0.02%) and cerebrovascular accident (0.02%).
As for the Moderna, the vaccine's efficacy and safety has been tested with participation of 30 000 people and the results have shown the vaccine was safe, while serious side effects are rare. According to the document published by the U.S. Food and Drug Administration, Moderna vaccine tested on 30 000 has shown 94.1% efficacy. 0.2% to 9.7% of the events were reported as severe adverse reactions, while severe solicited adverse reactions were more frequent after the second dose.
How do mRNA vaccines work and how is the mRNA technology explained on companies' websites?
The above-mentioned posts manipulate the opinion that mRNA vaccines are harmful, since they differ from previously existing vaccines, and that they are referred as a computer in a human body on the companies' websites.
It should be noted that both Pfizer and Moderna belong to the type of so-called Messenger RNA vaccines. According to the the U.S. Centers for disease Control and Prevention, Moderna's Covid-19 Messenger RNA vaccines do not affect or interact with a human DNA. mRNA never enters the cell nucleus, where our DNA (genetic material) is kept. The cell breaks down and destroys mRNA, once it completes the process of using instructions. In contrast to the mRNA vaccines, famous vaccines put a weakened or inactivated germ into our bodies to trigger an immune response. The mRNA vaccines teach our cells how to make so-called "spike protein" (which is found on the surface of the virus that causes Covid-19), or even a piece of a protein that stimulates immune response in our bodies. Noted immune response producing antibodies, will protect us from getting infected with Covid-19, if the real virus enters our bodies. Accordingly, the vaccine is not linked to genetic modification.
Dr. Paul McCray, Professor of Pediatrics, Microbiology and Internal Medicine at the University of Iowa, in a comment made for the Reuters, explains that the only modification for the host (human body) is its stimulation to produce antibodies and T cells that will prevent infection with the virus or kill any infected cell, which, for its part, is a precondition for prevention or reduction of disease severity.
Moderna's official website states that they are focused on creation of an mRNA technology platform that functions like an operating system on a computer, which is a random comparison, but not the actual state. "It is designed so that it can plug and play interchangeably with different programs. In our case, the "program" or "application" is a unique mRNA sequence, that codes for a protein."

Source: Modernatx
According to the information, published on Pfizer's official page, Pfizer and BioNTech's Covid-19 vaccine cannot cause Covid-19 disease, since the vaccine does not use the live virus. The vaccine does not allow the SARS-CoV-2 virus to replicate and it cannot be a cause of any illness.
Who are the sources that Facebook posts rely on?
Dr. Thomas Cowan, on which the first post is based, is a person, who claimed, that radiation from 5G mobile network was a cause of novel coronavirus spread, which, in fact, is a conspiracy theory. According to CBC (March 2020), Cowan is currently operating on probation with the medical board in California. His practice is limited after a 2017 complaint to the state medical board. He had offered an unlicensed drug to a breast cancer patient, who was not informed it was not approved for use.
David Martin, whose views the second Facebook post relies on, is an entrepreneur, financial analyst and a founder of M-CAM company, who has his own YouTube channel and who is also known as a promoter of conspiracy theories.
---
The article has been written in the framework of Facebook's fact-checking program. You can read more about the restrictions that Facebook may impose based on this article via this link. You can find information about appealing or editing our assessment via this link.
Read detailed instructions for editing the article.
Read detailed appeal instructions.