On March 31, a website ueik.ru.com published an article about the treatment of diabetes. The article involves an interview with Alexander Burduli, who, as the author claims, is the best endocrinologist in the country as well as the author of 32 scientific books. Alexander Burduli notes in the interview that Metformin is used to treat diabetes; he, however, adds that this method of therapy is dangerous for patients and causes premature death. He also notes that Metformin should be replaced by an alternative drug, Dialux, which has completely cured 96% of patients with diabetes.
The article also offers an opinion of another respondent, pensioner Natia Gvelurashvili, who says that she was cured of diabetes with the help of Dialux. The article is accompanied by the photos allegedly depicting doctor Alexander Burduli and pensioner Natia Gvelurashvili.
According to the article, Georgian pharmacies face a shortage of Dialux. The website offers its readers a raffle through which all interested persons can buy Dialux at half price – GEL 64.
Besides Georgian, the website, which is trying to sell Dialux to treat diabetes, has also been created in eight other languages with identical texts, photos and comment fields. The man depicted in the photo who was passed off as doctor Alexander Burduli is director of Voronezh Bridge Construction Plant, while a woman called Natia Gvelurashvili is Galina Tushkanova from Bashkiria.
The website involves the signs of medical fraud. It does not provide the manufacturer's contract information, while drug ingredients and its efficacy are vague.
About ueik.ru.com
ueik.ru.com is the website through which the new drug for diabetes treatment is sold. It, however, does not contain either the name of the edition or the logo that would enable its identification. Furthermore, the website has no "About us" section involving key information about it.
The website has several sections, including "Society", "News", "Video" and "Life." However, any attempt to move to any of these sections redirects us to the part of the article that offers participation in a Dialux raffle. The same happens when trying to move to the website's social networks.
Gift boxes are seen on the screen and after clicking on them, we are offered to buy Dialux at GEL 64. A new window opens on the screen, offering to indicate our name, surname and telephone number to place an order.
A telephone receiver is shown on the right side of the page. However, after clicking on it, a new window opens again, asking for our name and telephone number. It is also noted that an operator will contact us soon. No contact number is indicated on the website.
These factors make us think that the website has been created to publish this specific article.
The article is followed by positive comments from consumers with part of them writing that Dialux treatment proved effective and others expressing willingness to buy the drug as soon as possible. It is noteworthy that the website does not contain a registration button meaning that part of comments below the article have been fabricated.
According to Whois Lookup, the website ueik.ru.com was created 28 days ago and it was registered by reg.ru. Noteworthy that following two attempts, the tool first identified Tokyo and then San Francisco as the website's IP address.
Unlike Georgian IP addresses, after entering the page from a foreign IP address, you are redirected to the Georgian-language version of the website with different visual side and content, named Capital Cardiology Associates. The website notes that Capital Cardiology Associates operates at several locations, including in Albania and Cairo.
Identical websites in eight languages have been created to sell the same drug
The text of the article spread in Georgian has been published in many other languages as well. The design of these websites is almost identical to Georgian ueik.ru.com. Moreover, identical photos allegedly depicting a doctor and a pensioner have been used; however, their names differ by articles.
Various websites have been created in Russian (2),Italian (2, 3), Romanian, Slovak, Czech, Polish, Spanish and Portuguese languages to advertise and sell the miracle cure for diabetes.
Like the Georgian article, those published in other languages also have comment fields. Photos of the authors of comments are identical, while their names differ by countries.
The name of the drug also changes by countries. Besides Georgian-language Dialux, the drug also uses the following names: Diapromin, Dialin, Dialon and Micelix.
It is noteworthy that identical websites can be searched in Russian sources offering the drugs for vascular diseases. These websites also have fields for positive comments, like in case of the websites promoting the drug for diabetes treatment. A Portuguese website advertising a drug for vascular disease can also be searched online with the same pensioner portrayed as a patient with diabetes on the websites of about 10 various countries featuring as a respondent in the article.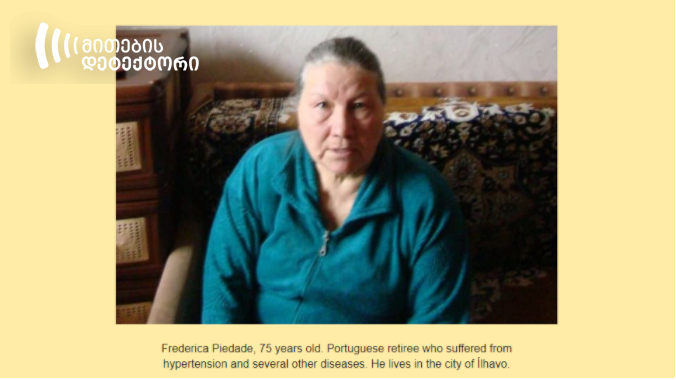 The photo depicts the director of Voronezh Bridge Construction Plant, not endocrinologist Alexander Burduli
The Georgian-language website created for advertising the diabetes drug offers an interview with "Georgian endocrinologist and best specialist", Alexander Burduli. Identical versions of articles published in other countries involve "the best endocrinologists" named Alexandre Rafael, Alexander Rafilovich, Alessandro Raffini and Alexandru Rafila. All of them use the same photo of an old man wearing a white shirt.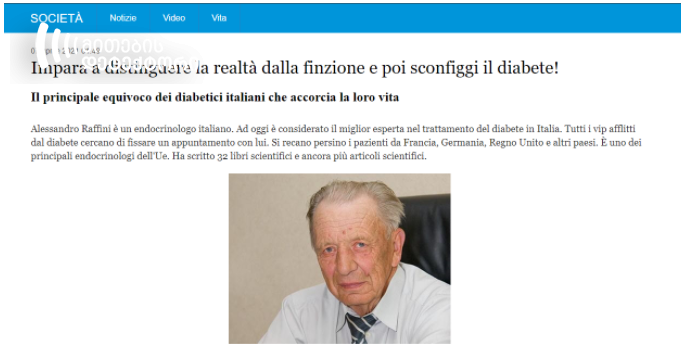 In fact, the man shown in the photo is not either Alexander Burduli, or an endocrinologist. He is Vladimir Borovikov, director of Voronezh Bridge Construction Plant. He died in 2019 at the age of 89.
On March 12, 2019, the Voronezh City Administration published information about Borovikov's death on its official website and its page in VKontakte social network. The information is accompanied by the photo depicting the man who was passed off by various websites as an endocrinologist.
The photo depicts Galina Tushkanova, living in Bashkiria, not Georgian pensioner Natia Gvelurashvili from Gori.
According to the article, the second respondent is Georgian pensioner Natia Gvelurashvili, who lives in Gori and who defeated diabetes with the help of Dialux.

The name and address of this respondent have been changed in the articles published in various languages. She is called Tatiana Zizenko, Francesca Mancini, Sandra Martinez, etc. The articles contain the same information about her, noting that she had suffered from diabetes since the age of 28 and managed to recover after taking the diabetes drug.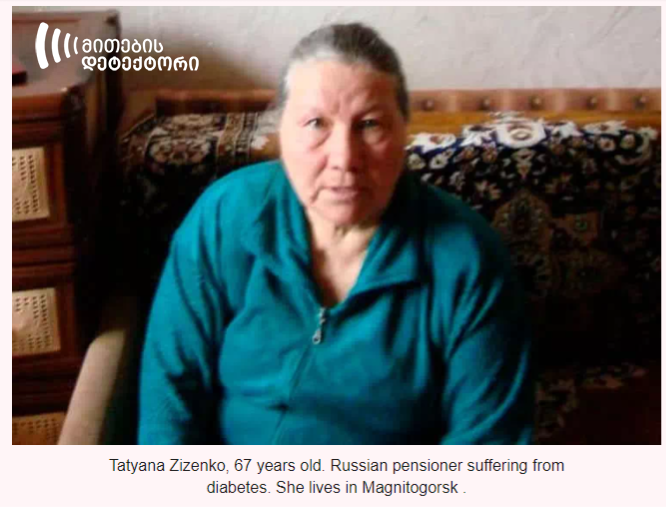 The woman shown in the photo is Galina Tushkanova, pensioner living in the city of Tuymazy, Bashkiria. The photo was taken by her defense lawyer Artur Yusunov and it was used in several articles published by Russian online edition, msket.ru in 2019. According to the articles, Galina Tushkanova really has diabetes. In April 2019, she went on hunger strike after being evicted from home.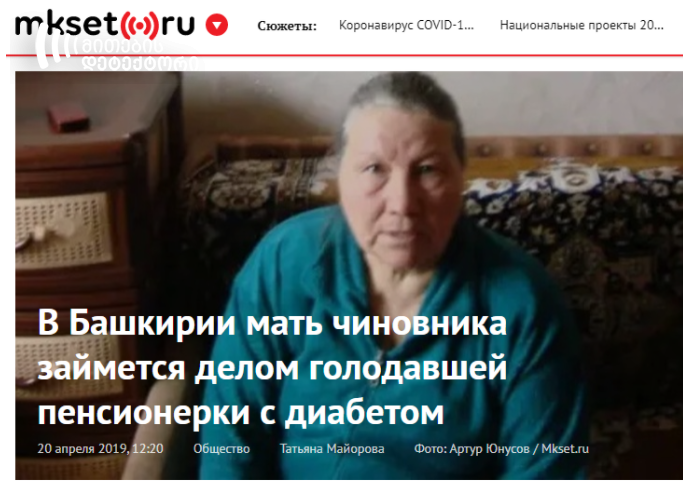 Although Galina Tushkanova has diabetes, no information about her recovery after taking a specific drug can be searched through open sources; only reports about her hunger strike in 2019 have been spread so far.
The website of "Miracle Cure for Diabetes" contains signs of medical fraud
The article notes that Georgian pharmacies face a shortage of Dialux. Therefore, it is better to buy the drug through the website. The drug called Dialux cannot be searched on the websites of any Georgian pharmacy.
healtline.com offers the list of medicines used to treat diabetes and Dialux is not included in this list either.
Besides the fact that one and the same text is used in various countries to sell the diabetes drug with the identifies of two persons fabricated, several factors have been revealed around the drug raising suspicions about medical fraud:
Dialux package involves no information about its manufacturer or the country of origin. Neither does the article specify this information. Thus, important details such as a manufacturer's contact information and address are unknown. A telephone receiver is seen on the website, but after clicking on it, the website asks for our name and telephone number, while its contact number is not provided anywhere.

Drug ingredients are vague. The article notes that it contains necessary vitamins and plant extracts. However, neither specific ingredients are named, nor online medical instructions are provided.
The article notes that Dialux was created at the Endocrinology Research Center; it, however, does not specify the Endocrinology Center of which country is meant.
Neither the article nor any open source provides information about any research that has studied the drug efficacy.
Dialux offers patients a cure for diabetes. But it is noteworthy that no cure for diabetes currently exists, but the disease can go into remission. When diabetes goes into remission, it means that the body does not show any signs of diabetes, although the disease is technically still present.
It is impossible for a person or a company trying to sell the drug be familiar with a buyer's medical history and what is more important, be convinced of achieving positive results. Moreover, a doctor's prescription is not required when buying the drug through the website. Thus, the calls for taking the drug for a chronicle disease without consulting a doctor contain the signs of medical fraud.
Dialux is also sold on the website new.dialux.pro. The website provides more information about the drug, but still it contains some shortcomings. To legitimize the drug, the website names several organizations, who allegedly recognized Dialux; however, none of these organizations or their studies can be searched online.

Furthermore, the website notes that Western pharmaceutical corporations are trying to misappropriate the old recipe belonging to German chemist Alfred von Zimmerman. The information is accompanied by a photo. It, however, depicts not German chemist Zimmerman, but Gottfried Wilhelm Leibniz, German philosopher and mathematician, who had nothing to do either with diabetes or its drug. Alfred von Zimmerman's name cannot be searched through open sources.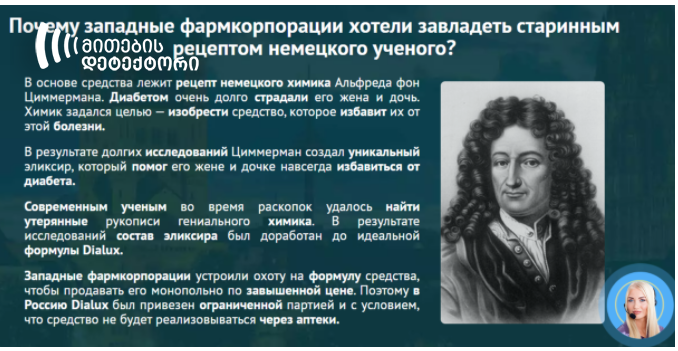 The website also has a section "Specialists" who are talking with consumers about drug quality. A woman depicted in one of the photos, who according to the website, is Natalia Semionova, a quality assurance director, is featuring as Anna Shubkina on another website and presented as a partner of one of the printing houses.

An identical website has been created to sell the drug named Dialec.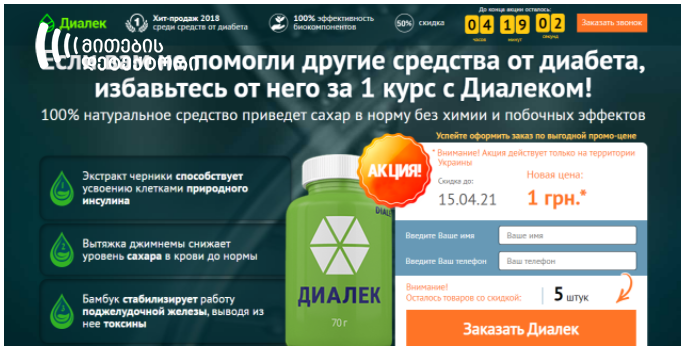 The U.S Food and Drug Administration (FDA) published a statement on its website in 2017, calling on consumers not to use illegally marketed products promising to prevent, treat, and even cure diabetes, because they carry an additional risk if they cause people to delay or discontinue effective treatments for diabetes. "Without proper disease management, people with diabetes are at a greater risk for developing serious health complications," the statement reads.
According to the statement, FDA laboratory analysis has found "all-natural" products for diabetes to contain undeclared active ingredients found in approved prescription drugs intended for treatment of diabetes. Such drugs can cause serious harm. These products may interact in dangerous ways with other medications and cause a significant and unsafe drop in blood sugar levels.
The Scamwatch project run by the Australian Competition and Consumer Commission (ACCC) provides information about fake online pharmacies trying to sell healthcare products at low prices that consumers never receive, or making false promises about their 'cure-all' products, medicines and treatments. The website discusses key features of fake online pharmacies, noting that they portray the product as a miracle cure, noting that medical industry is trying to silence them. The above-mentioned factors, including a manufacturer's contact information, absence of scientific research into the medicine and so on are also worth noting.
About Metformin
According to the article, mainly Metformin is used to treat diabetes, but it is dangerous for patients and causes premature death.
The U.S Food and Drug Administration (FDA) notes on its website that certain metformin products may contain the impurity N-nitrosodimethylamine (NDMA) above the acceptable intake limit that may be harmful to health.
The FDA recommends patients taking recalled metformin to continue taking it until a doctor or pharmacist gives them a replacement or a different treatment option. It could be dangerous for patients with type 2 diabetes to stop taking their metformin without first talking to their health care professional.
It also stressed that the agency is studying the issue adding that nitrosamine impurities may increase the risk of cancer if people are exposed to them at above acceptable levels over long periods of time, but "we do not anticipate that shorter term exposure at levels above the acceptable intake limit would lead to an increase in the risk of cancer."
---
Archived link: ueik.ru.com
---
The article has been written in the framework of Facebook's fact-checking program. You can read more about the restrictions that Facebook may impose based on this article via this link. You can find information about appealing or editing our assessment via this link.
Read detailed instructions for editing the article.
Read detailed appeal instructions.