On November 28th, 2021, the Facebook user Nino Kuntseva-Gabashvili posted a photo of a so-called "Health certificate" [Gesundheitspass] issued in the Third Reich. According to the post description, the document was used in fascist Germany in the 1930s and was required for access to museums, schools, stadiums, restaurants, shops, transport and other public places. The author of the post emphasizes the similarity of the document with the modern Covid-19 certificates and notes that history repeats itself.
As of December 6th, 2021, the post has accumulated 58 reactions and up to 700 shares.
The claim that a health certificate issued under National Socialism is an analogy to the Covid-19 certificate is disinformation. In the Third Reich, a health certificate was not a universally required document, and its absence did not impose restrictions on people. This is evidenced by the explanation at the bottom of the document itself, according to which it was not necessary to submit the document to non-medical institutions. As for the use of public services, the document restricting access to them was not the health certificate, but the so-called "Ancestral Records" [Ahnennpass], which was issued not on the basis of one's health but on the basis of one's ethnicity.
In Nazi Germany, National Socialist organizations such as Hitler's Youth [Hitlerjugend (HJ)] and the Public Health Service of the National Socialist German Workers' Party (NSDAP) indeed issued the so-called "Health certificate", however, the document was used mostly to record the results of the medical examinations. It was not necessary to submit the certificate to non-medical institutions.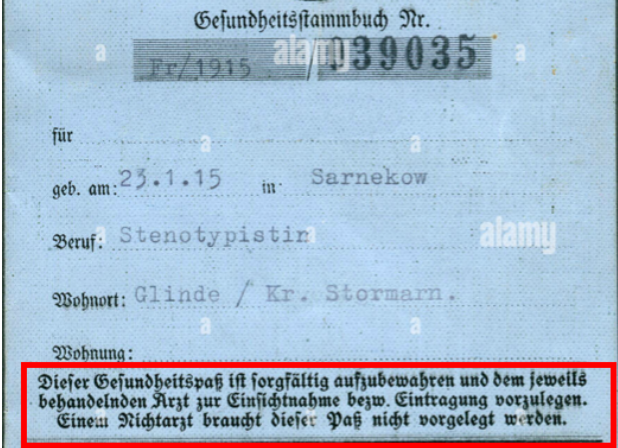 This information was also spread on German and Austrian social media, to which the local publications dedicated a number of articles. For example, the Austrian publication "Tiroler Tageszeitung" contacted several researchers working on the Third Reich to verify the information. According to Herwig Czech, a professor at the Medical University of Vienna, the document was not widely used during the Nazi regime, nor did its absence impose restrictions on the population. The same is confirmed in the 2003 publication of the German historian Michael Buddrus.
 The document that, in fact, forbade people to enter public institutions was not a health certificate but a so-called "ancestral record" and was purely racist by nature. In particular, the people who did not belong to the so-called Aryan race and had Jewish ancestry could not get the "Ancestral records", which restricted them from entering most public institutions, resulting in their exclusion from the social, political, cultural and economic life of the country.


"Ancestral Records" [Ahnenpass] used to impose restrictions on Jews in Nazi Germany
---
The article has been written in the framework of Facebook's fact-checking program. You can read more about the restrictions that Facebook may impose based on this article via this link. You can find information about appealing or editing our assessment via this link.
Read detailed instructions for editing the article.
Read detailed appeal instructions.