On 3 December 2020, RT (formerly Russia Today) released a video titled "Ideology trumps health?Sputnik V rejected by West for political reasons" on its main YouTube channel. It features an analysis by news anchor and Moscow-based correspondent Daniel Hawkins. Hawkins argues that the Russian COVID-19 vaccine Sputnik V is being rejected by "many in Western media and establishment" for purely ideological reasons, and that this "vaccine protectionism" is a stumbling block for widespread global access to immunity.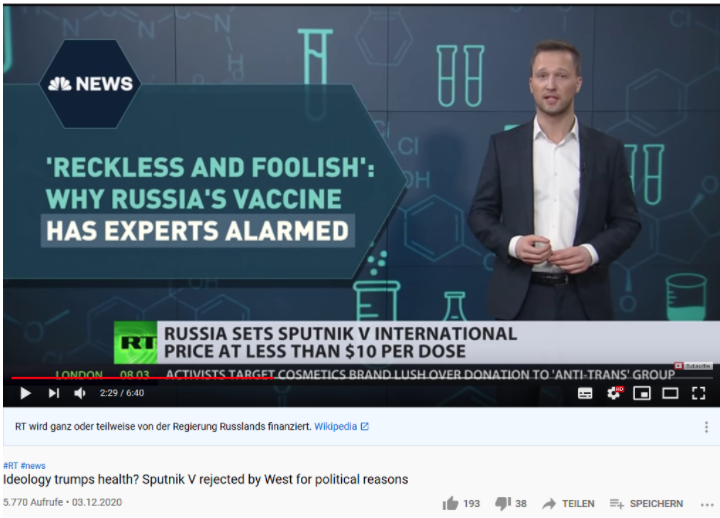 The analysis – and the news show elements, including three interview extracts, in which it is embedded – only relay select information confirming Hawkins' conclusion. Crucial contradicting facts are omitted. The result is manipulative reporting and reasoning, based on half-truths.
The two main omissions are:
an incomplete representation of why the European Commission advised against a member country's single-handed import of Sputnik V
a profoundly flawed description of why Russia's early approval of the vaccine and its subsequent marketing raised concern and were criticised by scientists as well as journalists
Hence, Hawkins attributes the lack of international cooperation regarding vaccine development as well as the fight against COVID-19 exclusively to Western political bias. He dramatically concludes that Western vaccines are difficult to access for most, but alternatives have been "trashed and dismissed from the outset".
For the purpose of this fact-checking, the focus is on Daniel Hawkins' analysis. A verification of other claims made in the video is left aside. Let's take a closer look.
In the RT video, Sputnik V is introduced as a relatively affordable vaccine against COVID-19  (though "less than ten dollars for COVID immunity" is not correct, since one dose of Sputnik V is marketed to cost less than ten dollars, but two are required for a vaccination). It is said that it was presented as such to the UN General Assembly on 2 December 2020. The chief executive of the Russian Direct Investment Fund (RDIF), Kirill Dmitriev, is quoted saying that "tens of millions" of doses will be produced from February onwards, and that supply and production agreements with India, Brazil, China, Korea and Argentina exist. The RDIFsupported the vaccine development financially.
On that note, Daniel Hawkins starts off with the remark that the UK's approval of the COVID-19 vaccine by Pfizer (and Biontech, for the record) makes it the first of its kind to be approved in a Western country. He then claims that "to many in Western media and establishment only western-produced vaccines can even be considered as part of a global solution to the pandemic".
His first argument: The European Medicines Agency (EMA) is in contact with Sputnik V developers, but the EU does not recommend any member state to import the vaccine on its own. The country in question is Hungary. Peter Szijjártó, foreign minister of Hungary, is quoted saying that "there is a strong lobby against vaccines that are being developed outside the European Union".
While vested interests may or may not play a role in this, there is a reason why this recommendation exists. This is even clarified in the article corresponding to the Reuters headline displayed at this point ("EU warns Hungary against use of Russia's COVID-19 vaccine"): According to EMA, Sputnik V must be authorised by the agency before it can be marketed in the European Union. As EMA explains itself: A centralised marketing authorisation is compulsory for, among others, medicines with new active substances to treat viral diseases as well as those made using biotechnology. Since Sputnik V is based on an adenoviral vector that carries genetic material to stimulate antibody protection against coronavirus, it falls under this regulation. As EUobserver notes, a member state can skip EMA's authorisation "only if it invokes specific national emergency procedures".
This explains why the EU warns Hungary against the use of Sputnik V: According to Reuters, Hungary's solo action would be unprecedented. A European Commission's spokesperson is quoted stating that a rigorous authorisation and scientific assessment is needed to ensure trust in a vaccine's safety. Put simply: If people don't trust a vaccine sufficiently, and if they are not forced to be vaccinated, it might not be able to provide any immunity after all.
Hawkins' next major point to showcase the unfair treatment of Sputnik V versus "Western" vaccines: Journalists and scientists have criticized Russia for not providing data on the vaccine's safety. Mistrust persisted "even when phase 1 and 2 clinical trial data was later published in The Lancet". He denounces Western double standards: The US company Moderna has requested emergency approval in the US and the EU, and so have Pfizer/Biontech for their vaccine, "yet neither company has publicly released full data from late stage clinical trials for peer review in any medical journal". Hawkins seemingly proves here that scientific and journalistic judgement has been clouded and biased politically against the Russian vaccine. He implies that Western researchers are given advantages, and that their lack of transparency is deliberately overlooked.
Alongside Hawkins' argument, headlines are displayed as if to illustrate Western bias, such as "'Reckless and foolish': Why Russia's vaccine has experts alarmed" (NBC News). This however, is not a recent news report – it was published on 11 August 2020. The article is a reaction to Putin's same-day announcement that Russia had approved Sputnik V. This made Russia the first country to have made a coronavirus vaccine available. The experts' admittedly stark concern, as quoted in the NBC report, is valid on the following grounds: Russia had approved the vaccine on the basis of only the first two of three clinical trials. This is not trivial. As is explained by author Denise Chow, the Phase 3 trials are usually designed to ensure efficacy, but also safety of the vaccine. Eleanor Riley, a professor of immunology and infectious diseases at the University of Edinburgh, is thus quoted: "'In Phase 3, you can begin testing on thousands or tens of thousands of people, and you start to build up an understanding of any rare side effects.'" The scientific data that Hawkins mentioned, from the Russian Phase 1 and 2 trials, was indeed published in The Lancet on 26 September 2020. This publication, however, does not make up for the fact that for Sputnik V, Phase 3 of clinical trials was not completed – and this aroused widespread criticism.
Moving on to the second part of Hawkins' charge of favouritism: It is true that both Moderna and Biontech/Pfizer have applied for emergency approval in the US and the EU, by the Food and Drug Administration and the EMA respectively. However, both Moderna and Biontech/Pfizer have completed Phase 3 trials beforehand. According to the New York Times, Moderna reported effectiveness after having obtained a complete set of data from a study with 30,000 individuals. Pfizer and Biontech declared their Phase 3 trial with over 43,000 participants to be completed, having met the main efficacy criteria as well. Whether or not those vaccines are granted authorisation in the US and the EU depends on the outcome of the FDA and EMA assessments (on 11 December 2020, the FDA issued an emergency use authorisation for the Pfizer/Biontech vaccine). Hawkins suggests unfair advantages over the Russian vaccine – but as of 1 December 2020, the EMA has not even received a request to authorise Sputnik V. And while the results proclaimed by Moderna and Pfizer/Biontech have been generally well (even enthusiastically) received, requests to provide more data (or concern over the lack thereof) were published in e.g. National Geographic or on a blog of a renowned British medical journal. The scientific journal Nature published a report on the many questions scientists and medical professionals still have regarding the Pfizer/Biontech vaccine approved by the UK.
Lastly, RT's Daniel Hawkins deplores the Western lack of willingness to cooperate internationally and to thereby facilitate access to vaccination for the less privileged. It is indeed curious that the United States called their programme to finance the production of promising vaccine candidates 'Operation Warp Speed'. A warp drive is a Sci-Fi faster-than-light propulsion system – is this a reference? To the old 'race for space'? The Russian vaccine's name is definitely a reminder of competitiveness in Cold War style. With Sputnik 1, Russia was first to successfully launch a man-made satellite into space. RT's Daniel Hawkins complains about the West's refusal to acknowledge that Russia came first in the vaccine race now, too. In reality, however, it seems more like Sputnik V still needs some time to take off.
---
Alexandra Duong
Freelance journalist specially for Myth Detector
---
The article is published within the framework of the project #FIGHTFAKE, which is implemented by MDF in cooperation with its partner organisation Deutsche Gesellschaft e.V.
---
For more information about the project, please, see the link