On September 19th, Facebook accounts (1,2) shared a quote from Justin Trudeau, according to which the Canadian Prime Minister plans to fight climate change through insect consumption. The phrase further states that "there are still people fiercely opposed to this. They still eat chicken and beef. They don't believe in science. They are often misogynists and racists," prompting Trudeau to question whether he should tolerate them.
On September 19th, another alleged quote by Justin Trudeau was spread by Russian-speaking Facebook users. The Facebook account Igor Varzarschi shared a screenshot of the Canadian president's tweet, in which Trudeau notes that the popularity of the hashtag #TrudeauMustGo in the last 24 hours is the result of Putin's actions and aims to discredit him; therefore, the Canadian government intends to regulate and censor online content in the country.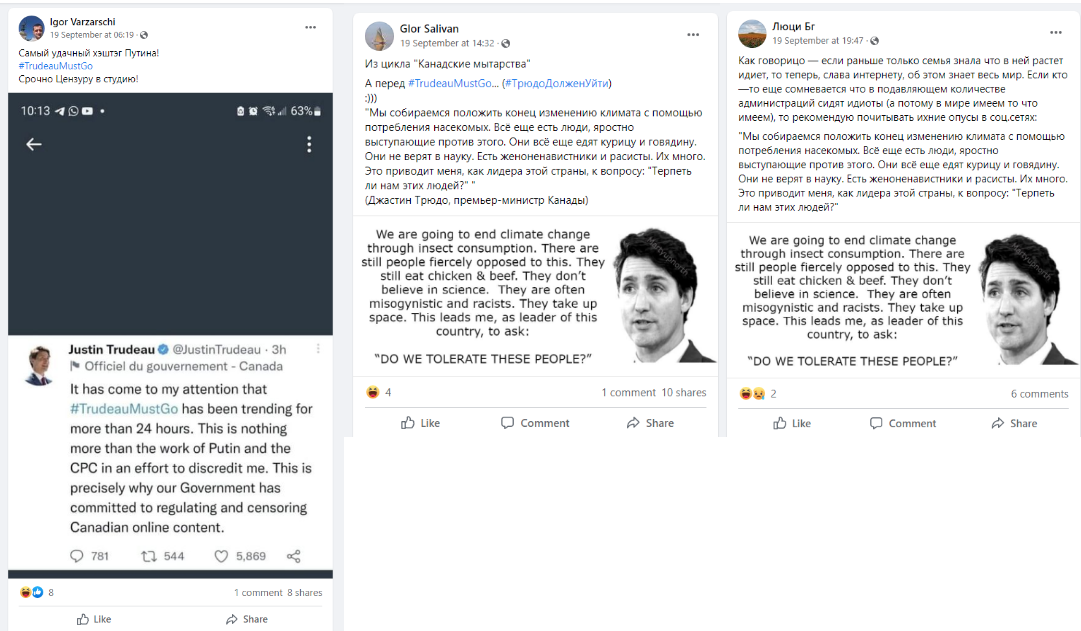 Justin Trudeau's quote regarding insect consumption is fabricated. In the original version of the quote, the Canadian Prime Minister talks about ending the pandemic with vaccination and anti-vaxxers. The widely circulated tweet is also fabricated; according to the Canadian PM's representative, Trudeau never tweeted such a thing.
The quote in which Trudeau allegedly talks about the need to normalize insect consumption is fabricated. It contains parts of the statement Trudeau made at the Noovo TV program La semaine des 4 Julie on September 16th, 2021.
Trudeau answered the question regarding the global pandemic, stating that the only way to end it is through vaccination. Trudeau further asserted that the small group of people who are anti-vaxxers, hinders the chance of the majority to return to normal life.
Disseminated Quote:
"We are going to end climate change through insect consumption. There are still people fiercely opposed to this. They still eat chicken & beef. They don't believe in science. They are often misogynistic and racists. They take up space. This leads me, as leader of this country, to ask: DO WE TOLERATE THESE PEOPLE?"
Authentic Quote:
"Yes, we will get out of this pandemic by vaccination. We all know people who are a little bit hesitant. We will continue to try and convince them, but there are also people who are fiercely against vaccination. They are extremists who don't believe in science, they're often misogynists, also often racists. It's a small group that muscles in, and we have to make a choice in terms of leaders, in terms of the country. Do we tolerate these people? Or do we say, hey, most of the Quebecois people – 80% – are vaccinated. We want to come back to things we like doing."
As for the tweet of Justin Trudeau, in which he attributes the popularity of the hashtag #TrudeaoMustGo to Vladimir Putin and expresses his support for the Canadian government's regulation and censorship of online content, such a tweet cannot be found on Trudeau's personal Twitter page. This tweet can also not be found on Politwoops, a database of deleted tweets by public figures.
Reuters has also fact-checked the screenshot; Justin Trudeau's representative noted that the Prime Minister did not write such a phrase on his Twitter page.
---
The article has been written in the framework of Facebook's fact-checking program. You can read more about the restrictions that Facebook may impose based on this article via this link. You can find information about appealing or editing our assessment via this link.
Read detailed instructions for editing the article.
Read detailed appeal instructions