On October 19-20th, Georgian- (1,2,3,4) and Russian-speaking Facebook users shared a video of one of the French programs. The video shows the results of the poll on the question "Escalation of tension with Putin: should France continue to arm Ukraine?". The positive response rate to the question is 23.3%, and the negative response rate is 76.7%. According to the posts, these results indicate that 76.6% of the French population wants to end the supply of arms to Ukraine.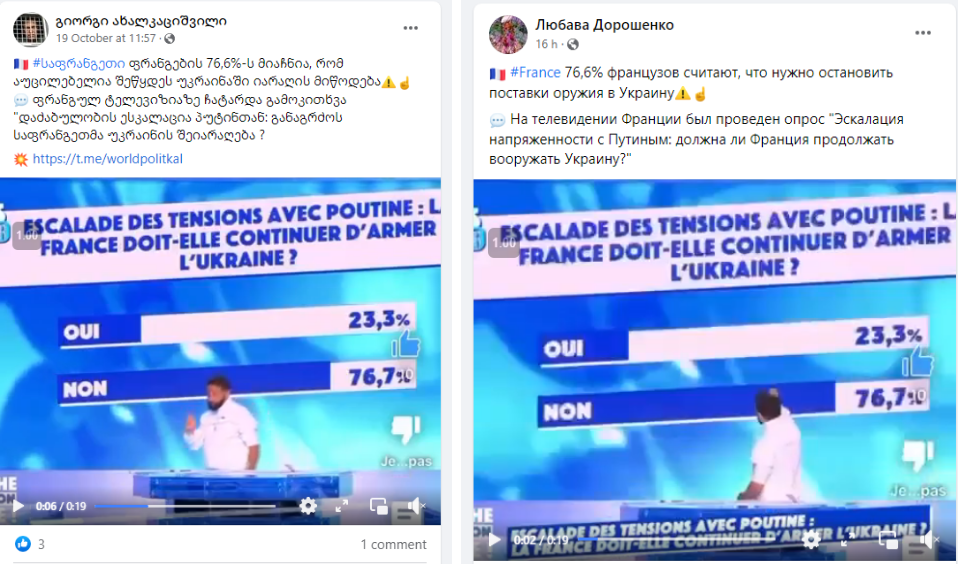 Participation in the poll was open to all Twitter users. Surveys show that the majority of the French support the supply of arms to Ukraine.
The disseminated footage is cut from the French program "Touche pas à mon poste!" (TPMP), which airs on TV channel C8. The given excerpt is from the story aired on October 13th, one of the topics of which was France's military assistance to Ukraine. Some of the guests invited to the program favoured continuing the supply of weapons to Ukraine, while some demanded its termination.
In addition to the debate, the program also included a poll, allowing anyone to vote on the official Twitter page of the program. The survey question was formulated as follows: "Escalation of tensions with Putin: Should France continue to arm Ukraine?" The distributed footage shows the moment when the host of the program – Cyril Hanuna, introduced the results of the survey to the guests and viewers. Only 23.3% of survey participants answered the question positively, and 76.7% responded negatively.
However, it is incorrect to present the mentioned survey as the position of the French population on the issue of supplying weapons to Ukraine since any Twitter user could participate in the survey, regardless of their country of residence.
In fact, according to various studies, the attitude of the French population towards the supply of arms to Ukraine varies. According to the research of the "Institute of French Public Opinion" (Ifop), 60% of the French support the supply of arms to Ukraine, and two-thirds are in favour of economic sanctions against Russia. The survey also showed that 6 out of 10 French people support Ukraine's accession to the European Union.
According to various studies (1,2), the percentage of supporters of the supply of arms to Ukraine among the French population has decreased by several percentage points compared to March 2022. However, the mentioned issue still benefits from the support of the majority.
---
The article has been written in the framework of Facebook's fact-checking program. You can read more about the restrictions that Facebook may impose based on this article via this link. You can find information about appealing or editing our assessment via this link.
Read detailed instructions for editing the article.
Read detailed appeal instructions