On November 27, 2020, Facebook user Eka Gurgenidze published a post with American politician and diplomat Henry Kissinger's quote about mandatory vaccination. The post is published with Kissinger's photo and the star of David. According to the mentioned quote, mandatory vaccination is the first step in controlling the "herd" and if you convince people of doing so, they will agree to genetically modify and sterilize their children as well, which will reduce the world population.
As of November 30, Eka Gurgenidze's post has 613 shares. The post was shared in the following public groups: ანტი-მასონობა. "ანტიქრისტეს" ახალი მსოფლიო წესრიგი (NWO); ანტი-ეკუმენიზმი (Antichrist's' New World Order (NWO); Anti-ecumenism),  რუსთავი 21 👁️ RUSTAVI 21 and საქართველო.კორონა.@კოვიდ19 (Georgia.Corona.@Covid19).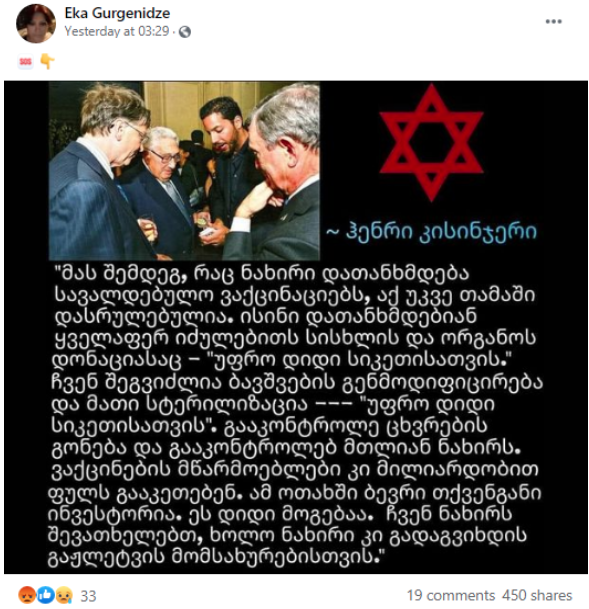 The mentioned quote doesn't belong to Kissinger and it's fake. Open sources don't verify that the same statement or one of similar content has ever been made by the American politician. Identical fake quote of Kissinger disseminated on English social network in 2019-2020. 
The mentioned quote with the photo of Henry Kissinger has been disseminated on English social networks at different times and its authenticity was fact-checked by the fact-checking platform – PolitiFact in 2019, and media outlet Reuters in 2020. As Kissinger's representatives confirmed to Reuters, the quote doesn't belong to the former diplomat. Moreover, Kissinger's public speeches, essays, and interviews are collected on the online archive, where the media outlet couldn't find such a quote.
Some posts disseminated by the English-speaking users together with the quote indicate the date and the particular speech during which Kissinger allegedly uttered the same words. According to this version, the quote was from Kissinger's 2009 speech at "World Health Organization Council On Eugenics", albeit such a council doesn't exist in the World Health Organization.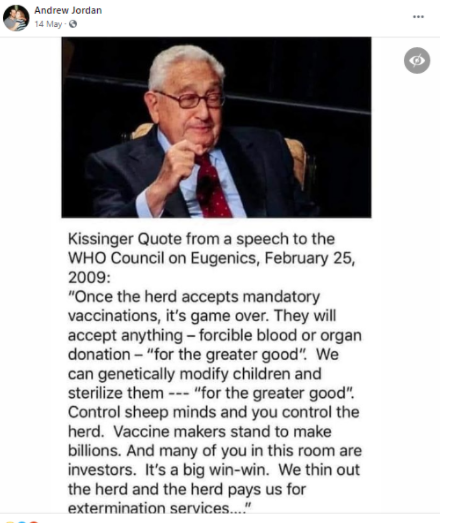 About Henry Kissinger
Henry Kissinger is an American political scientist, former politician, and diplomat. He served as an adviser for national security affairs and secretary of state from 1969 to 1976 under Presidents Richard Nixon and Gerald Ford. In 1973 he was awarded the Nobel Prize for Peace for his efforts to negotiate a peaceful settlement of the Vietnam War. He played an important role in developing U.S political relations with China, the Soviet Union, Vietnam, and the Middle East. He's an author of numerous publications on political sciences and international relations and was a recipient of numerous honorary civilian awards.
---
The article has been written in the framework of Facebook's fact-checking program. You can read more about the restrictions that Facebook may impose based on this article via this link. You can find information about appealing or editing our assessment via this link.
Read detailed instructions for editing the article.
Read detailed appeal instructions.