On November 9th, the Facebook user Ana Chankotadze published a past addressing the Prime Minister – "Bravo Prime Minister, Bravo, our Prime Minister". The post is accompanied by a screenshot with a photo of the U.S. Ambassador to Georgia, Kelly Degnan, stating that there are rumours around the alleged expulsion of Kelly Degnan from Georgia due to the blatant interference in the internal affairs of Georgia and support for the UNM's revolution plan. The post also emphasizes that the U.S. ambassador has not been seen in public for a long time, and her duties are being carried out by her deputy.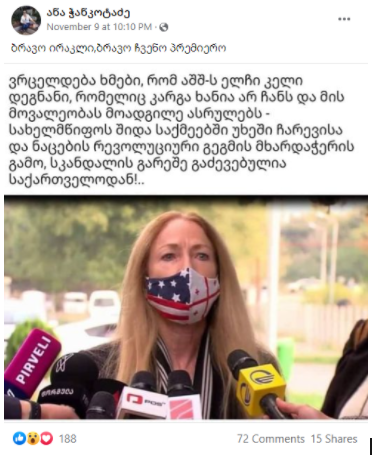 The information about the alleged expulsion of the U.S. ambassador from Georgia is false. On November 9th, Kelly Degnan was in Batumi. Open and official sources do not confirm information about the expulsion of the ambassador either.
No open or official source, including the websites of the U.S. Embassy, ​​the Government of Georgia and the Ministry of Foreign Affairs, mentions any information about the alleged expulsion of the U.S. Ambassador Kelly Degan. On November 9th, Ambassador Degnan paid a visit to Batumi. This information was published on the website and Facebook page of the U.S. Embassy. The ambassadorvisited the site of the October 8th tragedy in Batumi and expressed her condolences to the victims' families. On the same day, she visited the Batumioffice of the Legal Aid Service, and on November 10th, she saidfarewell to U.S. ships departing from the port of Batumi.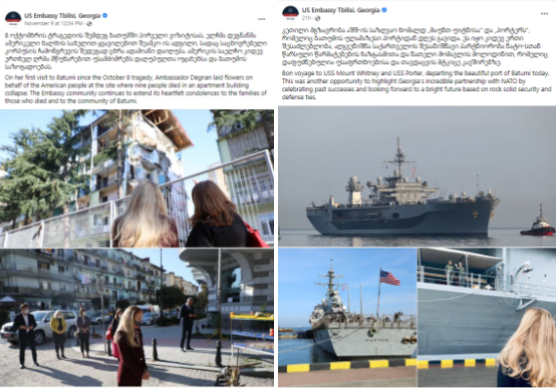 The website of the U.S. embassy also includesinformation about the meeting between the ambassador and the Georgian Minister of Health. Following the meeting, Degnan clarified that the meeting concerned the state of the pandemic and the possible measures of promoting vaccination among the population.
On the day of the second round of the elections, Degnanvisited the polling stations andexamined the working process of the non-governmental organizations. While on October 27th, sheattended a photo exhibition in Tbilisi.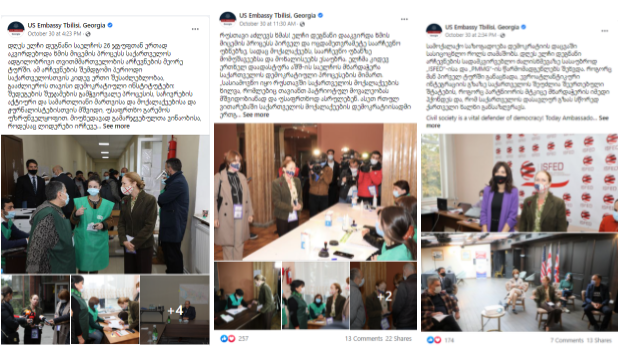 The claim that Degan has not been publicly visible within the last few days is false. Hence, the allegation that she has been expelled from the country due to her blatant intervention into the internal affairs of Georgia and the support of the UNM-led revolution is disinformation.
Noteworthy, the Facebook user Ana Chankotadze often shares content supportive of the incumbent Georgian Dream party and discredits its opponents.
---
The article has been written in the framework of Facebook's fact-checking program. You can read more about the restrictions that Facebook may impose based on this article via this link. You can find information about appealing or editing our assessment via this link.
Read detailed instructions for editing the article.
Read detailed appeal instructions.