On May 7, 2019, websites Droni.com, news.coa.ge, itar.ge and news agency Prime Time published the identical information about the 91-year-old nun Antoinette de Basile who allegedly auctions her virginity and plans to sacrifice this money for restauration of Notre-Dame de Paris. The English Newspaper World News Daily Report is indicated as a source of the information.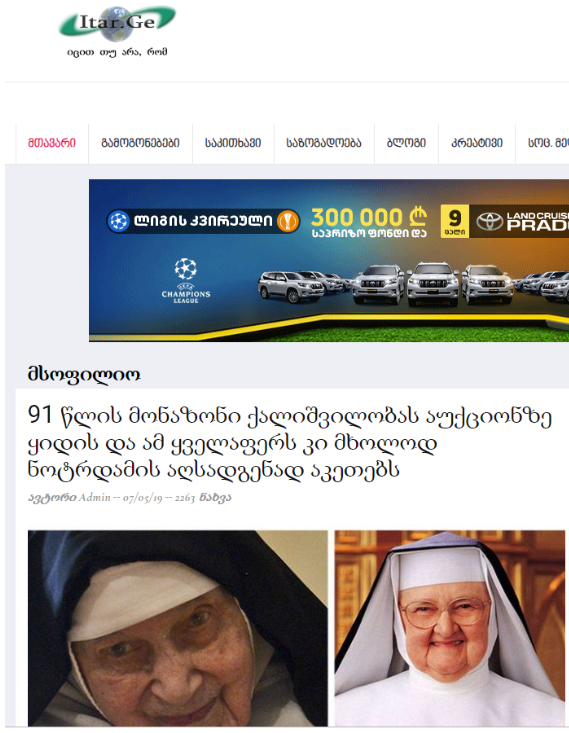 The story about 91-year-old nun auctioning her virginity is fabricated and is not true. World News Daily Report, which is mentioned in the articles by PrimeTime and other Georgian web pages, as a source of the information, is a satirical edition. This is not clearly stated neither in their text, nor in the title, giving the reader an impression that the information they have published is real. Besides, the photo accompanying the article shows a Polish nun, Cecylia Roszak, who died in 2018, not of "a French nun, Antoinette de Basile", as claimed by the websites.
   1. Source of the information – News World News Daily Report, is a satirical edition publishing fictional stories
World News Daily Report, which is named as a source by Georgian websites, is a satirical edition. As stated in the disclaimer of the portal:
"All characters appearing in the articles in this website – even those based on real people – are entirely fictional and any resemblance between them and any persons, living, dead, or undead is purely a miracle. "
   2. The person depicted in the photo is a Polish nun Cecylia Roszak
The photo, enclosed with the fictional history, belongs to the Polish nun Cecylia Roszak, not to the French Antoinette de Basile. The polish nun defended Jews from the Nazi regime during the Second World War, and she died in November 2018 at the age of 110.
Showcasing satirical-humorous fiction news as a real information
Portrayal of the stories released by satirical and humor publications as real ones is one of the propaganda methods. By covering invented stories as real ones, the propaganda publications try to demonstrate that the developments described in these stories, such as bestiality and necrophilia, are a part of lifestyle, typical for western societies.
"Myth Detector" has already written about fictional stories earlier. Previous satirical news that different Georgian-language sources showcased as actual news were about the rape of alligators, mummies and wax figures. The St. Petersburg troll factory project invented a story about a migrant raping a goat.
 Disinformation on an alleged attempt by Jimmy Olsen to rape an alligator.
 Geworld's photo manipulations and disinformation about the rape of a mummy and a wax figurine
 Geworld spreads disinformation by St. Petersburg Troll Factory about goat being raped by a migrant
---
Prepared by Mariam Topchishvili
Regional network for Media Literacy Lab