"Today is my birthday; I just turned 28; I am Mariam and thank you all who will congratulate me. God bless you" – "Mariam's" photo with this caption emerged in Facebook group uMedia on March 9 and it accumulated 6,300 likes and over 1,000 congratulatory comments in a few days. However, it is not the first time, when "Mariam's" birthday is celebrated so widely on the Internet. Over the past two years, "Mariam's" photo with similar and frequently identical captions was posted on the following Facebook pages: Black & White on April 24, 2019, worldnews.ge on April 29, 2019, წმინდაო ღმერთო, წმინდაო ძლიერო, წმინდაო უკვდავო შეგვიწყალენ ჩვენ, on May 10, 2020, mematiane.ge გამოჩენილი ადამიანების საიტი on May 23, 2020, as well as shared to public group ადვოკატი ლაშა ჯანიბეგაშვილის მასმედია on June 20, 2020.
In fact, the girl depicted in the photo is not "Mariam", but Ksenia Bezuglova, Russian model, motivational speaker and "Miss World 2013 among people in the wheelchairs."
The photo spread in Georgian social networks can be viewed on her personal Instagram page.
It is noteworthy that besides Georgian Facebook pages, the same photo can also be searched on Romanian and Croatian pages. Although, the name Mariam is not featuring in its captions, the message is the same – the girl has a birthday and she thanks social media users for kind wishes and encouragement. The spread of the same photo on social media in Bosnia and Herzegovina prompted Bosnian fact checkers to verify the photo. So, they focused on Ksenia Bezuglova's photo in their analysis released in 2019.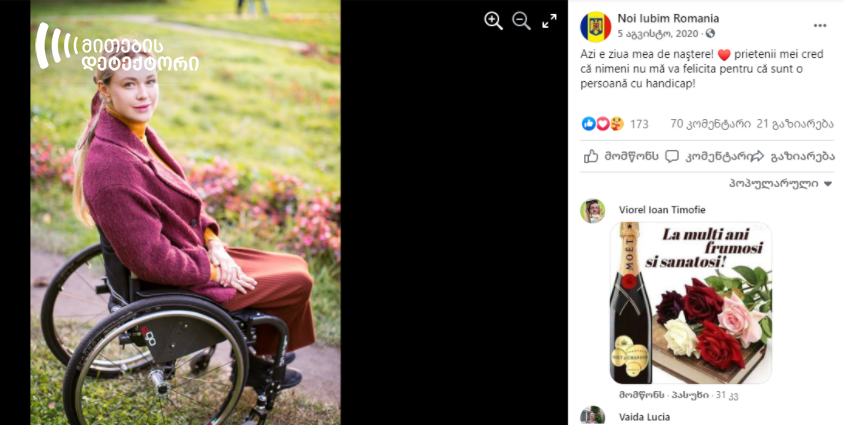 Text: Today is my birthday! My friends believe that no one will congratulate me because I am a disabled person!
Text: Today is her birthday! Let's congratulate her and cheer her up.
Text: I just turned 28 today. Who will congratulate me?