New details uncovered in the case of late Tamar Bachaliashvili and the mistrust declared by her family towards investigation prompted pro-government actors to discredit Tamar Bachaliashvili's father, Jumber Bachaliashvili.
After an intensive five-day search for 23-year-old Tamar Bachaliashvili, police found her body in her own car in a forest near Tetritskaro on July 22. The investigation was launched under article 143 of the criminal code of Georgia involving unlawful confinement and later article 115 involving incitement to suicide was also added. The Interior Ministry claims that a month prior to her disappearance, Bachaliashvili was searching the methods of suicide on Google. The Bachaliashvili family questions the ongoing investigation and demands FBI's involvement in the case.
On August 4, Shmagi Khubuluri, head of the Children and Youth Center at the Gori Municipality, shared the photo of Teona Tamazashvili, Tamar Bachaliashvili's mother, participating in a rally outside the U.S. Embassy building. He also added a caption to the photo "The National Movement created Saralidze N2…" Later, Khubuluri wrote that he was subject to bullying, and openly insulted the members of the National Movement using swear words.

Photo: formulanews.ge
Simultaneously, the conflict that allegedly took place in the Bachaliashvili family in 2011 was recollected and Tamar Bachaliashvili's death was linked to her mental state and family problems. On August 5, pro-government online media outlet Marshalpress published a Facebook post by Irakli Zakareishvili, a defense lawyer, claiming that the family is the key reason for the tragedy and now they are trying to cover up all traces "with the help of the National Movement." Zakareishvili noted that Tamar Bachaleishvili's Facebook account was removed by her "family and the National Movement."
According to CrowdTangle, the Facebook page of Marshalpress shared its article, also involving Zakareishvili's post in five Facebook groups. Further, a screenshot of Marshalpress article with an identical caption "It is clear that the family faced some problems" was shared by Facebook user Liana Lianocka in two groups "Bidzina Ivanishvili's Friends" and "Kakha Kaladze Tbilisi Mayor."
Family problems and Tamar Bachaliashvili's mental state are also cited by Facebook page "ნაცია – ადამიანი?"spreading pro-government propaganda and fake Facebook account using the name of Nino Nebieridze, who spreads the post in Facebook group "პროტესტი! Protest! Протест!" Both are trying to promote the version of a suicide, linking the tragedy to family problems.
Jumber Bachaliashvili was also attacked in an organized manner after he said in the interview with Formula TV that he would not suspend his struggle until late October, expressing hope that "good life will begin in November and we all will be okay." This comment was shared in Facebook groups with an identical discrediting message box: "He is already bribed," "he conceals a lot of things and faces huge problems," "did you lose the source of income and decided to enter politics in search of a new source?," etc.
The messages against Jumber Bachaliashvili were made by pro-government Facebook profiles, including those marked by "Who is Who" platform as "a party activist" or "a government troll." According to CrowdTangle, these Facebook accounts were publishing the posts discrediting Jumber Bachaliashvili in Facebook groups "კახა კალაძე თბილისის მერი" (Kakha Kaladze Tbilisi Mayor), "გასამართლდეს ნაციონალური-ტერორისტული მოძრაობა!!!" (Bring the National-Terrorist Movement to Justice), "ჩემი საქართველო – აქ არის!!!" (My Georgia is Here), "ხალხის ხმა ბიძინა ივანიშვილს!" (People's Voice to Bidzina Ivanishvili) and "გასამართლდეს ნაციონალური მოძრაობა" (Bring the National Movement to Justice).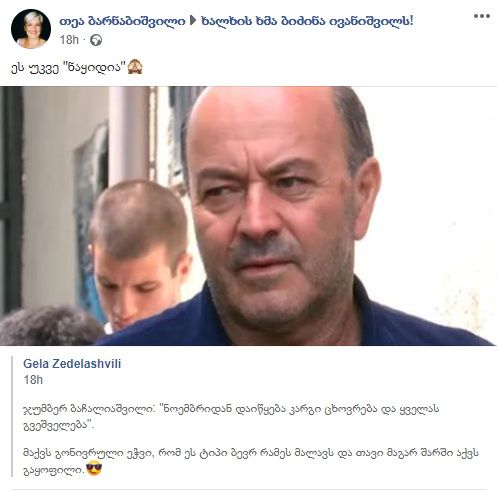 One of the posts shared in the above groups by pro-government Facebook profile belongs to Gela Zedelashvili, who wrote about Jumber Bachaliashvili that he conceals a lot of things and faces a lot of problems. Gela Zedelashvili is a founder and executive director of online outlet Leader. The media outlet was registered on November 3, 2016 as "Leader Express Info" Ltd. Georgian Dream's advertising banner was published on the outlet's website on August 6; however, as of August 7, the banner is no longer available on the website.
One more narrative has also taken hold as if Tamar Bachaliashvili was killed by the National Movement. This narrative was spread by Facebook profile Rusudan Rusikoshka in a group "Bring the National Movement to Justice." The post has been removed later. As for Rusudan Rusikoshka's profile, "Who is Who" platform refers to her as "a party activist."