On November 15th, a Facebook account, "Vinc Icreba Gaitsreba," that usually shares anti-vaxx narratives, published a post claiming that a building of a beast supercomputer 666 is located at the headquarters of the European Commission in Brussels, where people are working on chipisation. The post asserted that this computer stores information about all people and assigns them a unique 18-digit number whose first three digits are 666. Attached to the post is a photo of a building with the number 666 on it.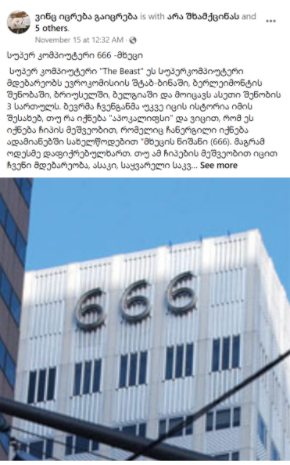 The information that there is a building named 666 in Brussels, which houses a supercomputer and assigns people an 18-digit number, is a conspiracy theory. The disseminated photo depicts not the headquarters of the European Commission but a building in New York, which belongs to a real estate company.
Building with the number 666 is located on Fifth Avenue in New York City and is not affiliated with the European Commission. Currently, the number of the building has been changed to 660. The building is owned by Brookfield Properties, a real estate company, which purchased the building in 2018 on a 99-year lease from the Kushner Company.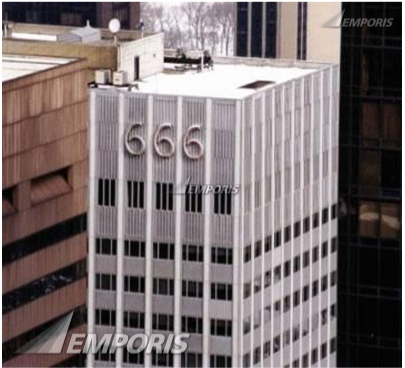 The building before reconstruction

After reconstruction
The building with the address 666 Fifth Avenue was built in 1957, and in 2007 was purchased by the Kushner Company for a record $ 1.8 billion, whose president, Jared Kushner, is a real estate developer who served as Donald Trump's advisor in 2017-2021.
Offices at 660 Fifth Avenue were owned by various companies at various times, including real estate developers, financial, law firms, and publishers. Nonetheless, the companies in the building were never associated with high-tech computers and mass storage of information about people. The claim that the "supercomputer" gives humans an 18-digit code and is related to the sign of the beast is a conspiracy theory.
The post also states that everyone will wear a sign on their right hand or forehead and will not be able to sell unless they have a "monster brand or name." Quoting the book of Revelation, this assertion and the number 666 are often used by anti-vaxxers to incite fear among the population. However, the verses in the Book of Revelation are allegorical and connecting them with chips or vaccines is misleading. "Myth Detector" has a particular article devoted to this topic:
---
The article has been written in the framework of Facebook's fact-checking program. You can read more about the restrictions that Facebook may impose based on this article via this link. You can find information about appealing or editing our assessment via this link.
Read detailed instructions for editing the article.
Read detailed appeal instructions.