On May 21, a Facebook page "Секрет гриффита Griffith's secret გრიფით საიდუმლო" shared a photo which claims that the founder of Facebook, Mark Zuckerberg, is actually Jacob Greenberg and is the grandson of David Rockefeller, and that Facebook has been funded by a CIA-associated bank. The Facebook page shared the photo from another Facebook group called "S5G – STOP 5G Global" which includes 9.5 thousand members.
The information that Mark Zuckerberg is actually Jacob Greenberg and is a grandson of David Rockefeller is a conspiracy theory.
Is Mark Zuckerberg David Rockefeller's grandson?
There is no evidence pointing at Mark Zuckerberg's kinship to David Rockefeller.
The conspiracy theory about the connection of Mark Zuckerberg to the Rockefeller family has been disseminated since 2012. According to a fact-checking website Snopes, this theory appeared in May 2012, when a photo of Jacob Greenberg, who was arrested for the possession of marijuana in Arizona, was published. Some pointed out that the man on the photo looks like Mark Zuckerberg.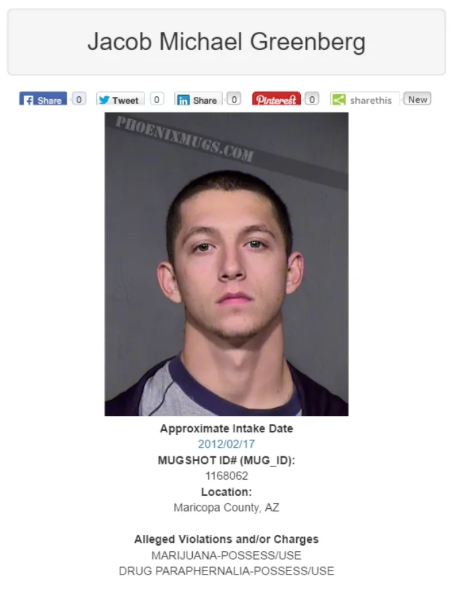 However, the physical resemblance of Jacob Greenberg and Mark Zuckerberg is not obvious at all.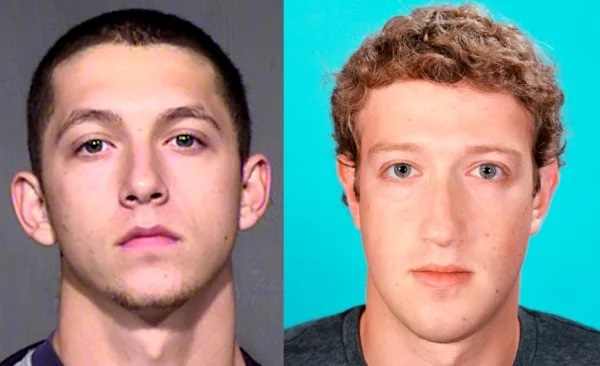 Source.
The physical "resemblance" between Jacob Greenberg and Mark Zuckerberg reminded some about the grandfather of the latter – Jacob Greenberg, whose name then got associated with Maurice Greenberg, former director of several influential financial corporations. The conspiracy theory then quickly connected the name of the influential Maurice Greenberg to the Rockefeller family.
According to some sources, Jacob Greenberg, Mark Zuckerberg's grandfather from mother's side, is Maurice Greenberg, who is connected to the Rockefeller family, is the former director of several financial corporations, and is also married to one of David Rockefeller's daughters. According to CNN, Greenberg is actually married to Corinne Phyllis Zuckerman who does not have anything in common with the Rockefeller family. They have four children – Jeffrey, Evan, Scott, and Cathleen. None of them are called Jacob.
Mark Zuckerberg was born in New York on May 14, 1984, in a middle-class family. His parents – Karen and Ed, according to Snopes, do not have anything in common with the Rockefeller family.
Apart from the published photo, there is no information on Jacob Greenberg, whose resemblance to Zuckerberg became the cornerstone of the conspiracy theory. However, fact-checkers are convinced that he does not have anything in common with the Rockefeller, Greenberg, and Zuckerberg families.
Conspiracy theories about the "secret" connections to the rich and influential families are not rare. Therefore, members of such families often appear in various conspiracy theories. Families such as Rothschild and Rockefeller feature in these theories especially often, they are even considered to be the rulers of the new world order at times. The Rockefeller family is more popular from the two, though. David Rockefeller, a former banker, died aged 101 on March 20, 2017.
About the source
"Секрет гриффита Griffith's secret გრიფით საიდუმლო", the Facebook page who shared the conspiracy theory about Mark Zuckerberg was created on April 17, 2020. It has 794 subscribers (as of May 22). The page disseminates various conspiracy theories about the 5G Internet and the coronavirus, Bill Gates and the coronavirus, as well as freemasons and Ku-Klux-Klan. It stands out with its anti-Western, homophobic, and anti-feminist posts. This page also publishes religious content. For example, it has shared a program from Ertsulovneba, the television of the Patriarchate of the Georgian Church. However, the newly created Facebook page is mostly engaged in an anti-5G movement. This page mostly shares anti-5G posts in English from non-Georgian Facebook groups ( S5GG – STOP 5G Global, 5G Dangers!, 5G, Microwave, EMF & RF, TOWERS KILL Exposing 5G and GWEN towers., STOP THE ROLL OUT OF 5G WORLDWIDE ✌ ), as well as from a Georgian anti-5G Facebook group "STOP 5G GEORGIA!!!"