On March 12, 2021, Goal.ge published news, titled "Georgian NGOs Demanded to Disqualify Basilashvili from Tournament". The article mentions the successes of the Georgian tennis player, Nikoloz Basilashvili at the tournament in Doha and the statements made by his lawyer, Irma Chkadua. The article comes with photos of Nino Lomjaria, the Public Defender, which, together with the title, creates a perception that the Public Defender, like the non-governmental organizations (NGOs), supports the disqualification of Basilashvili from the tournament.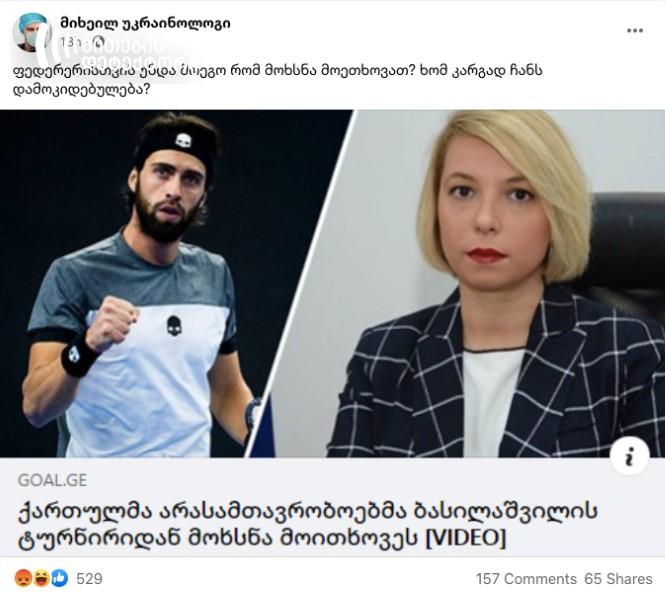 The article has been negatively commented on social media.
Facebook page of Goal.ge, as well as another Facebook page – "სპორტი" (Sports) – published the article on social media.
Screenshots of the Goal.ge publication with the photos of Nino Lomjaria and Basilashvili and the respective title have been published by Facebook pages "მიხეილ უკრაინოლოგი" (Mikheil Ukrainologi), "კონსერვატიული პლატფორმა" (Conservative platform), and "Gakharia". The shared posts by Mikheil Ukrainologi and Gakharia saw critical comments.
Information about Georgian NGOs demanding to disqualify Nikoloz Basilashvili from the Doha tournament is false. The title and the photo of the Goal.ge article is manipulative, as it creates perception that Nino Lomjaria demanded to disqualify the Georgian athlete from the tournament together with the NGOs.
Public Defender's office commented the given material. It denied the widespread information and called this a targeted discreditation campaign against the Public Defender.
The Goal.ge article relies on a TV report by Rustavi 2, in which Nikoloz Basilashvili's lawyer states that NGOs addressed the organizers of the tournament to disqualify Basilashvili. Although Goal.ge's source is just the statement of Basilashvili's lawyer, aired on Rustavi 2, the edition disseminates the information based on a single source in an affirmative manner, as a real fact. In addition, through visual manipulation, they ascribe this non-existing act to the Public Defender too.
Representatives of the NGOs working on women's rights issues commented the widespread allegations and denied the information disseminated by Nikoloz Basilashvili's lawyer, Irma CHkadua, and labelled the fact a discreditation campaign.
Myth Detector contacted the Head of Sapari, Baia Pataraia, who assessed the widespread information as information warfare.
Partnership for Human Rights (PHR), protecting the rights of Neli Dorokashvioli, the ex-wife of Basilashvili, made a statement too.
PHR: "We clearly state that information, disseminated by Basilashvili's lawyer, Irma Chkadua, is false and aims to deceive people and mislead them, on the one hand, and discredit the lawyers and the NGOs, on the other hand."
---
The article has been written in the framework of Facebook's fact-checking program. You can read more about the restrictions that Facebook may impose based on this article via this link. You can find information about appealing or editing our assessment via this link.
Read detailed instructions for editing the article.
Read detailed appeal instructions.