On April 20, Facebook user Ani Mjavia shared a link of a clickbait page Gifsat.com in public groups ექსკლუზივი (Exclusive), Intellect Club, პოზიტივი (Positivity) and ანეგდოტების რვეული (Notebook for Anecdotes), with the description: "Barack Obama's wife is a man! – A shocking video, a theory, which was spread a few days ago". Information shared on Gifsat with a similar title has a video attached, which shows Michelle Obama's visit on one of the episodes of the Ellen Show. The video labeled as "shocking" in Gifsat.com's title is actually about a dance that the first lady of the United States of America performed with Ellen DeGeneres to promote a healthy lifestyle.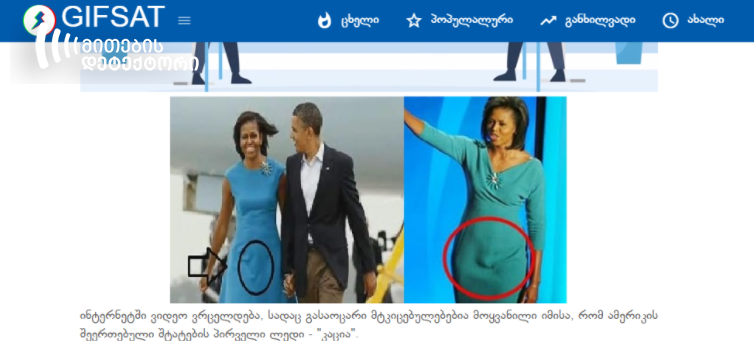 Speculations about Michelle Obama's gender identity did not spread "a few days ago". Similar information with almost an identical description was first shared in 2020 in the Georgian online sphere. One year ago, links of articles published by saintereso.com.ge and 1sport.ge were being spread in several public groups by fake account Nino Asmatishvili and Facebook page საინტერესო ინფორმაცია (Interesting Information). In Nino Asmatishvili's Facebook address, a different surname, Bagatashvili, is indicated and the profile photo can be found in Stock photos and is used in advertisements of dental clinics and products.

The disseminated information about Barack Obama's wife being a male lacks evidence. Speculations about Michelle Obama's gender were assessed as a conspiracy by several fact-checking platforms, including PolitiFact. According to their assessment, the claim about Michelle Obama being a transgender woman is a disinformation.
One of the photos, spread in Georgian Facebook groups, was taken during a Democratic Party Convention on August 25, 2008. No signs of Michelle being male can be found in the video depicting Michelle Obama's speech during the convention, as well as in other photos.
Disinformation about this photo was first shared in 2010. The information was fact-checked by a fact-checking platform leadstories.com, which concluded that it is false, since no such thing is visible in videos and photos taken on this day in the same dress.
As for the second photo spread in Georgian posts, it was taken at the beginning of Barack Obama's 2012 election campaign. It is apparent in other photos of Michelle Obama with the same dress that the wrinkle of the dress is at play.

Photo: Pinterest                          Photo: The New York Times
Where does the conspiracy originate from and who disseminates it?
Speculations about Michelle Obama being a transgender woman first appeared in 2014. One of the first to talk about the conspiracy on his show was an American ultra-right radio host and the author of many other conspiracies, Alex Jones. While talking about Barack Obama's sexual orientation, Jones speculated that "maybe Michelle Obama is really a man". After a few seconds, he himself said that it was a joke. Nevertheless, after five months after this show, Alex Jones claimed in the same show, without joking, that Michelle Obama is a man, her name is not Michelle but Michael and the United States of America has a transgender first lady.
Jones's main argument is Michelle Obama's body proportions, especially her shoulders and arms, which he claims are not feminine enough.
The disinformation was spread online again in 2016, a few months before presidential elections and even made it into the "Guardian's" review of fake news.
The conspiracy theory about Michelle Obama's gender identity was spread once again in 2020. The main argument of these claims is again some details of Michelle Obama's physical build. For that reason, recently, articles and videos in different languages have photos attached for more credibility. One of these photos,  used frequently by the mentioned articles as "proof", is digitally altered. The photo was examined by the fact-checking group of Reuters and concluded that the edited version was to give Michelle Obama a more masculine appearance.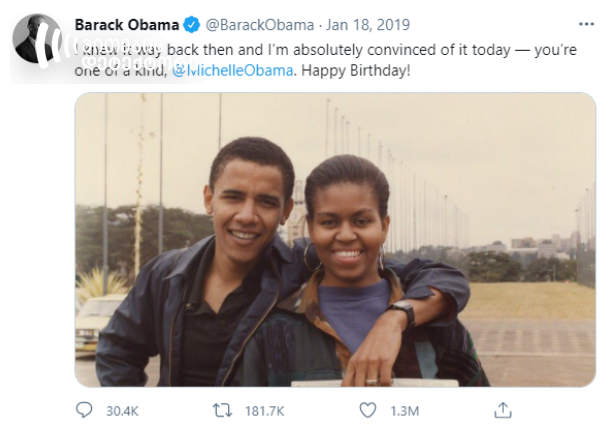 ---
The article has been written in the framework of Facebook's fact-checking program. You can read more about the restrictions that Facebook may impose based on this article via this link. You can find information about appealing or editing our assessment via this link.
Read detailed instructions for editing the article.
Read detailed appeal instructions.