On January 15, Facebook user Tinatin Mchedlishvili shared a video posted by Latvian Facebook user Egils Rutkovskis on December 18, 2020 to a Facebook group "ანტი-მასონობა. "ანტიქრისტეს" ახალი მსოფლიო წესრიგი (NWO); ანტი-ეკუმენიზმი" (Anti-Masonry, New World Order of the Antichrist; Anti-Ecumenism). The video featuring the Miss Universe 2012 awards ceremony shows that a man wins the Miss Universe title. The voice of the host is heard in the video announcing that Miss USA, Olivia Culpo won the title of Miss Universe 2012. The Latvian user's video has a caption: "Where is the world moving?" The Georgian Facebook user added a caption "Fighting against God."
As of January 18, Tinatin Mchedlishvili's post has been removed and the post published by Egils Rutkovskis has 3,566 shares.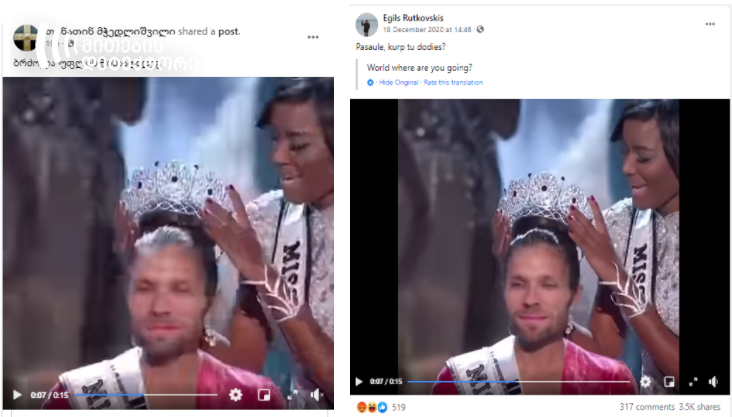 The video posted by Egils Rutkovskis is a fabrication and it misled part of users into thinking that a man won the Miss Universe 2012 title. In fact, the crown went to Miss USA, Olivia Culpo. In the video, Olivia's face is replaced with a man's face using Deepfake technology.
Olivia Culpo, 20, an American fashion influencer and social media personality, won the title of Miss Universe 2012. The fabricated video, in which Olivia's face is replaced with a man's face, involves several moments from the awards ceremony.
Besides Facebook, Russian social network ok.ru also spread the fabricated video of Miss Universe 2012 on December 17, 2020.
About Deepfake technology
Deepfake is one of the techniques of video manipulation and it first emerged in 2017. Deepfakes use a form of artificial intelligence to make images of fake events or manipulate visual content.  Artificial intelligence tools have made it possible to combine the face of one person with the body of another. A number of techniques, such as Deepfake and Deep Video Portraits, enable full control over the target by transferring the rigid head pose, facial expression and eye motion with a high level of photorealism. Thus, it is possible to falsify the speech, words and facial expression of any person. Spotting a deepfake video depends on its quality. Poor-quality deepfakes are easier to spot. The lip synching might be bad, or the skin tone patchy. But with time, it gets harder to spot a deepfake as the technology improves. As one of the most recent developments, fake Queen Elizabeth  delivered a Christmas speech on December 25, 2020 as part of a deepfake video aired by British broadcaster Channel 4.
---
The article has been written in the framework of Facebook's fact-checking program. You can read more about the restrictions that Facebook may impose based on this article via this link. You can find information about appealing or editing our assessment via this link.
Read detailed instructions for editing the article.
Read detailed appeal instructions.