On July 22nd, Facebook page "Elections 2021" shared information based on David Kartvelishvili, that the political parties "Lelo" and "the United National Movement" are creating the so-called "shadow cabinet," meaning that Murtaz Zodelava would become the chief of the State Security Service, Dimitri Shashkin would lead the Ministry of Internal Affairs, Giorgi Rurua was envisaged as the head of the Security Council, and Givi Targamadze as the Defense Minister. The concluding part of the post develops the idea that if the "Georgian Dream" was to lose the elections, Georgia would have to face "another couple years filled with bloodshed."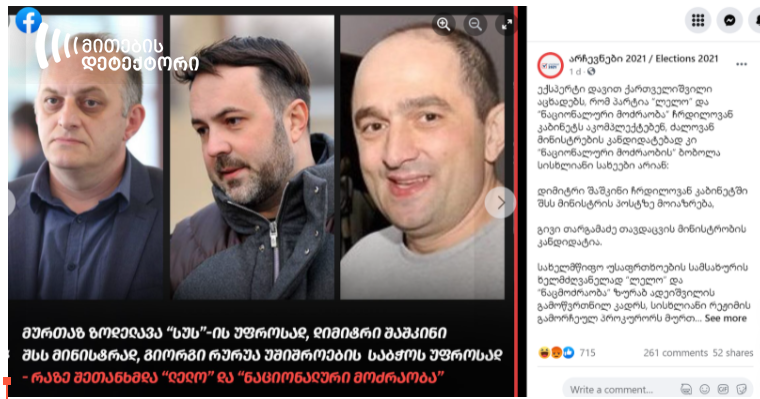 The information regarding the creation of an agreement between "Lelo" and "UNM" and the establishment of the shadow cabinet is false. The representative of "Lelo" has denied the claim during the talk with Myth Detector. Furthermore, no open-source contains information regarding the potential agreement between the two parties. The Facebook page "Elections 2021," on the other hand, often shares posts aimed at discrediting the opposition.
In order to check the information regarding the creation of a shadow cabinet, Myth Detector has contacted Tamuna Kirvalidze, the head of "Lelo's" Public Relations Office, where she completely denied the claim and called it "absurd."
It is also worth mentioning that on July 19th, while talking about the formation of a coalition government, Mamuka Khazaradze stressed the necessity of an agreement, which would prevent the UNM from including influential ministers in the new government.
The False claim by "Elections 2021" was sponsored on Facebook. The ad was financed by Manana Kaxidze.
About the Source
Facebook page "Elections 2021" was created on August 21st, 2020, right before the Parliamentary elections of 2020. The original name of the page was "Elections 2020," which was later changed to the current name. The page is managed by three admins from Georgia.
It is worth mentioning that "Elections 2021" was among pro-governmental pages spreading information regarding the meeting of Giorgi Gakharia and Mikheil Saakashvili in Washington. Interestingly, the advertised posts of "Elections 2021" and "Informative Blog" are sponsored by the same account Manana Kaxidze.
The Facebook page "Informative Blog" was actively involved in the coordinated discreditation campaign of the deceased "TV Pirveli" cameraman Aleksandre Lashkarava.
For more details, see our articles:
---
The article has been written in the framework of Facebook's fact-checking program. You can read more about the restrictions that Facebook may impose based on this article via this link. You can find information about appealing or editing our assessment via this link.
Read detailed instructions for editing the article.
Read detailed appeal instructions.