On September 15, gnn.ge, an online media outlet, published an article headlined "Soviet people were one step ahead of us – Henry Kissinger." The article reads that the years after, a lot of people are still crying for Soviet benefits, free education, healthcare services and so on. To illustrate it, the author quotes allegedly American diplomat Henry Kissinger as saying:
gnn.ge: This is what Henry Kissinger, a famous American public figure, diplomat and expert in international relations, former U.S. Secretary of State, said: "We only had sex and they (Soviet people) had true love. We only had money and they had sincere human gratitude, and this relates to all spheres of life. Nobody can call me an admirer of socialism, as I am a Western individual with Western mindset; however, I believe that the Soviet Union was giving birth to a true new human – one can label such human homo soveticus. And this human was one step ahead of us and I honestly regret that we destroyed this sanctuary. It may be our biggest crime ever."
gnn.ge cites geworld.ge as its source. The latter published an identical article on September 9, noting that the article was prepared according to the materials published online; it, however, does not refer to any specific source.
In fact, Henry Kissinger's quotes are fabricated; they were first published by Russian satirical website panorama.pub. Neither gnn.ge, nor geworld.ge have cited any source, portraying the quotes fabricated by the satirical website as authentic. 
Where and when Kissinger's fake quotes were published? 
The quotes have been taken from the article published by panorama.pub on October 15, 2018 with the following headline: "Henry Kissinger is Disappointed with Capitalism and Called the Dissolution of Soviet Union the Biggest Crime of the United States."
Kissinger's remarks about comparing the United States and the Soviet Union have been fabricated by the Russian satirical website.
panorama.pub indicates at the end of the article, as well as in its "About us" section that all materials published on the website are satirical and that they do not contain authentic information.
Myth Detector wrote about Kissinger's fake quotes in its earlier article as well, when an online edition progressnews.ge published an identical fake news on October 18, 2019. progressnews.ge cited panorama.pub as its source, without noting that it is a satirical website.
About gnn.ge 
Gnn.ge notes in its "About us" section that Georgian National News agency was created in July 2016. Its contact number and email address are also indicated.
According to registrator.ge, gnn.ge was registered on October 29, 2018. It is owned by Minions LTD, while Akaki Tsotsonava is a technical person. Akaki Tsotsonava can also be searched in business registry, where he registered an entity in 2015 and indicated [email protected] as an email address.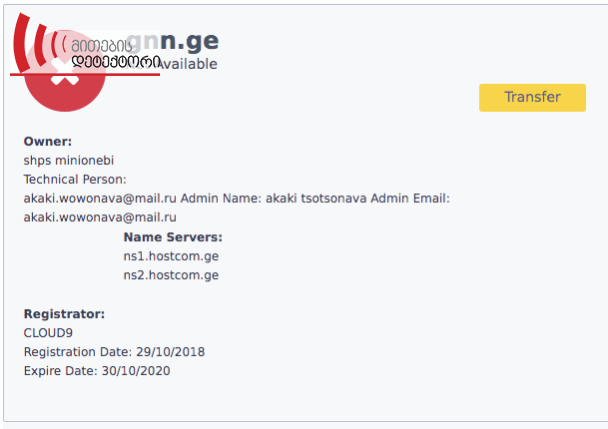 Akaki Tsotsonava notes on his Facebook account that he is founder of GNN. According to his CV placed on the edition's website, Tsotsonava worked for media outlets Marshalpress and Info 9 as a journalist.
Portrayal of satire as real news is one of the propaganda methods. Georgian editions have cited panorama.pub as the source of their fake news on multiple occasions. Below are the materials verified by Myth Detector that cited panorama.pub as their source:
Below are the materials published by other satirical and humor websites that were also spread as real stories: