Update: Batumelebi editorial board addressed Facebook with regards to the falsified article.
---
On September 13, a Facebook page სირცხვილის კორიდორი (Corridor of Shame) published information which it attributed to an online media outlet Batumelebi, without indicating a respective link to the source of information. According to the Facebook post, the son of a United National Movement member, Salome Samadashvili, was studying at Moscow State University, where his tuition fee exceeded $20,000, whereas the tuition fee of Giga Bokeria's daughter was GEL 16,451. The screenshot disseminated by Corridor of Shame came with a caption, mentioning that Batumi edition of an independent agency Netgazeti published the scandalous materials about the tuition fees and expenditures of the children of the oppositional MPs. According to the screen, Batumelebi published an article titled "Where do the Children of Oppositional Party MPs Study and How Much do their Studies Cost?".
In Salome Samadashvili case, users in the comment section were underlying the double standards of the opposition and mentioned that, on the one hand, the opposition was criticizing the population for having trade relations with Russia and, on the other hand, an opposition MP was sending her son to Moscow for his studies.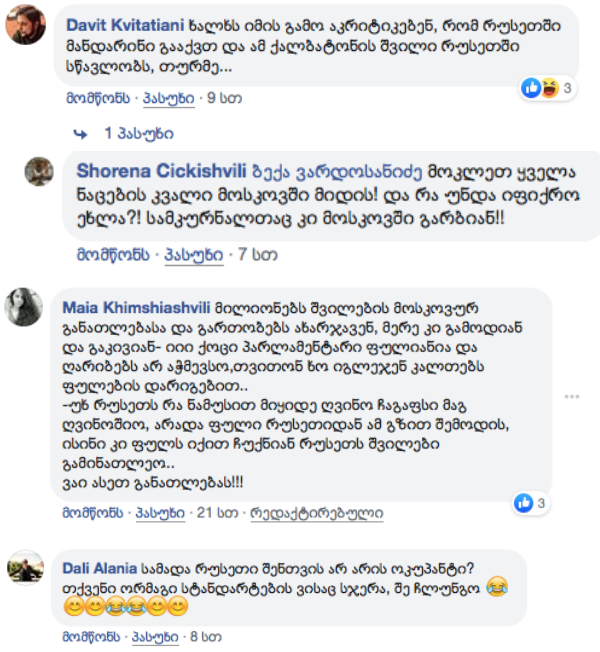 The material disseminated by Corridor of Shame is a fabrication, as Batumelebi has not published such an article. The most recent publication by Batumelebi on identical issue was about high expenses of government officials bore for the education of their children. Information about Salome Samadashvili having a son is fake, so she could hardly send anyone to Moscow for studies.
Batumelebi, in a comment given to Myth Detector, claimed that they have not published an article with such title. The publication from September 13 that was published by Batumelebi was related to the private school tuition fees of the children of the ministers and deputy ministers from the ruling party ("How much do ministers and their deputies pay for their children's studies in private schools?").
An MP from United National Movement, Salome Samadashvili, commented on the information on her Facebook page as well as in the comments section of Corridor of Shame and denied the rumors.
---
Propaganda method
In order to legitimize fake information, interested parties often use names of trustworthy media outlets in order to give more credibility to the intentionally disseminated disinformation. In case of Salome Samadashvili the aim of the conspiracy was to sow doubts in the public about the double standards of the given politician – something that was indeed mentioned in the comments section.