On March 18, the Facebook page "განათლება/Education" that has more than ten thousand subscribers, spread a photo with the inscription: "A Spanish biological researcher: You give the footballer one million euros a month and a biological researcher 1800 euros. You are looking for a treatment now. Go to Cristiano Ronaldo or Messi and they will find you a cure". Similar post was also shared in various forms in numerous Facebook groups, and the users spread it virally.
In fact, the photo depicts Isabel Garcia Tejerina, who is a specialist of Agricultural Economy rather than a biologist by profession. Currently, she is a member of Spanish Parliament from the People's Party. The footage, where she was talking to the journalists, was taken on a Ministerial meeting held in Morocco in 2018,  when she was a Minister of Agriculture, and was interviewed by the French-language television of Morocco. 
Isabel Garcia Tejerina served as a Minister of Agriculture, Fishers, Food and Environment of Spain until 1 June 2018  and currently is a member of Spanish Parliament from the list of "People's Party of Spain". In 2018, she was at the ministerial held in Morocco, where she talked to the journalists and evaluated the measures undertaken by Morocco in the agricultural sphere.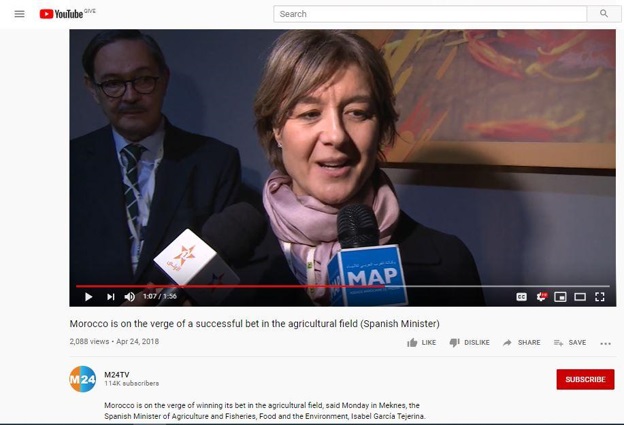 The same photo with analogical inscription has been massively spread on foreign online forums and websites, and has been shared by the forums and websites, such as 9GAG, Reddit, boredpanda and others.
Spanish fact-checkers have also checked the information. The article published on Maldita.es web page reports that former Minister of Agriculture of Spain, Isabel Garcia Tejerina actually was in Morocco in 2018. However, she has not mentioned coronavirus in the interview given to the French-language television of Morocco French-language. According to the Spanish fact-checkers, there is no statement by the ex-Minister on the internet, in which she compares doctors' salaries to those of Messi and Ronaldo.
---
Prepared by Nika Shekeladze
Myth Detector Lab