On January 11, a Facebook profile, 'Patriot Georgian' posted a low-quality photo depicting an unidentified man wearing a dress. According to the post's author, the man in the picture is Zuka Berdzenishvili, a member of the civil movement "Shame".
The man in the photo is not Zuka Berdzenishvili but Marcos Flores, wearing his girlfriend's attire. The photo is part of a photo project by a Spanish photographer John Uriarte, in which he photographed men in their girlfriends' clothes to highlight a change in gender roles.
Due to the low quality of the photo published by the Facebook profile "Patriot Georgian", it is difficult to make out the identity of the man wearing the dress. After checking the photo with various search engines, we could locate the original version. By looking at the better quality image, one can confirm that the person depicted on the image is not Zuka Berdzenishvili, but Marco Flores.

source: Jon Uriarte
The original photo is dated back to 2013, and, as part of a photo project, the man depicted on it wears his girlfriends' attire.
Spanish photographer John Uriarte decided to dress men in the clothes of their girlfriends or wives and take photos for them. According to Uriarte, the series "The Men Under The Influence" depicts the changing gender roles in heterosexual relationships.
In addition to Marco Flores, eight other men participated in the portrait series and wore the clothes of their partners and wives.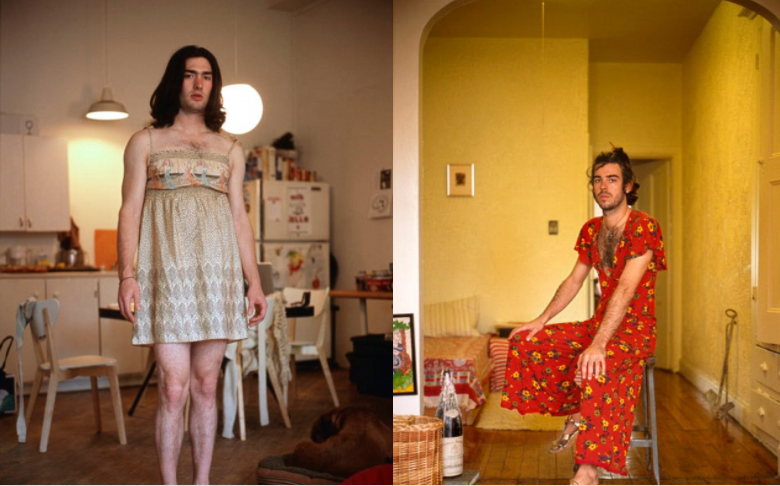 About 'Patriot Georgian'
The profile that spreads disinformation directed against Zuka Berdzenishvili's is probably newly-created. The profile last updated its profile and cover photos on January 5th and uses a cross-footage shot by violent groups in front of parliament, including Alt-Info members and supporters, as a cover photo.
The profile tagged eight people in the post; most of them are supporters of "Alt-Info" and "Conservative Movement".
For its part, "Patriot Georgian" also likes the pages of Alt-News, Beka Vardosanidze and "Conservative".
---
The article has been written in the framework of Facebook's fact-checking program. You can read more about the restrictions that Facebook may impose based on this article via this link. You can find information about appealing or editing our assessment via this link.
Read detailed instructions for editing the article.
Read detailed appeal instructions