On August 1, Facebook user Mia Million published a video allegedly featuring a group of doctors in white lab coats, who are talking about their experience in fighting COVID-19. The caption accompanying the video notes that coronavirus does not kill and this video actually proves it. The author of the post writes that the video has been removed by social media networks, adding that it is sensational and destroys the versions about COVID-19 promoted by the Georgian Health Ministry, Head of the National Center for Disease Control, Amiran Gamkrelidze, and other doctors. The post was shared more than 3,000 times. On August 2, it was shared by Facebook page "საქართველო უპირველეს ყოვლისა"(Georgia First of All), which is known for spreading conspiratorial and fake content. As of August 4, the video published by Mia Million as well as shared videos cannot be searched on Facebook.
According to CrowdTangle, the leading content discovery and social monitoring platform, the post was also shared in groups. Various profiles shared the post in one and the same groups for several times; a total of 24 such posts can be searched. Mia Million's video post was shared in the following groups: "პატრიოტთა ალიანსის მხარდამჭერები!!!" (Supporters of the Alliance of Patriots); "ანტი-მასონობა. "ანტიქრისტეს" ახალი მსოფლიო წესრიგი (NWO) (Anti-Masonry; New World Order (NWO) of Antichrist); ანტი-ეკუმენიზმი" (Anti-Ecumenism); "გასამართლდეს ნაციონალური მოძრაობა!" (Bring the National Movement to Justice); "საქართველო უპირველეს ყოვლისა" (Georgia First of All); "ეროვნული ყრილობა ძალა-უფლება ხალს" (National Congress – Power to People); "Photo-Fact Georgia"; "საერთო სახალხო მოძრაობა ქართველი ერის გადარჩენისთვის!" (Public Movement for Rescuing Georgian Nation); "კახა კალაძე თბილისის მერი" (Kakha Kaladze Tbilisi Mayor); "პრემიერ-მინისტრი გიორგი გახარია" (Prime Minister Giorgi Gakharia); "აქ სიმართლეა!" (Here is Truth); "Stop 5G Georgia".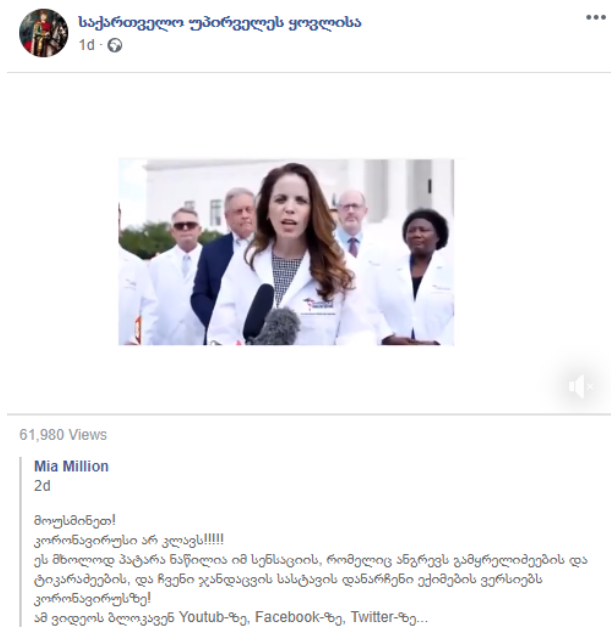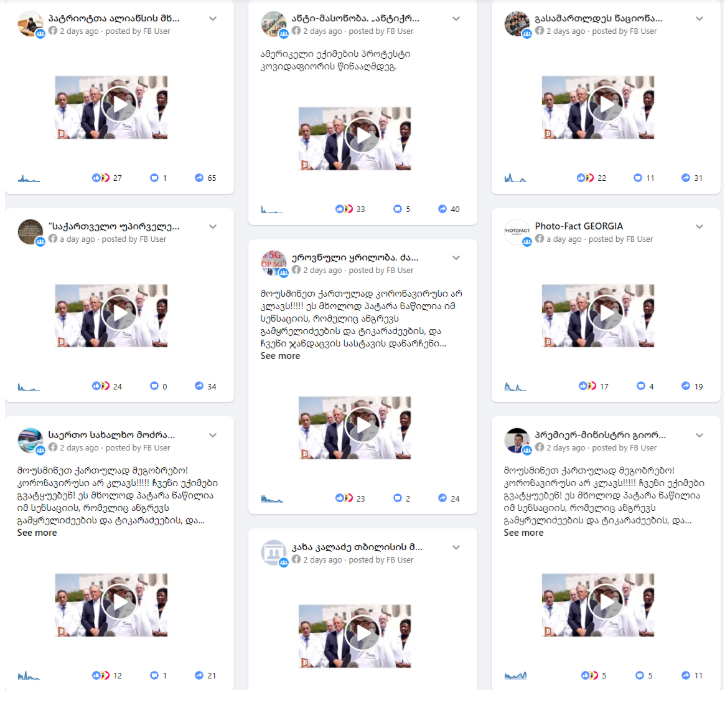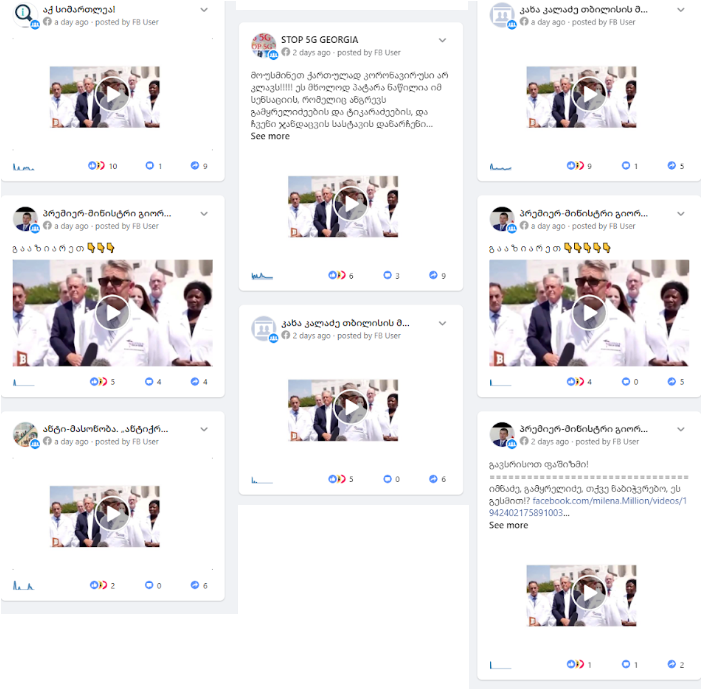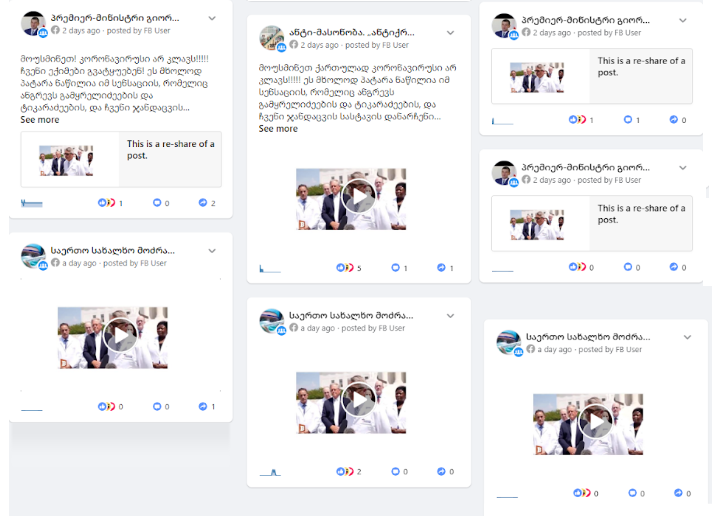 The video went viral on social media and was later removed by Facebook, Twitter, and YouTube for sharing false information about cures and treatments for COVID-19. The people featuring in the video call themselves "America's Frontline Doctors," although there are doctors among them, who have no practical experience in fighting COVID-19. Furthermore, one of the doctors talking in the video claimed five years ago that scientists were developing a vaccine to prevent people from being religious. 
What information did the video contain and who were featured in it? 
The video was published by the right-wing media outlet Breitbart News and it was removed by Facebook, Twitter, and YouTube after going viral last week. A group of people wearing white lab coats call themselves "America's Frontline Doctors". These people identifying themselves as doctors claimed that masks are not needed to prevent the spread of coronavirus, and that the virus has a cure called hydroxychloroquine and Zithromax. They also claimed that children do not carry coronavirus and therefore, they are not contagious.
A Facebook spokesperson told CNN that the video was removed for sharing false information about treatments for COVID-19. Noteworthy that U.S. President Donald Trump and his son, Donald Trump Jr. also shared the video. Later, Twitter took action against the videos that Trump retweeted.
A group called America's Frontline Doctors (AFD) is promoted and supported by a conservative political organization Tea Party Patriots Action. The website of the group of people wearing white lab coats in the video – americasfrontlinedoctors.com was created on July 16; it, however, no longer operates. AFD staged a press conference in front of the U.S. Supreme Court in Washington, DC, though it has nothing to do with the court itself. The statements voiced in the video as well as the origin of the video have been verified by a number of fact-checking sites, among others FactCheck.org and Snopes.
Stella Immanuel, one of the doctors, who is featuring in the video and talking about the efficacy of hydroxychloroquine, is also a Christian pastor. Immanuel claims that she has treated over 350 patients and had no death. Five years ago, she alleged that alien DNA was being used in medical treatments, and that scientists were cooking up a vaccine to prevent people from being religious. Some of her other claims include blaming medical conditions on witches and demons – a common enough belief among some evangelical Christians – though she says they have sex with people in a dream world. Immanuel also offers a prayer to remove a generational curse, originally received from an ancestor, but transmitted through placenta.
AFD also involves pediatricians and ophthalmologists, among them James Todaro, who is no longer practicing as his medical license expired in 2019. Further, Simone Melissa Gold, who appears at the beginning of the video, is a licensed doctor, but she did not practice medicine as the COVID-19 pandemic spread across the U.S.
What do we know about hydroxychloroquine?
Commenting on the video, Anthony Fauci, U.S. infectious disease chief, said that the data do not support the claims voiced in the video. He noted that the scientific data, the cumulative data on trials, clinical trials that were randomized and controlled in the proper way — all of those trials show consistently that hydroxychloroquine is not effective in the treatment of COVID-19.
A number of studies have found that hydroxychloroquine and azithromycin do not help COVID-19 patients. Additionally, unusual heart rhythms and elevated liver-enzyme levels were more frequent in patients receiving hydroxychloroquine alone or with azithromycin.
The U.S. Food and Drug Administration (FDA) revoked emergency use authorization for hydroxychloroquine and noted, based on emerging scientific data, that it is unlikely to be effective in treating COVID-19. The World Health Organization (WHO) also halted hydroxychloroquine trials on COVID-19 patients, finding it did not reduce the mortality rate.
Do children carry COVID-19? 
Most patients under the age of 18 with COVID-19 have mild or no symptoms and therefore, child mortality rate is low. But the lack of symptoms does not mean that a child does not transmit it. Studies are still underway on the rates of child-to-child or child-to-adult transmission and there are not enough data to make a final conclusion; however, the South Korean Centers for Disease Control and Prevention has found that household transmission of COVID-19 was high if the index patient was 10–19 years of age.
About the source 
Facebook profile Mia Million was created in 2010, but its public activities have intensified amid the coronavirus pandemic. Mia Million frequently shares anti-vax and conspiratorial posts about Anthony Fauci and Bill Gates. It also shared the posts concerning an anti-Soros rally held on July 30.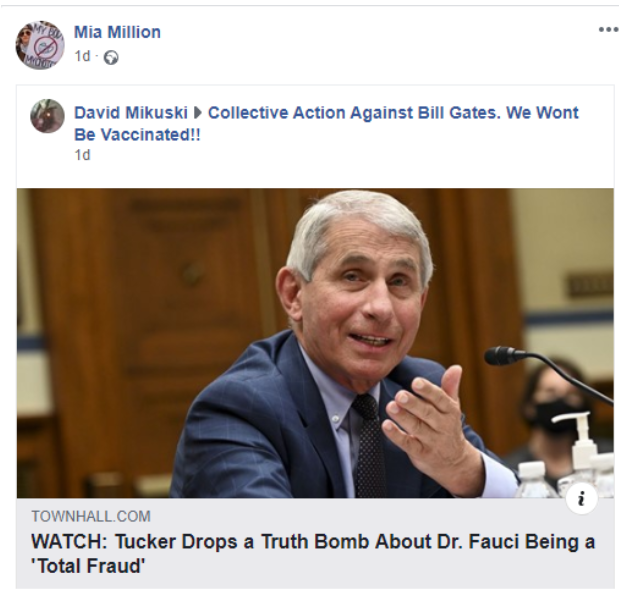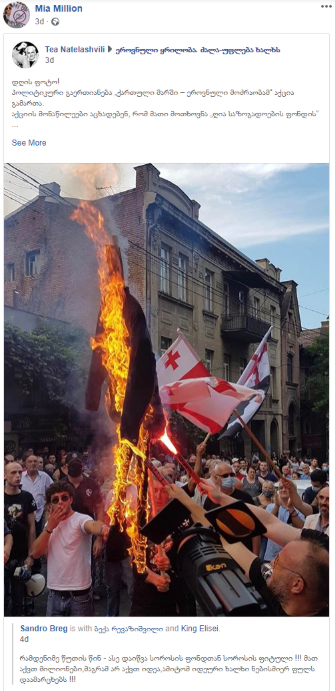 ---
Prepared by Maiko Ratiani