Over the course of the last week, the information that Mykhailo Duda, the grandfather of the Polish President Andrzej Duda, was one of the leaders of the Ukrainian Insurgent Army (UPA) was widely disseminated on social media. (1, 2, 3,) According to the descriptions accompanying the published photos, Mykhailo Duda was a friend of Stepan Bandera, who passed his Nazi ideology down to his grandkid.
The claim that Andrzej Duda's grandfather was Mykhailo Duda is false. In fact, the claims were denied by Andrzej Duda himself back in 2015, stating that his grandfather was a fur specialist, who died in 1992. Information about the descendants of Mykhailo Duda cannot be found in open sources.
In 2015, Andrzej Duda responded to the information about his grandfather on Twitter. He answered a question from Polish author Marcin Khalas, noting that there was no kinship between Mykhailo Duda and him, and in fact, his grandfather Alojzy Duda lived in Stary Sacz, was a furrier and died on July 1, 1992.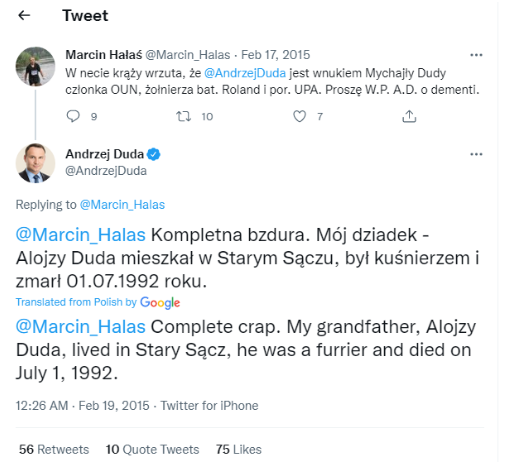 Disinformation about the grandfather of Andrzej Duda was fact-checked by the Polish fact-checking organization Demagog.
As for Mykhailo Duda, he was indeed a member of the Ukrainian Insurgent Army (UPA), who fought in WWII and for the independence of Ukraine in the aftermath. He committed suicide during the UPA mission in Soviet Ukraine in 1950 to avoid capture. Open sources do feature any information about him having children.
Notably, the grandfathers of European politicians have been linked to Nazi ideology by the Kremlin's propaganda since the start of the Russia-Ukraine war. Read more about  the topic in our article:
---
The article has been written in the framework of Facebook's fact-checking program. You can read more about the restrictions that Facebook may impose based on this article via this link. You can find information about appealing or editing our assessment via this link.
Read detailed instructions for editing the article.
Read detailed appeal instructions.