On October 31, Pharnaoz Chkadua, supporter of the opposition United National Movement (UNM) party, posted on his Facebook page that Georgian troops serving in the NATO-led mission in Afghanistan voted for the National Movement that has led to the latter's overwhelming victory. As of 2pm, the post has 278 shares.
Similar information was published by Facebook page "გადამწყვეტი ბრძოლა საქართველოს გადასარჩენად" (Decisive battle to save Georgia), which wrote that according to the preliminary reports, the opposition has won at both special polling stations opened in Afghanistan. The post, however, did not mention the National Movement at all. The post was also accompanied by a photo depicting Georgian soldiers at the moment of casting ballots. The Ministry of Defense of Georgia is referred to as the source of the photo. The post has 46 shares.
According to CrowdTangle, the leading content discovery platform, the information was first spread by Pharnaoz Chkadua at 8:38am. Later, the posts published by Pharnaoz Chkadua and the page "გადამწყვეტი ბრძოლა საქართველოს გადასარჩენად" were shared to various public groups 29 times. Further, various Facebook users, mostly the UNM supporters, published the posts with identical content.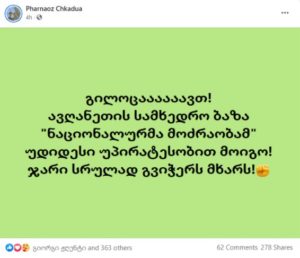 The information as if the election results from the polling stations opened in Afghanistan are already known and the National Movement has won the elections is not true. The Defense Ministry denied the reports, stressing that the polling stations were not closed by the moment of spreading the news.
Commenting on the UNM party's alleged victory in Afghanistan, the Georgian Defense Ministry slammed the reports as a classical example of "fake news." Nikoloz Molodinashvili, head of the Defense Ministry's Department of Strategic Communications and Public Relations, said that the polling stations will be closed at 8pm Tbilisi time and the Central Election Commission will announce the results, which are unknown so far.
Who is Pharnaoz Chkadua?
Pharnaoz Chkadua writes on his Facebook page that he works for the United National Movement. In 2014, he was arrested on charges of hooliganism and sentenced to four years in prison. Pharnaoz Chkadua ran pro-opposition and anti-government Facebook pages, including the page "ქოცების დასაცინი ოფიციალური სააგენტო" (Official agency mocking at Georgian Dream). Facebook administration removed the page in April 2020. Later, on May 17, 2020, it was created again with an identical title. The page continued the campaign of discrediting the government and spreading disinformation. But after Myth Detector published an article regarding the video fabrication spread by the page about Georgian Dream leader Bidzina Ivanishvili and after Facebook marked the post as false news, the page "ქოცების დასაცინი ოფიციციალური სააგენტო" is no longer available on social media.