At different times, identical photos of an older man wearing lingerie were spread on social networks. According to the descriptions, the photo depicted the Executive Chairman of the "World Economic Forum," Klaus Schwab. The authors of the post accused Klaus Schwab of pre-planning the "new world order," the "major overload," and, consequently, the coronavirus pandemic.
At various times, identical images were shared by the Facebook accounts, including Vamekh Fusdani Davit Giorgobiani Nanu Nensi Mamuli Sakartvelo and Karen Jitsuryoku.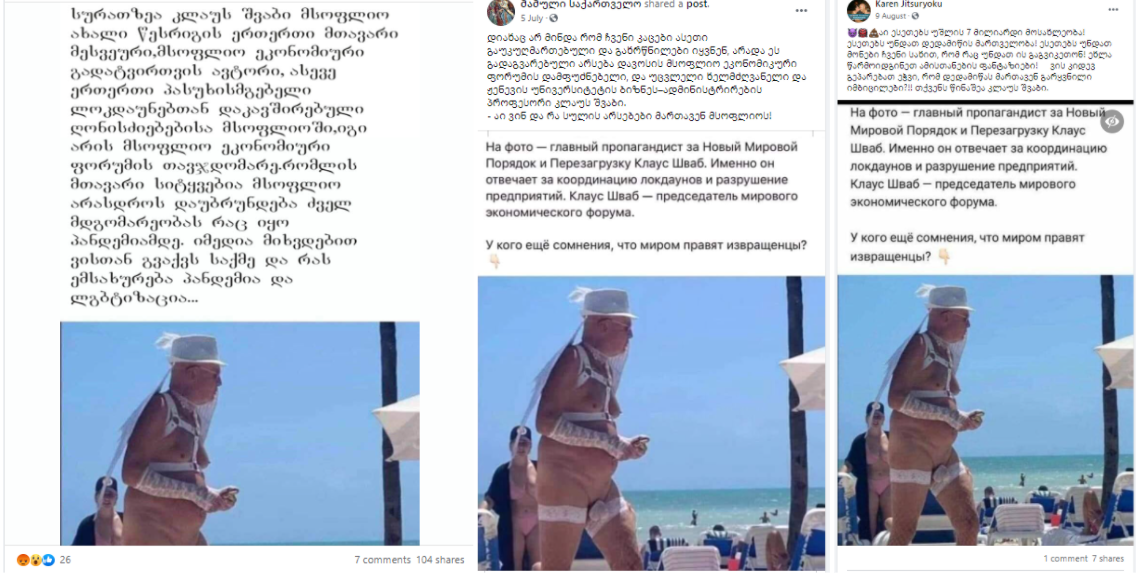 The photo is being disseminated using a false description. In fact, it does not depict the German engineer and economist Klaus Schwab, but Max Schwab, a resident of Florida.
The description of the photo was verified by foreign fact-checking organizations. According to the Greek organization, Elinika Hoaxes, the photo depicts not Klaus Schwab, the head of the World Economic Forum, but Max Schwab, a resident of Key West, Florida. According to the publication, for Max Schwab, appearing in similar attire in public, especially on the beach, is a common everyday occurrence.


Photos: Elinika Hoaxes
Photos of Max Schwab are often found on Key West-related Facebook pages. At various times, his photos were posted by the local 'Schooner Wharf' Bar and the Facebook page "Only in Key West."
Conspiracy theories related to Klaus Schwab, the new world order, and World Economic Forum have been fact-checked by "Myth Detector" in the past as well. For more details, see our articles:
---
The article has been written in the framework of Facebook's fact-checking program. You can read more about the restrictions that Facebook may impose based on this article via this link. You can find information about appealing or editing our assessment via this link.
Read detailed instructions for editing the article.
Read detailed appeal instructions.