On January 12, a news agency Newsfront published an article that, according to the editorial board of the agency, includes a photo allegedly showing a Canadian intelligence officer. Newsfront also states that the "unnatural engagement" of the Prime Minister of Canada, Justin Trudeau, in the affairs related to downing of the flight, is exactly due to the fact that one of the victims is likely a Canadian intelligence officer.
Newsfront: "'Newsfront Georgia' obtained a passport photo of one of the deceased Canadian passengers. The photo was taken on the site of the crash. The surname of the passenger is not visible. It is likely that this person was working for Canadian Intelligence Services. Information is still being retrieved, however the unnatural engagement of the Prime Minister of Canada and appealing to 'intelligence data' indirectly confirms this version."
Information, disseminated by Newsfront lacks evidence and is manipulative: 1. There is no evidence either in the article or in open sources that would allow to identify the passport owner or confirm the connection with the Canadian Secret Services; 2. Newsfront did not exclusively publish the passport photo; 3. The engagement of Justin Trudeau is due to the fact that a significant part of the victims of the downed plane were citizens of Canada.
1. It is impossible to identify the person shown on the passport.
It is impossible to identify the individual based on the photo of the passport page, as his personal data and photo are hidden. There is no evidence that would confirm his connection to the Canadian Intelligence Services.
2. The photo has not been exclusively retrieved by Newsfront.
The photo of the plane crash victim's passport, together with other photos showing the consequences of the crash, was published by the Facebook page of the President of Ukraine on January 11, one day before Newsfront's article was published.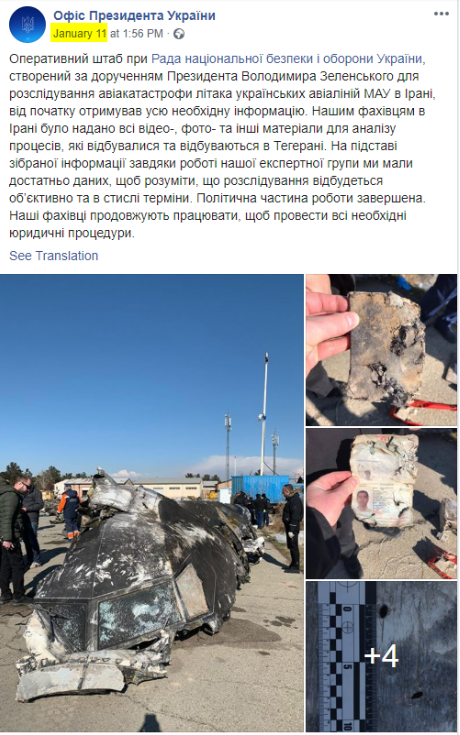 3. Significant number of victims were citizens of Canada.
Out of the total 176 victims of the crash, 138 indicated Canada as their final destination. From those 138, there were 57 citizens of Canada and several foreign students that had Canadian residence permits. Therefore, Newsfront's statement on Trudeau's "unnatural" engagement is manipulative and aims to disseminate conspiracies.
---
Winner of Media Literacy Lab Contest