On October 2nd, "Leader 41"- a Facebook page supportive of the ruling "Georgian Dream" party published a post claiming that "Putin's journalist" Dimitry Gordon has asked Volodymyr Zelensky to demand the release of the Georgian ex-president Mikheil Saakashvili. The post asserted that a similar statement was made by the member of the Russian Duma, Vladimir Zhirinovsky, indicating that Saakashvili's arrest upset "Putin's favorites." The post creates the impression that Russia is concerned with Saakashvili's arrest and demands his release.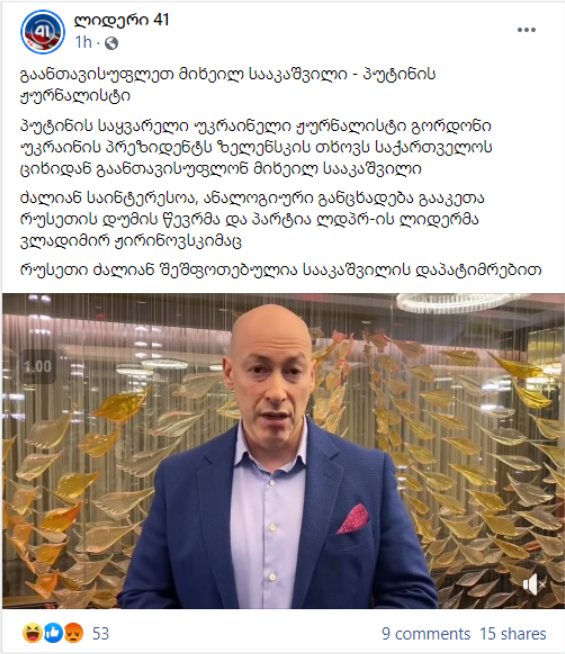 The post of "Leader 41" is misleading. In fact, Dimitry Gordon is a Ukrainian journalist who openly criticizes the politics of the Kremlin, and he has indeed asked the President of Ukraine to demand Saakashvili's release. Zhirinovsky's statement about Saakashvili was sarcastic. "Leader 41" creates the impression that Russia is concerned with Saakashvili's arrest, and demands on his release are voiced by stakeholders expressing Russian interests.
On October 1st, Ukrainian journalist Dmitry Gordon indeed expressed support for Mikheil Saakashvili and called upon the Ukrainian President Volodymyr Zelensky to take action in support of Saakashvili.
Dmitry Gordon: "Mikheil Saakashvili is a great reformer and politician who has managed to turn the poorest, most criminal and corrupt country in the post-Soviet space into a prosperous state. Mikheil Saakashvili played a massive role in Ukraine's democratization. I sincerely appreciate this person, I love him, and I believe he should be freed immediately. I urge the President of Ukraine, Volodymyr Zelensky, to take immediate action to release a Ukrainian citizen – Mr. Mikheil Saakashvili.  I wish him self-confidence, strength, and faith in tomorrow because both Saakashvili and Georgia will be fine tomorrow. I am certain. "
Ukrainian journalist Dmitry Gordon has made statements in support of Mikheil Saakashvili in the past as well.
Dmitry Gordon is a Ukrainian journalist who, until 2017, hosted the program "Visiting Dimitri Gordon" on "Ukraine 112." In February 2017, Gordon announced that he was cutting ties with the TV channel because of the influence of Viktor Medvedchuk, Putin's godfather and ideologue of the "Russian world" in Ukraine.
The confrontation between Gordon and Russian propaganda journalist Vladimir Solovyov has been going on for several years due to Russia's occupation of parts of the southern and eastern regions of Ukraine. Soloviev said it was a slander for which the Ukrainian journalist should have been tried. In response, Gordon called Soloviev a "brutal propagandist," and in response, Solovyov repeatedly insulted the Ukrainian journalist, calling him "incompetent," a "scoundrel," and a "criminal."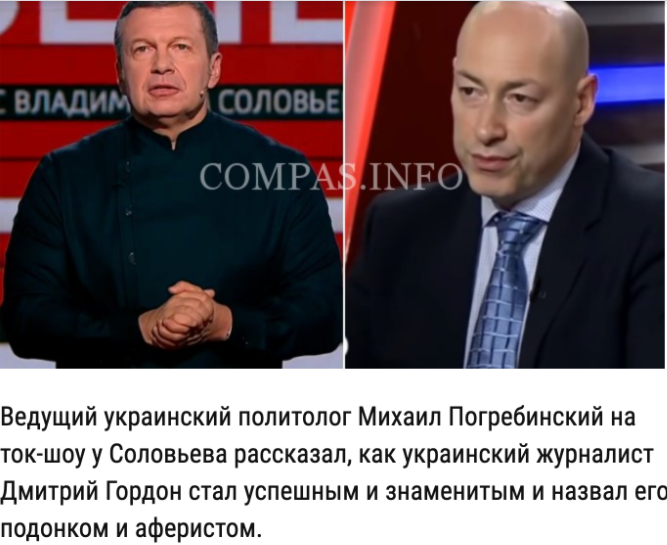 The Sarcastic Comment of Zhirinovsky
The Sarcastic Comment of Zhirinovsky about the arrest of Saakashvili has been circulating among pro-governmental media and Facebook groups with a misleading context as if the Russian side was not content with the arrest of the ex-president and the leader of the Russian Liberal Democratic Party was genuinely criticizing Saakashvili's arrest.
For more details, see the article of "Myth Detector:"
What did Zhirinovsky Say about Saakashvili's Arrest?
---
The article has been written in the framework of Facebook's fact-checking program. You can read more about the restrictions that Facebook may impose based on this article via this link. You can find information about appealing or editing our assessment via this link.
Read detailed instructions for editing the article.
Read detailed appeal instructions.