On October 14, Editor of Kvakutkhedi magazine – Khatuna Saginashvili published a post on Facebook, where she claimed that Ivane Javakhishvili Tbilisi State University (TSU) and Ilia State University prohibit citing Russian scholars' works in scientific papers. Saginashvili's Facebook post was published in the form of an article on October 15 by Marshalpress.ge and for.ge, and on October 19 – by factnews.ge. All three articles have an identical title – "How could one come up with something like this? TSU and Ilia State University Introduced Regulations Prohibiting the Citation of Russian Scholars". The post on the prohibition of citing Russian scholars was virally disseminated on social media. The given information was also disseminated by Giorgi Gigauri on Asaval-Dasavali in the October 21-27 issue.
The widespread information that Ivane Javakhishvili Tbilisi State University and Ilia State University prohibit citation of Russian scholars' works is a lie. Administrations of the universities mention that they respect academic freedom and have not introduced any kind of regulation for citation issues. No such regulation can be found either in TSU or Ilia State University case.
Myth Detector contacted an Associate Professor at Ilia State University, the Head of Quality Assurance Department of the Faculty of Science and Arts, Maka Lashkhia, who stated that Ilia University supports academic freedom and no such restriction exists there.
Maka Lashkhia, Ilia State University: "At Ilia State University, academic personal has academic freedom, meaning that they are free to cite whatever they would like to. It is a lie that there exists such regulation, prohibiting the citation of Russian scholars. There is no regulation regarding citation (as in whom to cite). I think that it is a debasement of profession, when an internet site writes that professors are prohibited from doing something, as if they would like to do something, but someone does not allow it."
Myth detector also spoke with Nata Asatiani, a representative of the Public Relations Department at Tbilisi State University, who denied the widespread information about the prohibition of citing Russian scholars and explained that such prohibition has not been introduced to the university through any act or a verbal directive.
Public Relations Department of Tbilisi State University: "There is no such regulation in the normative documents of the university that would prohibit citing Russian researchers and scholars. Scholars and researchers can use sources written in any language and are completely free in their choice. The current studies in the Georgian academia are devoted to the actual problematics of various fields. Therefore, Georgian researchers, on the one hand, have to familiarize themselves with results of the leading studies in the international scientific networks and, on the other hand, submit their works to authoritative scientific editions. This, naturally, due to specifics of the field, does not exclude the citation of foreign, including Russian, experts. At the same time, it is widely known that the language of scientific communication is English. Therefore, submitting scientific works to English peer-reviewed academic journals with impact factor provides for the worldwide availability of scientific works."
Scheme of Disinformation Dissemination
Khatuna Saginashvili's post was followed by negative comments towards the university, however, one Facebook user asked her to name the source. In response, Saginashvili mentioned a Facebook from October 14 post by Demur Giorkhelidze, a former MP. Neither does Giorkhelidze's post indicate the primary source, despite being asked to name it by Nata Asatiani, the representative of the Public Relations Department of TSU. It was this unverified information given in the Facebook post that three online editions published, subsequently misleading the public.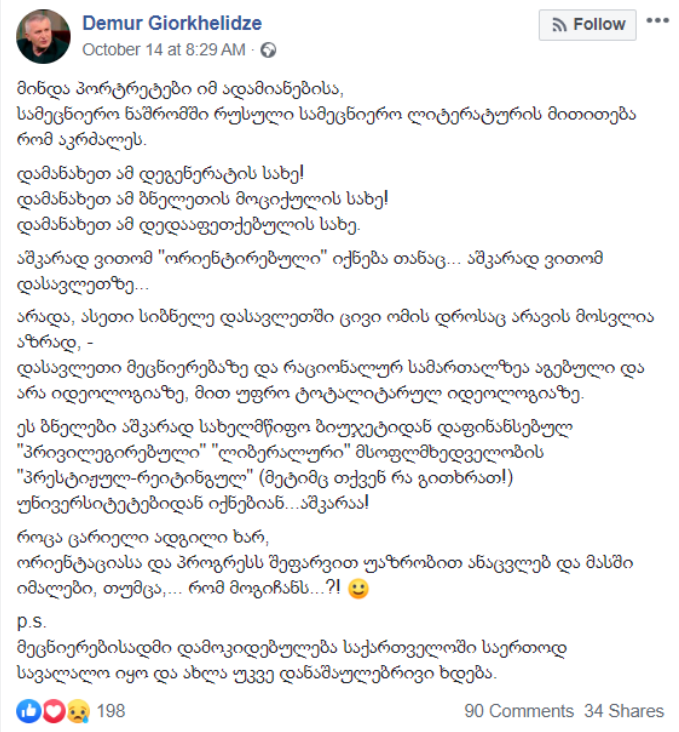 ---
Regional Network of Myth Detector Lab