On December 20, the Facebook page "ბიბლიის მორწმუნე ქრისტიანები" (Bible-believing Christians) published a post claiming that American nurse Tiffany Dover who passed out minutes after receiving coronavirus vaccine on December 17 is dead. The post is based on the data from the American webpage SearchQuarry, which shows that the death certificate of 30 years old Tiffany Dover living in Alabama is ready
 The information about the death of American nurse Tiffany Dover isn't backed up. On December 21, CHI Memorial Hospital spread a video of Dover together with her colleagues. The only source that backed up the viral disinformation about her death was SearhQuarry.com, which is an unreliable public database, where the information can only be accessed after the purchase. Speculations about Tiffany Dover's death emerged after she fainted following the vaccination at the clinic, which was manipulatively linked to vaccination.
Information about her death was first spread in the U.S., Twitter users searched for details about her on the nurse's Facebook page. Tiffany Dover's Facebook account isn't accessible anymore. She had indicated Hidgon, a city in Alabama as her place of residence, and Tiffany Pontes Dover as her full name. Initially, the SearchQuarry webpage indeed showed the death certificate of 30 years old Tiffany Dover living in Hidgon and even listed her relatives, also found on her list of Facebook friends.
 One of the Twitter users checked the information and found out that SearchQuarry asked for payment for access to a document, but when purchased, the webpage provided general document on the citizen Tiffany Dover and not the requested death certificate.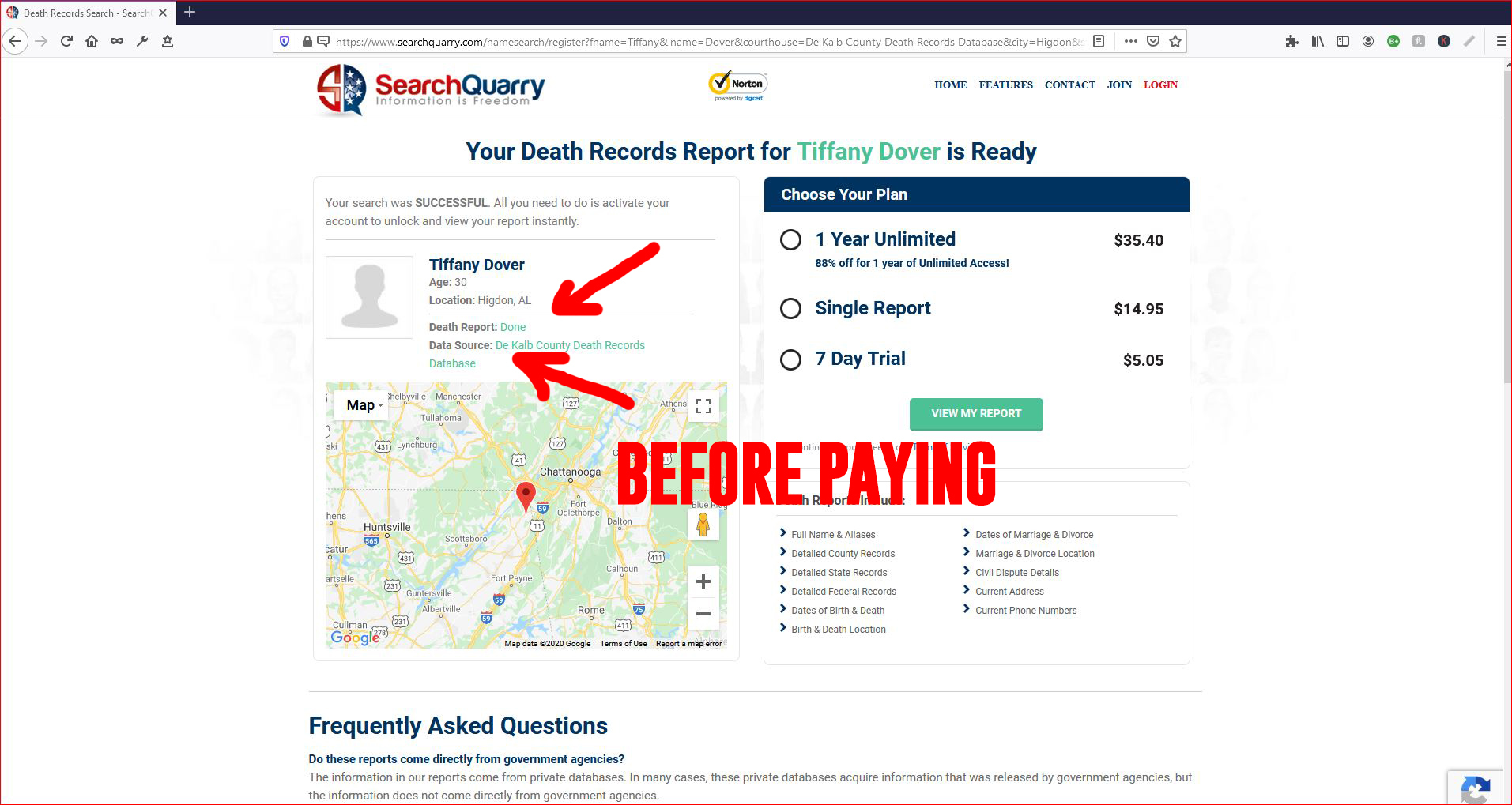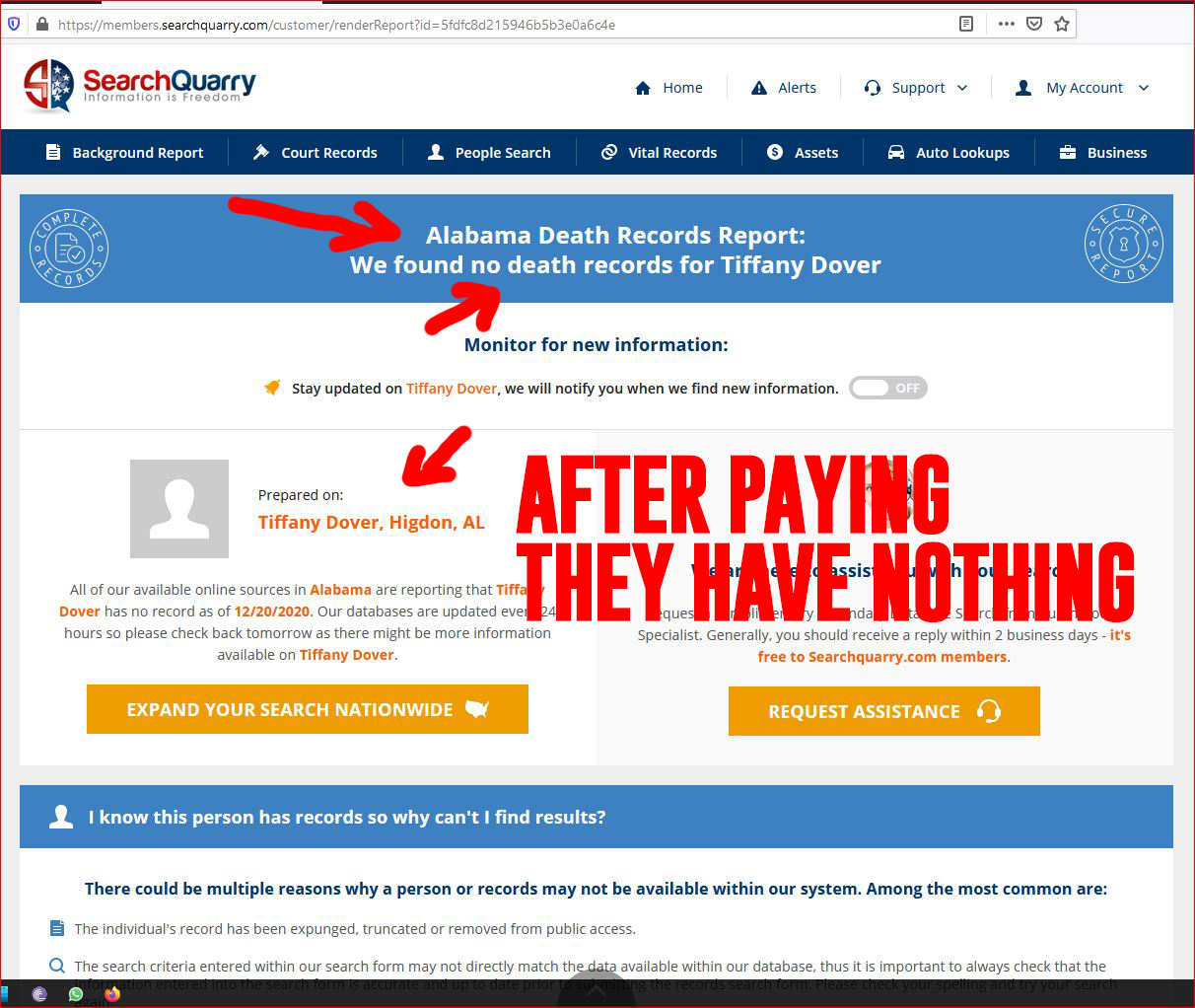 It's important to note that on the webpage, Tiffany's death certificate can be found with hers, as well as her husband's surnames (Tiffany Pontes, Tiffany Dover), however, the list of relatives, age, and place of residence are identical, which leads us to believe that data belongs to one person.

აღსანიშნავია, რომ Tiffany Dover-ის სიკვდილის ცნობის ანალოგიურად, საიტიდან ტიფანი დოვერის სახელზე გაცემული დაპატიმრების ცნობის მოპოვებაც  ისევე იყო შესაძლებელი, როგორც მისი ქმრის(Dustin Dover) გარდაცვალების.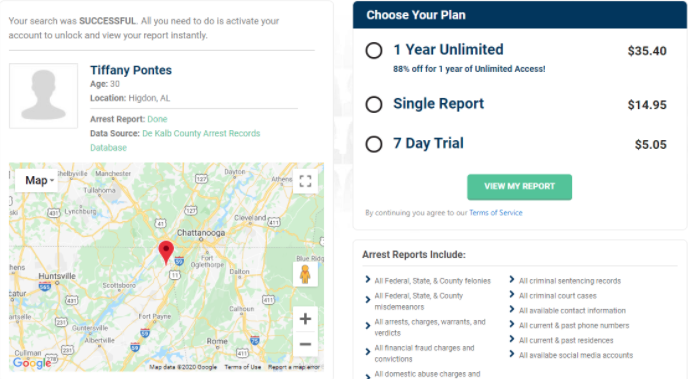 In the free version, the webpage doesn't provide any additional details on the date of issue of those certificates and requests the payment in different amounts.
Given the fact that false information about Tiffany's death went viral on a weekend, on Monday, December 21, CHI Memorial hospital, Tiffany Dover's workplace, published a video of Tiffany standing alongside her colleagues. The hospital wrote in the description that she's feeling well and is supported by her colleagues. The hospital's vice president of marketing communications Lisa McCluskey confirmed Tiffany is alive and said that she worked her shift on Monday.
After CHI_Memorial published a video to confirm Tiffany Dover is alive, her death certificate or incarceration record can no longer be found separately on SearchQuarry. However, it offers full public records report to purchase. Webpage writes that such records contain various information including criminal records, domestic violence records, telephone numbers, and so on. However, it no longer mentions a death certificate.
 As for the SearchQuarry, the webpage's "about us" section reads that it is U.S. public records database-based online resource platform that offers users free search of documents on U.S. citizens including birth, death, marriage, and divorce certificates, financial records, incarceration records, driving license and so on.
Albeit, when found, the document is accessible only after the purchase. The webpage offers visitors payment in different amounts to select. SearchQuarry doesn't take responsibility for information accuracy. Negative comments about SearchQuarry can often be found on the internet. Better Business Bureau aims to connect businesses and their unsatisfied customers with each other. Comments from a few dozens of customers disappointed by SearchQuarry paid services were found on this exact platform. The majority of them stated that the webpage showed it had data on people they were interested in, they proceeded with payment, but the document disappeared from search results following the successful transaction. SearchQuarry offers a refund to every person who's had such experience.
On December 17, Tiffany Dover received coronavirus vaccine and viewers watched Tiffany and 4 other health workers get vaccinated on WRCB TV live. Tiffany Dover passed out a few minutes after getting vaccinated. Later she explained that she has an over-reactive vagal response, and she has had the same experience before. This fact was followed by a huge response from society and the video was soon disseminated manipulatively by anti-vaxxers. The hospital where Tiffany works made a statement on December 19 and said that she feels well and asks for privacy for her and her family members.
In regards to fainting after the vaccination, the webpage of The Center for Disease Control (CDC) writes that it's not uncommon and can happen even after getting other vaccines and is usually triggered by pain or anxiety.
---
The article has been written in the framework of Facebook's fact-checking program. You can read more about the restrictions that Facebook may impose based on this article via this link. You can find information about appealing or editing our assessment via this link.
Read detailed instructions for editing the article.
Read detailed appeal instructions.