On July 16, 2020, Sputnik-Abkhazia published an interview of political analyst Igor Shatrov with Sputnik radio regarding the statement made by the U.S. Secretary of State about Russian gas and Nord Stream 2. The political analyst noted that unlike the United States, Russia never uses the issue of gas supplies to Europe for political purposes.
Igor Shatrov: "Russia and earlier the USSR, which also supplied gas to Europe, have never hinted at using any tools of political influence on the European Union. The argument "we will cut gas supplies if you do not make decisions that are in our interests" has never been used in any dispute."
Igor Shatrov's claims do not correspond to the historical reality. Russia is actively using the issue of gas in diplomatic relations with the European Union and generally, Europe. Moscow frequently threatens with cutting gas supplies or looking for other markets for Russian natural gas.
Russia's irritation was caused by the statement released by the U.S. Department of State, according to which sanctions may be imposed on those European companies that will be involved in the activities related to a broader scope of Russian energy export pipelines, including Nord Stream 2 and the second line of TurkStream.
In response to the statement made by U.S. Secretary of State Mike Pompeo, Russian Foreign Ministry Spokesperson Maria Zakharova said that with this decision, the United States is trying to exert pressure on Moscow.
Russia has long been using gas for geopolitical purposes 
Back in the Soviet era, the USSR tried to exert influence on Eastern Europe and then Western Europe with oil and gas exports. Russia deliberately gave its allies oil and gas at highly subsidized prices—but only if they remained politically compliant. Subsidizing its allies was the key tool used by the USSR to maintain political influence and Europe's dependence on Moscow. Loyal states which experienced political problems, such as Poland during the Solidarity period of 1980–81, were helped with even more generous subsidies. Meanwhile, critics of the Kremlin—such as Romania—were forced to rely on the much pricier world market for fuel. In 1979 Hungary received 97% of its energy imports from the USSR, Bulgaria 92%, and East Germany 90%. Romania, in contrast, received only 16% of its imports from the Kremlin, having to buy the rest on the world market.
This energy influence declined temporarily in the late 1980s and 1990s, due to low oil prices, the dislocations of the collapse of the USSR, and the privatization of many oil companies. Russia intensified its influence (dependence of other countries on its oil and gas) under President Putin. Thus, the country turned its oil and gas reserves into yet another political tool.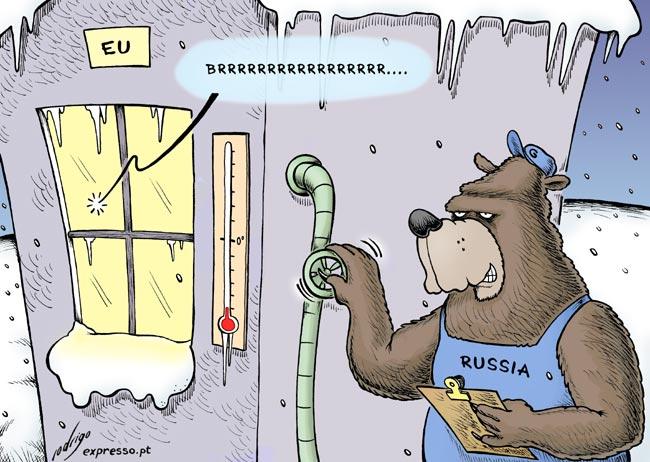 A cartoon showing Russia's use of gas for political purposes against the European Union was first published by www.expresso.pt on January 7, 2009.
In 2000-2008, oil and, especially, gas became more valuable with Russia seizing upon this opportunity for personal gain. The Putin administration moved to take control of the country's oil and gas sector. This allowed Russia to harness its potential economic power for state purposes. The countries supplied with Russian gas would not dare to confront Russia for political reasons and boycott its products.
Russia made natural gas prices politically motivated, changing them according to Kremlin's attitude to this or that country. Generally, Russia was increasing prices, but prices were higher for those countries who were on bad terms with Russia (Ukraine, Georgia).
Russian natural gas prices ($/TCM)
| | | | | |
| --- | --- | --- | --- | --- |
| | 2005 | 2006 | 2007 | 2008 |
| Armenia | $56 | $110 | $110 | $110 |
| Belarus | $46 | $46 | $110 | $125 |
| Georgia | $63 | $110 | $235 | $235 |
| Moldova | $80 | $110 | $170 | $190 |
| Ukraine | $50 | $95 | $130 | $160 |
Source: Randall Newnham, "Oil, carrots, and sticks: Russia's energy resources as a foreign policy tool"
Russia's intention to use natural gas for political purposes was again revealed in 2006. President of Belarus, Alexander Lukashenko has consistently backed Moscow in foreign policy. Thus, the Kremlin has ensured the Belarus would be favored with extremely cheap gas, whereas Russia was demanding almost five times more from the new pro-Western Ukrainian government.
That Russia is using oil and gas supplies, as well as price manipulations for political purposes is quite obvious from the study released by Rice University's Baker Institute for Public Policy, which discusses the cases, when Russia used energy as an instrument of coercive diplomacy. The table below shows when Russia used energy supplies and price manipulations for political purposes. In this case, we come across the European Union, as well as other European countries.

Source: Rice University's Baker Institute for Public Policy
According to the study:
"Gazprom tolerates massive debts on the part of certain customers such as Naftogaz of Ukraine for years, then suddenly imposes stringent payment requirements and raises prices when geopolitical tensions increase between the Russian government and the consumer government."
Russia used natural gas as a political weapon against Ukraine
Energy supply disruptions caused by Gazprom are quite frequent. Citing various political reasons, Russia frequently disrupts gas supplies, creating huge problems to the countries. Georgia, Ukraine, Baltic States and other countries of Eastern Europe have faced the same problems at different times.
As for Ukraine, Russia decided not only to cut gas supplies to the country, but also to take it out of play. Gas supplies were cut in 2014, when the two countries failed to agree on the price and Russia's proposal was deemed unfair by Ukraine.
Ukraine played an important transit role between Russia and other European countries with transit fees providing Kiev with roughly $2 billion to $3 billion annually. Russia decided to build Nord Stream 2 and TurkStream just to bypass Ukraine. Nord Stream 2 was intended to provide Europe with gas via the Baltic Sea that would have further increased Europe's dependence on Russian natural gas – the option that some countries still oppose. TurkStream serves the same purpose.
See another article published by the Myth Detector regarding negative sides of Russian gas supplies: 12 reasons why #NoToGazprom.
---
Prepared by Irakli Iagorashvili
Regional Network of Media Literacy Lab