On January 28, Facebook page "Anti-Paradox" shared a video from Russian social network Одноклассники, adding a caption "The Chinese were arrested in Kyrgyzstan for killing and eating the children. They deserve not only a virus but an atomic bomb."  The video uploaded on Одноклассники on January 13, 2020 was shot by an amateur user, who notes that the footage was filmed at the site in Kyrgyzstan, where the Chinese also work along with the Kyrgyz citizens. The video footage featuring a gathering of mourning people is accompanied by subtitles and a voice-over, claiming that the evidence was found proving the fact of eating the children by the Chinese. Besides the audio voice, the video provides no evidence to substantiate the unidentified author's claims.
Facebook page "დედაქალაქი" (Capital) also shared the same video on January 29. The Facebook page writes in the caption accompanying the post: "Cannibal Chinese were arrested in Kyrgyzstan."
The information spread by "Anti-Paradox" referring to Одноклассники, as if the Chinese were killing and then eating the children in Kyrgyzstan is disinformation. In fact, the video was shot on January 10, 2020 and it features funeral prayers commemorating two employees who went missing following an accident at Kumtor gold mine in Kyrgyzstan.
Kyrgyz online media outlets Qazweek.kz and asia-times.org reported quoting the press office of Kyrgyzstan's Interior Ministry that the video was shot at a ceremony commemorating two missing workers. The Ministry denied reports according to which the place was found, where Chinese citizens were killing and eating the children. It also noted that police are working to identify the source of disinformation.
Two employees working at Kumtor gold mine in Kyrgyzstan went missing following a "significant rock movement" at a waste rock dump. The search operation was underway for 40 days but it proved unsuccessful. On January 10, the Ministry of Emergency Situations of Kyrgyzstan and the families of the missing employees jointly decided to stop the search operation. The Kyrgyz Government's Representation in Issyk-Kul Region posted a relevant statement on its official Facebook page. According to the same statement, a traditional ritual was held to commemorate the deceased employees.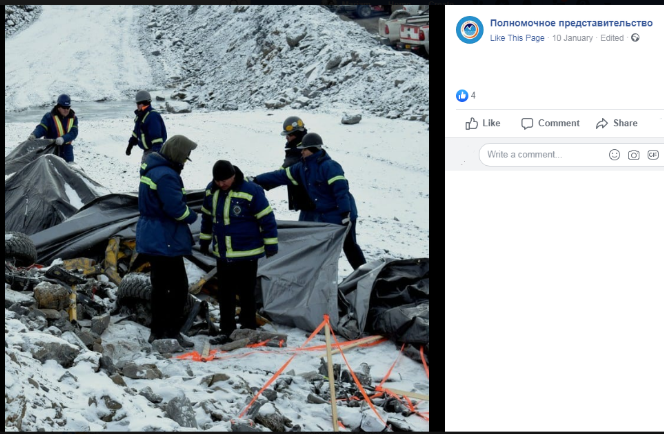 "Anti-Paradox" and Одноклассники published their Facebook posts amid coronavirus panic that further contributed to inciting xenophobic sentiments against the Chinese.
About "Anti-Paradox" 
Facebook page "Anti-Paradox" was created on May 18, 2018 and it already has over 29,000 likes. The page mostly publishes antiliberal, sexist, xenophobic and homophobic posts. The Myth Detector has already written in its earlier publications about the disinformation spread by "Anti-Paradox."
---
Prepared by Mariam Dangadze
Regional Network of Media Literacy Lab