On January 6, a social media user Simon Kiladze published a post mentioning that, in accordance to the Democrats' intention and legislative bill, gender-specific words will be removed from speeches that are made in the United States Congress. Kiladze connects this bill to the Speaker of the United States House of Representatives, Nancy Pelosi, and states that although Pelosi has several children and grandchildren, she still does not abstain from "genderism", which aims to "fully equate females and males and create a human with middle gender".
Nostal.ge published an article based on Kiladze's post on January 12. On January 12-13, a website spnews.io, an Asaval-Dasavali journalist Giorgi Gigauri, and a former MP Otar Chrdileli disseminated identical information mentioning that the Congress would remove gender-specific terms from speeches, while Alia and News Front directly printed the post.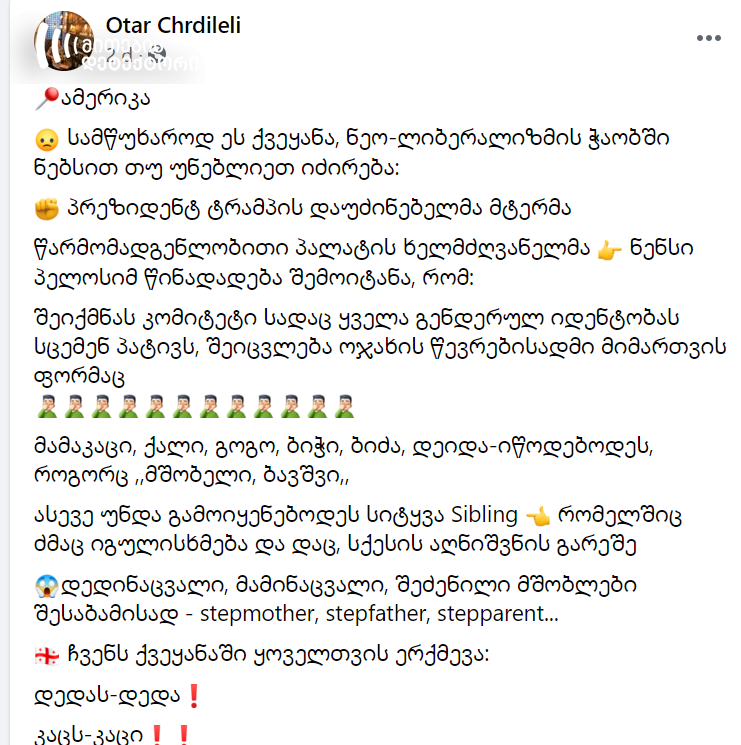 The information about the US Congress removing gender-specific terms from speech is manipulative. Rules, initiated by Nancy Pelosi, only concern official documents and does not regulate the usage of terms by the members of Congress.
What does the new rules package of the House of Representatives mean?
The Speaker of the United States House of Representatives, Nancy Pelosi and Rules Committee Chairman James P. McGovern presented the new rules package for the United States House of Representatives on January 1, 2021 which the 117th Congress will vote on.
According to the text, the rules package increases accountability for the American people, and makes this House of Representatives the most inclusive in history. More inclusivity encompasses several steps, including using gender-neutral pronouns that do not emphasize the gender of the person. However, this restriction does not apply to the colloquial language and the representatives will be able to use gender-specific terms in their speeches or debates regarding bills.
It is noteworthy that prior to each meeting of a new Congress, the House of Representatives adopts a new rules package that provides a roadmap for the members of Congress. The new rules package for the 117th Congress is mostly based on old rules, with the exception of several amendments – including the usage of gender-neutral pronouns in official documents, founding the Office of Diversity and Inclusion and making it a violation of the Code of Official Conduct for a Member, Delegate, Resident Commissioner, officer, or employee of the House to disseminate manipulated media, including photos and videos.
The information about the rules package, prepared by Nancy Pelosi and other Democrats, allegedly restricting the usage of gender-specific terms in speech was also widely disseminated among the far-right in the United States in the beginning of January.
---
The article has been written in the framework of Facebook's fact-checking program. You can read more about the restrictions that Facebook may impose based on this article via this link. You can find information about appealing or editing our assessment via this link.
Read detailed instructions for editing the article.
Read detailed appeal instructions.