Spreading anti-Turkish messages is a part of an electoral campaign carried out by the Alliance of Patriots (AoP) under the name "Protect Adjara! Protect your part of Georgia!" The leaders of the party – Davit Tarkhan-Mouravi and Irma Inashvili – label Turkey as an invader and refer to a map published by a Turkish newspaper where Batumi is included in Turkey's borders. Irma Inashvili notesthat the map was published by Milliyet, a Turkish newspaper, not long ago. On August 29, Ilia Chachibaia, a TV Obiektivi journalist shared the map as well.
Chachibaia's post has been shared by Keti Khomeriki, who, according to her Facebook profile, works as a journalist at Georgia and the World and the Republic of Georgia. According to Facebook's analytical tool Crowdtangle, Ilia Chachibaia and an AoP activist Nino Kvaratskhelia had shared this post with captions that aimed to incite hatred in the following groups: "დავასრულოთ ნაცები – Davasrulot Nacebi !!!" (Let Us end the United National Movement), "ჩემი საქართველო – აქ არის!!! (My Georgia is Here) "ქვეყნის მტრების წინააღმდეგ" (Against the enemies of the state), "კახა კალაძე თბილისის მერი" (Kakha Kaladze the Mayor of Tbilisi), and "პროტესტი! Protest! Протест!"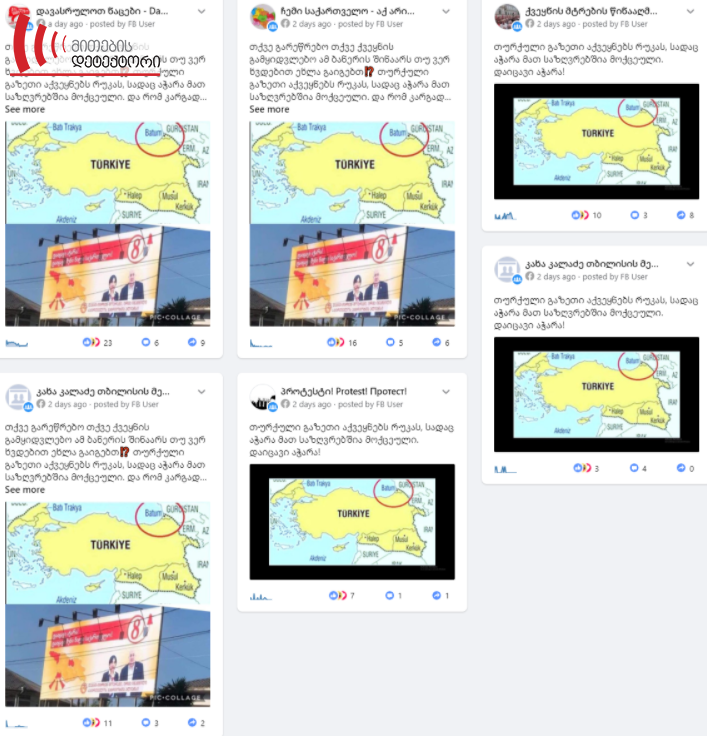 The map disseminated by the AoP members is old and was published by a Turkish newspaper in 2013 in the light of a statement made by the Head of the Kurdistan Workers' Party (PKK). The Turkish government recognizes Batumi as a part of Georgia. The border between the two countries has been demarcated since 1992. Referring to an old map that has nothing to do with the official position of Turkey and that belongs to a private media, is manipulative. The given publication is a part of AoP's Turkophobic election campaign that aims to remind people of a historical trauma.
Where and when was the map published?
The map where Adjara is a part of Turkey was published in 2013 by Milliyet, a Turkish newspaper. The given map also includes parts of Greece, Bulgaria, Syria, Iraq, Azerbaijan, and Armenia in Turkey's borders. Although the map was made by Milliyet, the AoP associates it with Turkey's foreign policy and labels Turkey as an invader.
Milliyet published its article titled "Expansion or Solidarity?" on March 23, 2013. The article refers to a statementby Abdullah Öcalan made at Nowruz. Öcalan is the leader of PKK, who has been sentenced to life imprisonment. In his statement, Öcalan spoke about "related nations" that, he believed, were separated by political elites. Öcalan did not mention Adjara specifically – he said that conquest wars and the interference of Western imperialists caused the creation of artificial Arab, Turkish, Persian, and Kurdish states.
"Forming geographies based on a single ethnicity and nation is an inhuman invention that the modernity created to alienate us from our true selves" – said Öcalan (Source: Euronews; BDP Press Office).
In his statement, the leader of PKK also called on Armenian, Turkish, Assyrian, Arab, and other peoples to see the light of freedom and equality as Kurds see it.
The article by Milliyet mentions that Öcalan's statement had been perceived differently by experts and that interpretations vary. According to an interpretation by a Kurdish writer, Öcalan spoke about the solidarity of Ottoman people, not about borders. As the article explained, Öcalan's statement was a call on the peoples of the Ottoman Empire to unite and fight against a common enemy, not against each other.
The map, attached to the article, refers to Öcalan's vague statement that has been seen various interpretations.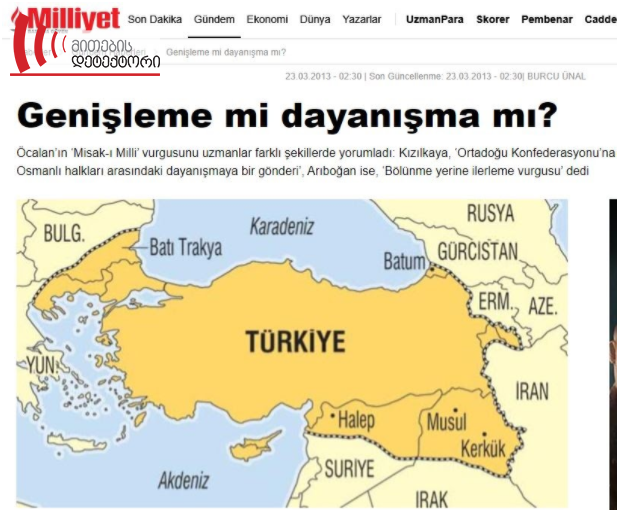 Turkey recognizes the territorial integrity of Georgia and does not contend Adjara
In a 2018 interview with Netgazeti about Milliyet's map, Fatma Ceren Yazgan, the Ambassador of Turkey to Georgia, stated that it could have been an old historical map, but there was no such paragraph in Turkish handbooks and that the borders between Georgia and Turkey were not under dispute. The Ambassador also underlined the fact that Turkey did not have any claims to Batumi and Adjara and that there was merely a business interest coming from Turkish business owners with regards to investing in Adjara.
In 2016, Zeki Levent Gümrükçü, then the Ambassador of Turkey to Georgia, commented on this issue as well and responded to Davit Tarkhan-Mouravi's statement where he labelled Turkey as an invader. The Ambassador referred to Adjara as an integral part of Georgia and said that it would remain so, as the borders were agreed upon and the demarcation had been done with a precision of centimeters.
Friendship, Cooperation and Good Neighbourly Relations Treaty was signed by Georgia and Turkey on July 30, 1992, finalizing the process of demarcation between the two states. With this treaty, the parties recognized the borders that had been agreed upon earlier and stated that they would obey the treaties signed between the two since the Kars Agreement from October 13, 1921.
The AoP activated the map topic after its Turkophobic banner in Adjara was met with a public outrage. On the banner, the Autonomous Republic of Adjara was marked red in a similar way as Russia-occupied Samachablo and Abkhazia, while arrows were pointed from Turkey to Adjara. The banner also had a caption: "Protect Adjara! Protect your part of Georgia!"
As studies by the Media Development Fund show, the Alliance of Patriots have been pursuing the Turkophobic campaign for years. Their main message is "if Russia is an invader, so is Turkey". It aims to shift attention from the Russian occupation by recalling historical traumas.
---
By Maiko Ratiani