Based on open source information, the Myth Detector has analyzed the pages run by Irakli Jankarashvili as well as the platforms associated with him, identifying the links between pro-government, antiliberal and pro-Russian platforms.
Irakli Jankarashvili runs the page "ანტილიბერალური დოქტრინა" (Antiliberal Doctrine) and a group "ამხილე პორტირებული ნაცები" (Disclose Ported Natsis, referring to the opposition United National Movement);
He is one of the authors of Kremlin-affiliated web portal News Front Georgia;
He writes for Tvalsazrisi.ge, which simultaneously spreads anti-Western, pro-government messages, as well as content inciting strife;
Runs a blog Politico;
Runs one additional profile with identical name and surname. Two additional fake accounts share materials from his platforms in a coordinated manner that creates an impression that these two fake accounts are also run by Jankarashvili.
---
Pro-government and anti-Western posts published by Antiliberal Doctrine
Facebook page Antiliberal Doctrine was created on November 2, 2019. In his first post, Irakli Jankarashvili, page admin, noted that he created the new page after deleting his personal account.
During the very first days of its existence, the page was actively publishing discrediting posts against Bishop Petre Tsaava, who was dismissed by Holy Synod of the Georgian Orthodox Church last year, the premiere of "And Then We Danced," a Georgian-Swedish film with gay protagonists, as well as organizers and participants of the June 20 anti-occupation protests. The page also publishes anti-Western and pro-Russian posts. Jankarashvili questions the population's choice to join the European Union, saying that the key to Georgia's territorial integrity is kept in Moscow. He also promotes a conspiracy theory about the Dulles' plan that is an integral part of Russian propaganda. But in fact, they are the words belonging to one of the characters of a Soviet novel, according to which American special services conspired to disintegrate the Soviet Union through its moral degradation.
Recently, Antiliberal Doctrine started to falsify the quotes from opposition political leaders, activists and journalists. For example, on April 9, the page posted the quotes allegedly from Diana Trapaidze, TV Pirveli host, saying that "I am an independent journalist and I fight against the church like free media does it." Later on April 20, the page quoted Tamar Chergoleishvili, editor-in-chief of Tabula magazine, as saying allegedly that "I have some problems here, in my head and that is not my fault." Antiliberal Doctrine also spread some quotes allegedly from Zuka Berdzenishvili, activist of anti-occupation protests and son of one of the leaders of the Republican Party, Davit Berdzenishvili: "My dad and uncle are frotting together that excites me."
On May 21, the page falsified the quotes allegedly from Nino Burjanadze, leader of pro-Russian United Georgia – Democratic Movement party, according to which "neither Bokeria nor the National Movement is responsible for the May 26 dispersal. Moreover, Saakashvili unlike Gakharia knew that he should not have dispersed the rally." Noteworthy that Burjanadze is a member of the opposition group working on electoral issues.
On May 24, Antiliberal Doctrine published quotes allegedly from Shalva Natelashvili, leader of the opposition Labor Party, according to which "The Patriarch is the greatest enemy of our country and we should put an end to him, like to Bidzina Ivanishvili on October 31." On the same day, the page posted fake quotes from Davit Berdzenishvili, leader of the opposition Republican Party: "I agree with Nino Burjanadze and Shalva Natelashvili – the Patriarchate and the Patriarch are demanding forests from Bidzina [Ivanishvili] in exchange for votes; unfortunately, he has turned into Georgian Dream's coordinator and we should remove him as soon as possible; Nino and Shalva are absolutely right."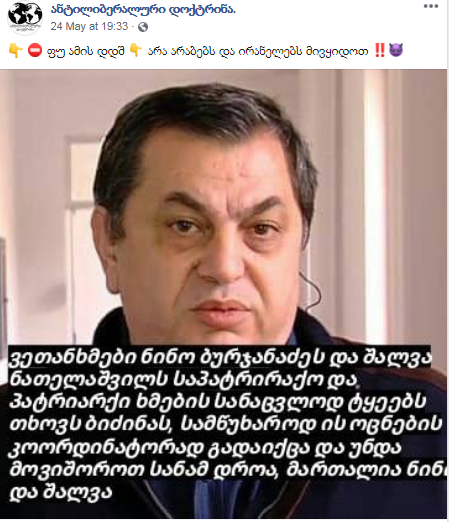 All of the above mentioned quotes are fabricated and none of them can be searched on the authors' Facebook pages or in their TV remarks.
To increase the popularity of his page, Jankarashvili frequently tags various pages or persons in the comments section, calling on them to like the page and share his posts. Among the tagged accounts are: Facebook page "დედაქალაქი" (Capital), whose disinformation stories had been verified by the Myth Detector on multiple occasions; Beka Vardosanidze associated with antiliberal group Georgian March; Gulbaat Rtskhiladze, chairman of Eurasian Institute; Konstantine Morgoshia, member of the Alliance of Patriots party and founder of anti-Western edition Alt-Info, and Zviad Tomaradze, chairman of Georgian Demographic Society XXI and National Religious Institute.
Facebook accounts associated with Irakli Jankarashvili
Besides well-known anti-Western and pro-Russian actors, there are two profiles among the tagged ones: "დავით იბერიელი" and "კა ტუ შა მალაციძე" – URLs of both accounts involve different names and surnames. Malatsidze is registered as Eka Tsabadze, while Davit Iberieli – as Goderdzi Pavladze.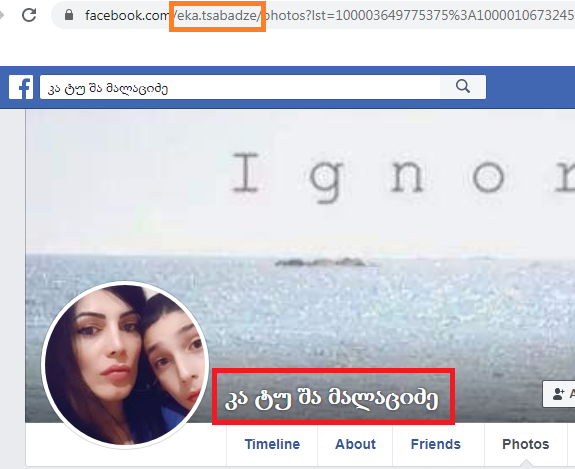 Facebook page of Anti-Western Doctrine was created in March 2020. The page shares not only its own content in various public groups, but also various articles prepared by pro-Kremlin media outlets News Front Georgia and tvalsazrisi.ge. Besides fake accounts, Jankarashvili also runs his two personal accounts. One of them (Иракли Иракли), along with own posts, also shares the posts published by Irakli Jankarashvili's second profile.
News Front Georgia, Tvalsazrisi.ge and Politico
Irakli Jankarashvili is the author of tvalsazrisi.ge as well. This online edition frequently uses hate speech, spreads disinformation and incites strife against ethnic and religious minorities. For example, Myth Detector has verified the article published by tvalsazrisi.ge, according to which Adjarian Muslims were allegedly ready to gain independence like Abkhazia and Samachablo, with the support of the Turkish government. Citing Экспресс газета and using photo manipulations, the online edition tried to incite religious strife. Tvalsazrisi.ge also spread disinformation about the lawsuit filed by Human Rights and Monitoring Center (EMC) about alleged street blessing in Marneuli. Articles published by tvalsazrisi.ge frequently appear on the Facebook page of Antiliberal Doctrine.
Besides tvalsazrisi.ge, Irakli Jankarashvili is the author of Kremlin-affiliated News Front Georgia. On April 30, Facebook removed News Front Georgia's Facebook page, along with 91 profiles, 49 pages and 2 groups associated with it, due to coordinated inauthentic behavior.

Irakli Jankarashvili also runs a blog – politiko.art.blog created on April 26, 2020. The blog publishes anti-European, anti-American and homophobic messages with the author referring to Russian-language editions (avia.pro, vk-smi.ru) as the sources.
Which groups spread the content from Irakli Jankarashvili's platforms?
Irakli Jankarashvili actively uses various Facebook groups for spreading information. Antiliberal Doctrine is a member of two public groups: "საქართველო უპირველეს ყოვლისა! 6504 წ." and "Football Addict," Both are actively sharing the posts published by the page. On April 8, 2020, Jankarashvili created a public group "ამხილე პორტირებული ნაცები" and is now actively using it for spreading information.
Antiliberal Doctrine mainly shares Irakli Jankarashvili's articles in the following groups:
---
---
Two other profiles belonging to Irakli Jankarashvili cover other groups:
---
Admins of other public groups are also involved in spreading the articles by Politico.
---
Regional Network of Media Literacy Lab
---
The material was prepared using Truly.media's analytics tools.