January 9, Georgian edition of pro-Kremlin online media outlet, News Front, published an article headlined "Incredible miracle: girls found alive 15 days after being buried!" The article tells a story of an Egyptian Muslim man, who murdered his wife and buried her along with his two still-alive teenage daughters. 15 days later, when another family member died and relatives went to bury him, they found the little girls still alive. The story notes that the girls were saved by a man dressed in white clothes with bleeding wounds in his hands; this man was Jesus Christ, whom Muslims consider a prophet of God but deny he was crucified. Therefore, the story led Muslim religious leaders to a deadlock. The article also claims that the story spread quickly throughout Egypt prompting the national television to interview the girls.
News Front refers to Greek www.iellada.gr as its source of information, as well as Трость Скорописца – as the author of Russian translation and A. Ungiadze – as the author of Georgian translation. Avtandil Ungiadze, founder of a radical group, Orthodox Parents' Union (OPU), also shared an identical post and News Front's link to his Facebook page. Apparently, just Ungiadze is the author of the Georgian translation.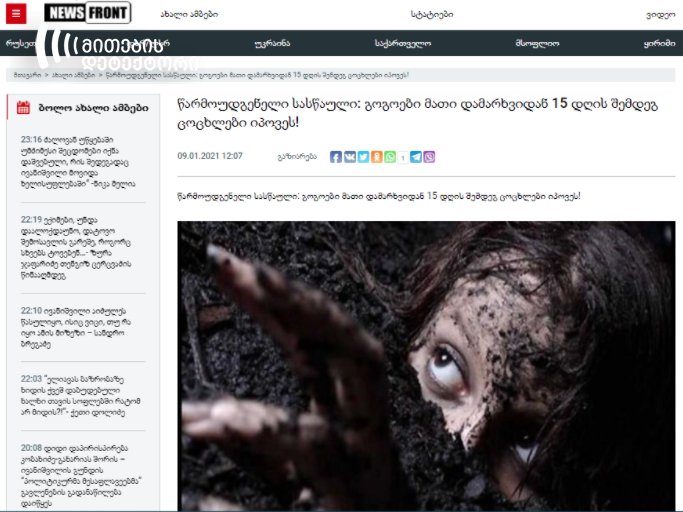 information spread by News Front as if Egyptian girls were pulled from grave alive 15 days after being buried is a conspiracy theory. No such information has been spread by Egyptian media; it has been fabricated. The sources referred to by the Georgian edition are conspiratorial Greek and Russian religious websites.
Although the article claims that "this sensational news spread very quickly throughout the country," Egyptian news programs say nothing about it. Neither has the news about the man murdering his wife and burying his two daughters alive been reported anywhere.
The only source named by News Front is a Greek-language website Iellada.gr and Трость Скорописца is referred to as the source of the Russian-language version. Iellada.gr writes about the world developments, history, diplomacy and religious issues. The website says nothing about its founder and editor. According to Whoisdomaintool, its owner hides an identity. Iellada.gr published the story in its religion section on December 24, 2020. The category mainly involves Orthodox teachings and opinions of Greek clergy. It is noteworthy that News Front used the material of Трость Скорописца's Russian-language blog that published similar story on January 2. The blog mainly offers religious materials, as well as conspiracy theories about Masons, coronavirus and face masks.
The same conspiracy theory was also spread in other countries and two fact-checking websites, Snopes and Hoax-slayer checked the veracity of this information at different times. According to Snopes, it first encountered the story in April 2004 when it began to land in the snopes.com inbox. It has since come labeled "News from Egypt," "Miracle in Egypt," and "Murder Miracle in Egypt!" As to where the story came from, while a number of the forwards identify as the writer of the e-mail a woman whose husband is a Christian pastor who runs a Muslim outreach program in the U.S., some of the earliest versions that bear her name led off with this now-elided paragraph:
"I don't want to wait until our next newsletter to get this story out to you. It begins as a tragedy but ends as an incredible miracle. Victor (pastor) received this by email a few days ago (5/20/04), and talked with family in Egypt to confirm the details that were given there on the news."
Another version of the same story was spread in December 2007, according to which, a Muslim man killed his wife because she was reading the bible. This version was spread by Russian online editions, among them ok.ru, pravoslavie.org.ua and floxasia.ru.
---
Archive link of News Front's article
Archive link Avtandil Ungiadze's post
---
The article has been written in the framework of Facebook's fact-checking program. You can read more about the restrictions that Facebook may impose based on this article via this link. You can find information about appealing or editing our assessment via this link.
Read detailed instructions for editing the article.
Read detailed appeal instructions.