On September 6th, 2022, a Russian-language Facebook user published a photo with the caption: "The first personal computer in the world was not created by the American company Apple in 1975, but by Arsen Anatolyevich Gorokhov, a Soviet scientist from Omsk, in 1968."
The claim voiced in the post is false. Information about Gorokhov's patent can indeed be found in Russian sources, although it is noted that the scientist failed to implement the idea. The first ever personal computer was created by John V. Blankenbaker in 1970 in the US.
Information about Gorokhov can be found in Russian-language (1, 2, 3) and Georgian-language sources with a Russian domain (1, 2, 3), where they write that Gorokhov invented a personal computer in 1968 and even patented it, although he was refused funding, which is why the computer could not be created and remained only at the level of an idea. Gorokhov's patent indicates only the years of receiving and publishing it, 1970 and 1973, respectively. Therefore, there is no evidence to prove that he actually invented the technology in 1968.
In addition to the fact that the technology remained only in patent drawings and the idea did not materialize, the patent details do not clearly indicate that the technology was aimed to become a personal computer. Gorokhov invented "a device for developing a program for reproducing the outline of a detail." (Устройство для задания программы воспроизведения контура детали)
As for the first ever personal computer, it was not invented by the American company Apple, which created a personal computer only in 1975. The first personal computer, associated with John Blankenbaker, was created in the United States in 1970 and became commercially available in 1971. Blankenbaker sold about 50 computers in 2 years, and then his company was closed.
Since 'Kenbak' did not use a microprocessor, it is sometimes not recognized as the first personal computer. However, even in such a case, a device similar to the "Apple" called ALTAIR, which at the same time was equipped with a microprocessor, was created by the MITS in 1974.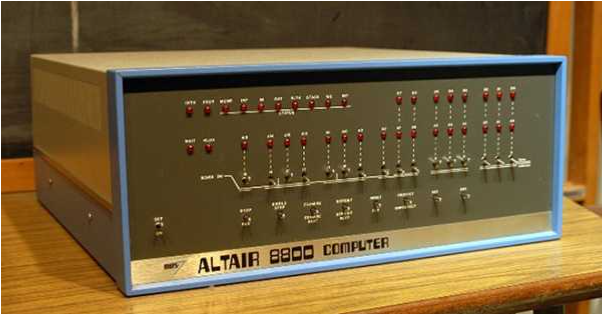 Similar information as if the first ever computer device, namely a digital calculator, was created in the USSR was disseminated in the past as well. For more, see the article by the "Myth Detector:"
---
The article has been written in the framework of Facebook's fact-checking program. You can read more about the restrictions that Facebook may impose based on this article via this link. You can find information about appealing or editing our assessment via this link.
Read detailed instructions for editing the article.
Read detailed appeal instructions