On May 1, 2019, a Facebook user David Zhghenti, shared a video on his personal page as well as in Facebook group ,,Protest", with Russian inscription "Germany. Police car got stuck in the Muslim quarter" (Германия, полицейская машина застряла в мусульманском квартале). Dutch Report and American political reviewer Hal Turner also spread the video as if migrants attacked the police, although they tagged Copenhagen as the location of the video.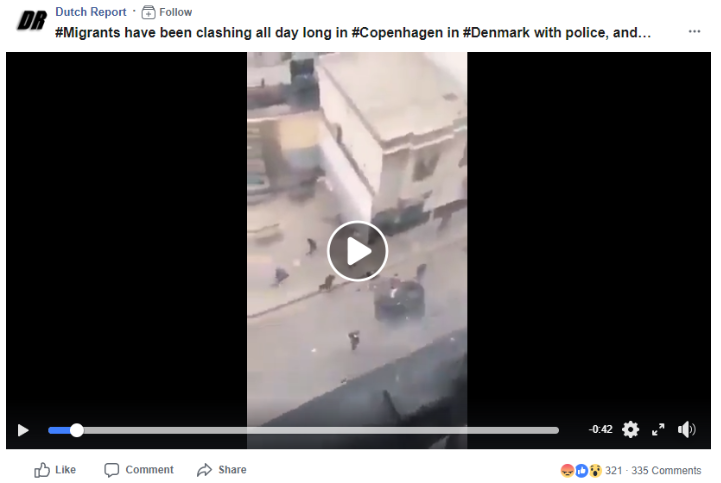 The video posted by David Zhghenti, Dutch Report and Hal Turner that they attribute to the European cities, is a disinformation. The video footage was shot not in Denmark or Germany, but in Algeria and portrays the protests against the acting president held on March 8, 2019. The aim of the video fabrication is to create a picture as if Muslims dominate in Europe.
Noted video was shot in the Boulevard Krim Belkacem, Algeria
What was going on in Algeria on March 8, 2019?
Protests in Algeria started on February 16, 2019. Demonstrators protested the possible election of President Abdelaziz Bouteflika for a fifth term. The video spread portrays the clashes between the demonstrators and the police happened on March 8, 2019. The police used tear gas against the demonstrators, who tried to break the Police corridor.
Who are the persons, who shared video footage of Algeria with changed context?
David Zhghenti's Facebook page is distinguished for its anti-West sentiments and he often shares the materials of similar content. Harold Charles, also known as "Hal" Turner is an American political reviewer from the North Bergen, New Jersey. He supports the idea of White Supremacy and is promotes racist views.
---
Media Literacy Lab Regional Network