On April 27, during the program "Alt-interview", homeopath Tina Topuria spoke about vaccines and reiterated several old disinformation, about which "Myth Detector" has written in the past. According to the homeopath, usage of Covid-19 vaccines is only necessary as a last resort and studies about whether or not vaccines cause infertility, cancer and genetic mutation, do not exist at the time. Besides that, Topuria notes that a study conducted in Israel shows a link between Pfizer vaccines and heart diseases.
აThe guest of Alt-info's program, homeopath Tina Topuria was alone on air, she did not have an opponent neither as an invited guest nor as a host. Even the host did not oppose her with real facts against false claims.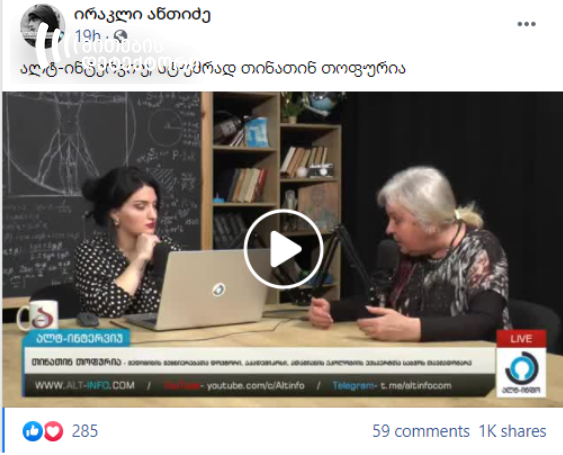 "In "Alt-interview" Tina Topuria talked about 1 unfounded claim and 3 disinformation. Information about a link found in Israel between Pfizer vaccines and myocarditis lacks evidence 1. Authorized Covid-19 vaccines do not cause infertility; 2. Covid-19 vaccines do not cause genetic mutations and cancer; 3. Covid-19 vaccines that are authorized by the WHO and FDA have passed all the necessary phases of trial.
Lacks evidence: "Pfizer" causes heart disease, myocarditis.
According to Reuters, the Ministry of Health in Israel is examining a small number of cases of heart inflammation in 5 million patients that got a Pfizer vaccine. According to Israel's pandemic response coordinator Nachman Ash, as of now no link has been found between Pfizer vaccines and cases of myocarditis and final assessment has not been done by the Ministry of Health. As stated by him, establishing this link is difficult, since myocarditis, a condition that often progresses without complications, can be caused by other viruses. It should be noted that a similar number of cases have been reported over the last years in Israel as well.
Nadav Davidovitch, director of the school of public health at Israel's Ben Gurion University said, that even if a correlation is established between the myocarditis cases and the vaccine, it would not be enough reason to stop vaccination. " "It's a situation that should be looked into, and we need to wait for a final report, but in an interim analysis it seems the risk of getting sick from COVID-19 is much higher than from the vaccine's adverse events".
Disinformation N1: The vaccine may affect reproductive capability.
According to the article of American medical webpage healthline.com, Covid-19 vaccines do not cause infertility and problems with fertility and as stated by Dr Jenifer Conti, medical adviser of Modern Fertility, it is impossible for the vaccine to cause infertility: "The rumors are based on the fear that messenger RNA in the vaccine could cause infertility by accidentally attacking a protein in the placenta called syncytin-1, which has a (sort of) similar structure to the coronavirus spike protein. However, these are totally different structures and there is no reason to think this [Attack on syncytin-1] would happen".
Disinformation N2: Covid-19 vaccines may cause genetic changes and cancer.
According to the US Centers for Disease Control and Prevention, Anti-Covid-19 RNA vaccines do not cause genetic changes, since the aforementioned molecule does not interact with human DNA at all. mRNA cannot enter the nucleus, where our genetic material – DNA is located. This means that mRNA does not have any contact with the human DNA and there is no mechanism that can change our DNA. For the same reason, it is impossible for the vaccine to cause cancer, on the contrary, studies are being conducted that mRNA technology could become a tool for treating and preventing cancer. Therefore, Covid-19 mRNA vaccine simply helps produce immunity to fight against the disease.
Disinformation spread about the link between Covid-19 vaccines and cancer was checked by foreign fact checkers. According to Dr. Carlos del Rio, an infectious diseases specialist at Emory University, mRNA can not cause cancer, since it stays in the body for a small period of time and inactivates rapidly as well.
Disinformation N3: Vaccines are only authorized conditionally, which means only using them in a state of emergency.
Emergency Use Authorization (EUA) means that the vaccine meets FDA's requirements and there is scientific evidence of them being effective against Covid-19, also risks of using them are significantly less than risks caused by the spread of the virus.
The need to issue the Emergency Use Authorization (EUA) is indicative of a state of emergency and the prompt need of vaccines. Therefore, the claim that issuing the "Emergency Use Authorization" by FDA and the WHO means admitting that vaccines are not fully tested is not true. FDA as well as the World Health Organization issued the "Emergency Use Authorization" to coronavirus vaccines after completing all three phases of the clinical trials.
For more information about this topic, read articles prepared by "Myth Detector":
Imedi TV's Facebook Page Provides Fragmented and Unbalanced Coverage of Anti-Vaxxer's Comments;
Information That the FDA Has Not Approved Pfizer's Vaccine is False.
---
Prepared by Ani Kistauri 
---
The article has been written in the framework of Facebook's fact-checking program. You can read more about the restrictions that Facebook may impose based on this article via this link. You can find information about appealing or editing our assessment via this link.
Read detailed instructions for editing the article.
Read detailed appeal instructions.