On February 23rd, a Facebook account "Putinist Group" published a photo of a pink tank with people riding on it. According to the description, the "U.S. handed over the 'LG-BTR' to Ukraine "in the form of military aid".
The photo is being disseminated with a false description. In fact, instead of the U.S. military equipment sent to Ukraine, the picture depicts Amnesty International's demonstration at the 2005 Brighton Pride.
The photo was taken on August 6th, 2005, at the Brighton Pride, in the U.K.
"Amnesty International" presented the demonstration with a pink tank and the slogan "Love is a human right, protect the human."
The organization used the pink tank during the demonstration in 2005 in London.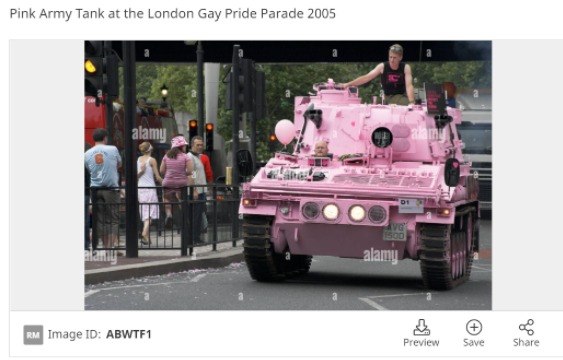 Notably, in January 2022, due to Russia's increased threat of military aggression, the United States handed over 90 tons of military weapons to Ukraine. Last year, the United States provided a total of USD 650 million in arms to Ukraine.
The "Myth Detector" has fact-checked the disinformation to discredit the Ukrainian and U.S. armies in the context of the LGBTQ + issues, see more:
About the Source
The Facebook account "Putinist group" is linked to Alt-Info and the party "Conservative Movement". The 'about us' section of the account indicates that it studied at the KGB. The account publishes predominantly anti-Western posts and tries to disseminate information by tagging dozens of other Facebook accounts on them.
---
The article has been written in the framework of Facebook's fact-checking program. You can read more about the restrictions that Facebook may impose based on this article via this link. You can find information about appealing or editing our assessment via this link.
Read detailed instructions for editing the article.
Read detailed appeal instructions.