On March 5, 2021, the leader of the political party "Georgian Idea", Levan Chachua published a post on Facebook disseminating the following quote in the name of the billionaire philanthropist George Soros:
 "War is no longer a mean for conquering separate country. It's enough to find or establish a group in the country that will bring this country to your feet in the name of democracy for a relatively small price."
Quote has attached photos of Georgian politicians including Eduard Shevardnadze, Mikheil Saakashvili, Bidzina Ivanishvili, and Irakli Gharibashvili meeting George Soros.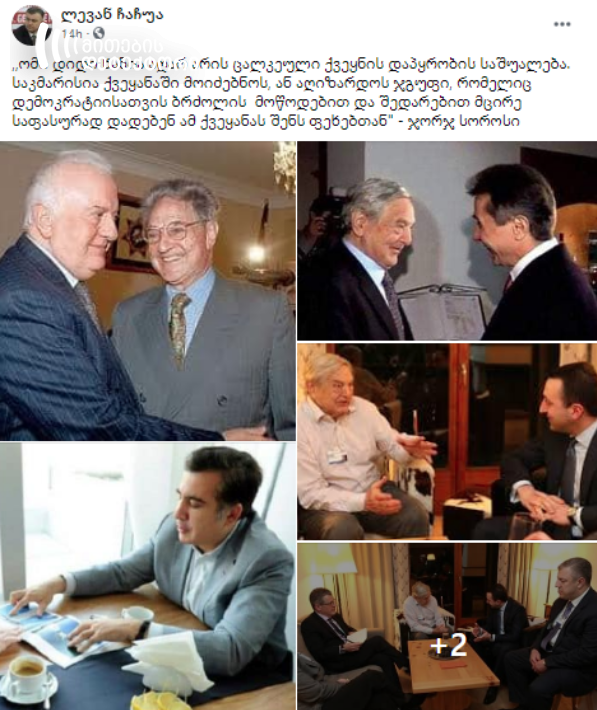 Levan Chachua's post does not indicate the source of the quote. The author also does not specify when and in what context did George Soros say the aforesaid words. Identical or content-wise similar quotes from George Soros cannot be found in open sources. 
Levan Chachua disseminating a fake quote of George Soros is part of the long-term discrediting campaign against philanthropist and promotes an opinion that instead of wars, George Soros conquers countries in the name of democracy through ideologically trained groups.
Fake quotes that Georgian social network users would attribute to George Soros have disseminated even earlier. For example, in October 2019, the members of "Georgian March" Ermile Nemsadze and Sandro Lobzhanidze attributed a quote about Ukraine by Russian political commentator Alexander Zapolskis to George Soros. On April 23, 2020, users in the group "STOP 5G GEORGIA" disseminated a fake quote along with the photo of George Soros claiming Soros wanted Georgians to refuse Holy Communion.
It's noteworthy that along with the various disinformation and conspiracy theories about George Soros, fake quotes are disseminated on foreign social networks and pages as well. For example, the following quote attributed to Soros has been circulating on the social network since 2016.
"I'm going to bring down the U.S. by funding Black Hate groups. We will put them into a mental trap and make them blame white people. The black community is the easiest to manipulate".
English-speaking Facebook users have actively disseminated the aforesaid fake quote in 2020 as well.
About George Soros 
George Soros is a Hungarian-born American billionaire financier, activist, and philanthropist. In 1984, he founded "Open Society Foundations" which funds democratic institutions and education programs in various countries worldwide, mainly in Eastern Europe. Soros is also involved in political activism and is an active supporter of the U.S. Democratic Party.
See detailed information about Levan Chachua and "Georgian Idea".
---
The article has been written in the framework of Facebook's fact-checking program. You can read more about the restrictions that Facebook may impose based on this article via this link. You can find information about appealing or editing our assessment via this link.
Read detailed instructions for editing the article.
Read detailed appeal instructions.