On December 20, in the interview with TV Obieqtivi's  "Night Studio" talk show, Davit Tarkhan-Mouravi, one of the leaders of the Alliance of Patriots, stated that Germany's Chancellor Angela Merkel considers leaving NATO, and at the time, when strong European countries, including France, question their staying in NATO, it would be better for Georgia to declare military neutrality.
Davit Tarkhan-Mouravi, Alliance of Patriots: "It was yesterday's statement of Angela Merkel, if I am not mistaken, which itself says that Germany, will probably leave NATO…  For example, France has left NATO, has entered NATO, left, entered, so neither France, nor Germany, the strongest European countries, consider staying in NATO… Why is the military non-alignment that is Switzerland, Austria, Sweden, and Finland type of military neutrality lifesaving and crucial for Georgia today? First, because NATO does not accept us, neither will accept, and second, because NATO itself is disintegrating, see Angela Merkel's statement. Thirdly, because it will lead to war for our country…"
Davit Tarkhan-Mouravi's statement, as if Merkel has spoken about Germany's possible withdrawal from NATO, is a disinformation. In fact, Merkel considers NATO as a guarantor of Germany's security. Only suspicious Russian editions spread false information about leaving NATO. They refer to Contra magazin, Austrian edition, as a source, which indicates that the webpage is not responsible for the reliability of provided information.
Angela Merkel considers NATO as a guarantor of Germany's security
On November 27, Angela Merkel stated during her speech in German parliament, that the alliance is more important to Europe's security today, than it was at the height of the stand-off with the Soviet Union.
She also noted that the preservation of NATO is in the best interests of Germany, "Europe cannot defend itself" and NATO is a "bulwark of freedom and peace".
Merkel promised that Germany's defense spending would increase to 1.5 percent of GDP by 2024, while it will reach NATO's target of 2 percent by 2030.
Russian propagandistic webpages spread the information about Germany's withdrawal from NATO
The information about Germany's withdrawal from NATO was spread by Russian propagandistic webpages news.sputnik.ru,  news.rambler.ru, argumenti.ru, putin-news.ru and avia.pro on December 16-17.
Noted webpages refer to "Contra Magazin" edition as a source of information, to which Austrian military experts allegedly reported, that numerous politicians in the Federal Republic of Germany have a plan of country's withdrawal from NATO.
Merkel's statement about withdrawal from NATO has not been found in other sources.
Contra Magazin is a far right and pro-Russian media
Webpage Contra-Magazin.com is an Austrian edition, created in 2013 and works as an online magazine with a comprehensive media content.
It is written in Contra magazin's terms of use, that the webpage assumes no liability for the correctness of the information available on it.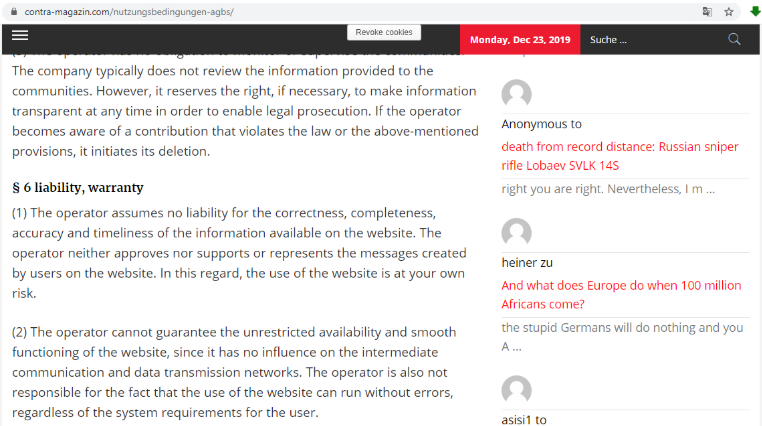 The magazine spreads mainly far-right and fascist conspiracy theories, anti-Semitic, anti-liberal, pro-Russian propagandistic information. Andreas Keltscha, one of the magazine's editors, does not hesitate to use Nazi terminology in his articles and talks about the theory of biological purity.
It should also be noted, that the material published on Contra Magazin's webpage is often identical to the material published by Russian propagandistic webpages. For example, the articles published on "Russia Today's" German-language webpage, are transferred directly to "Contra magazin" as a part of content partnership between them. Sometimes they transfer the texts directly from "Sputnik News" and other pro-Russian webpages.
"Contra Magazin" is also active on Facebook and has more than 28,000 subscribers, including far right, fascist groups.
Kremlin's actors periodically spread false messages, as if NATO is disintegrating. Pro-Russian party "Alliance of Patriots" constantly sows the seeds of nihilism towards NATO and present Georgia's military non-alignment as an acceptable alternative.
For more about these issues, see "Myth Detector's" materials:
Myth about Georgia's neutrality and "non-block status"
Geworld Manipulates NATO Secretary General's Words
---
Prepared by Mariam Topchishvili 
Media Literacy Lab Regional Network